Expats have taken the lead in the renovation and refurbishment of Merída's colonial heritage, turning once-crumbling colonial structures into boutique hotels, restaurants…and private homes.
But many buyers prefer to buy turnkey properties instead of dealing with construction.
The revitalization of Merída's centro has been ongoing since the late 80s and early 90s, which means there are a wide variety of price points, locations, sizes, and types of colonial homes available to buyers today.
Prices aren't as low as they once were…but you'll still find good value on renovated homes. Fully restored homes with three bedrooms in prime locations are available for under $200,000. Smaller places, still in centro and in desirable areas, can be had for under $100,000.
With a restored home you can mix the classic with the contemporary. Thanks to architectural guidelines and rules—and the desire of owners to keep things authentic—most renovated homes in Merída's centro retain a historic character.
You have tall, sturdy wooden doors to the street, and interior doors, doorframes, and window frames made of tropical hardwoods. The interior courtyards with plants and flowers and a place to sit—sometimes fountains or pools—keep the air flowing and cuts down on the tropical heat.
Period doorknobs, faucets, and other fixtures are popular. So-called "pasta" floor tiles, vividly colored and intricately patterned, are coveted. And if you don't have originals in your home, the same workshops that made them centuries ago are still operating and producing classic patterns.
Of course, restoring a colonial doesn't mean you have to be low-tech. Modern touches like stainless steel appliances, high-speed internet, and cable TV—air conditioning too—are all available.
Most colonial homes have good "bones." But it's not just surface renovation that's needed. Often they have to be rewired, replumbed, and roofs replaced. So when you purchase a renovated colonial, you can be sure you'll be comfortable and have reliable utilities.
One restored colonial home that I came across in centro was a two-bedroom with small private patio in the popular Santiago neighborhood, listed for $86,000. Another home in Santiago, a three-bedroom place with a pool and separate casita out back with its own bedroom, bathroom, and private entrance (for visiting guests or maybe a vacation rental for extra income) is available for $129,000. Also in the heart of the colonial quarter is a three-bedroom home with original pasta tiles and a large courtyard being sold for $110,000, including furniture. Both homes are just over 1,000 square feet.
For something bigger, you have plenty of options. A recently restored home of 2,300 square feet with three bedrooms, a pool, and a courtyard is available for $177,000.
Spend a little more—$235,000—and you can get a 3,700-square-foot, three-bedroom home in the Santa Ana neighborhood—another area popular with expats, with plenty of shops, markets, restaurants, and cafés nearby.
Expats flock to Merída, a city of one million, for a variety of reasons. The diversity is a big one. It's a mix of old world and modern times: Europe and the Americas, the indigenous and Latin cultures.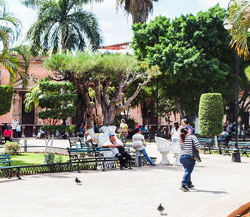 The town is sophisticated, home to a world-class symphony orchestra, theater, art galleries, and museums, as well as high-end dining. But it's not all "high brow." The unique Yucatecan culture (strongly influenced by the Maya) is on full display, from foods like the roasted pork dish, cochinita pibil, to traditional dress worn by older residents, as well as frequent festivals and fiestas.
And the scenery is outstanding, too. Historic churches sit on tidy and well-landscaped public parks, alive with people in the early evening hours.
The parks also play host to weekly free folkloric performances. A typical evening's entertainment might include romantic guitar ballads, poetry readings, and folkloric dancing. And these are not tourist events: the audiences are primarily locals of all ages. And it's all accessible by foot or a quick taxi ride if you live in the centro.
Aside from low costs and cultural activities, Merída excels on other quality of life factors as well. Medical care is also top notch, with two hospitals in town, Star Medica and Clinica de Merída, offering U.S.-standard care, if not better, with specialists in every discipline.
Plus, the beach is just 30 minutes away by highway. And the modern city, with gleaming shopping malls and big-box stores, can be found on the outskirts of the colonial zone. Many expats enjoy getting their produce from local farmers' markets and head out of centro for imported foods from home.
All that, plus the chance to live in a restored historic colonial home, makes for a great way of life.