Most North-American tourists to Spain visit Madrid, Barcelona, and perhaps Andalusia's Moorish Triangle—Seville, Córdoba, and Granada. Relatively few get over to Valencia, the Mediterranean-port city that is Spain's third-largest metropolis. And that's a shame. Because Valencia has a lot to offer, as I recently had a chance to discover.
I'm in Spain for the summer, and I made a quick trip with friends to attend a concert at Valencia's arts center, the Palau de les Arts. Valencia is a great city for music. There's a long musical tradition here, especially in classical music and zarzuela—Spanish operetta. Many musicians—both instrumental and voice—train in Valencia, and its concert venues attract top talent from around the classical-music world.
The concert hall we went to was small and intimate—it held perhaps 150 people—and our front-row tickets cost us €15 each (about $20). The two sopranos, both local Valencianas, were young but well-trained, and it was nice to see that the city supported local talent.
Outdoor Dining in Spain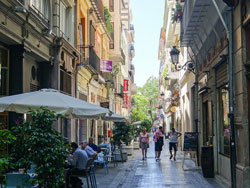 After the concert—a mix of crowd-pleasing opera arias and zarzuelas—we headed to Valencia's nearby historic center for dinner. One of the largest in Europe, it's filled with medieval churches, narrow streets, and buildings dating back hundreds of years. (Or rather, at least the facades date back centuries. Behind the facades you can often find modern, all-amenities apartments.)
At a terraza—an outdoor café—we settled in for montaditos, open-faced sandwiches that are a popular tapa. Béchamel-filled croquettes, seafood, potato-and-egg omelet—all arrived at the table. So did plates of fried octopus rings and patatas bravas—oven-baked potatoes with freshly-made ali-oli.
A Great Climate and Low Property Prices
With temperatures in the mid-70s F, it was a lovely evening to sit in an outdoor café with friends. Sometime around midnight we settled the bill: It came to €11 each—less than $15—for a large draft beer each and as much food as we could eat.
As we headed to our car for the drive back, we saw an apartment with a "For Sale" notice on the side of a building. A four-bedroom apartment—183 square meters (about 1,969 square feet)—with garage space was for sale in the historic center. The asking price: €116,000 ($156,600).
For an apartment in the historic center, that's a good price. But in other parts of central Valencia you can find renovated apartments for €70,000 to €75,000. That's about $94,500 to $101,250 for a comfortable one- or two-bedroom apartment near shops, the train station, and the scenic old city.
For me, Valencia's biggest downside is the summer heat, which can reach the 80s and 90s F. Fortunately, that heat is cooled by sea breezes. And in winter, Valencia can be lovely. I've strolled the streets of the old town, for instance, in January—traditionally the coldest month—wearing just a light jacket.
So if you're looking for real Spanish charm off the main tourist path, head to Valencia. It's about a three-hour train ride from either Madrid or Barcelona.
Free Spain Report
Learn more about Spain and other countries in our free daily postcard e-letter. Simply enter your email address below and we'll also send you a FREE REPORT — Live the Good Life in Sunny, Affordable Spain.
This special guide covers real estate, retirement and more in Spain and is yours free when you sign up for our IL postcards below.
Get Your Free Report Here