YOU'RE INVITED To Join Our
Experts And Expats For A
Fun-Filled, Two-Week Adventure In Exciting SOUTHEAST ASIA!
This January, ESCAPE THE WINTER COLD and explore Southeast Asia's best-value expat havens with like-minded, well-connected company.
** ONLY 36 SPACES AVAILABLE **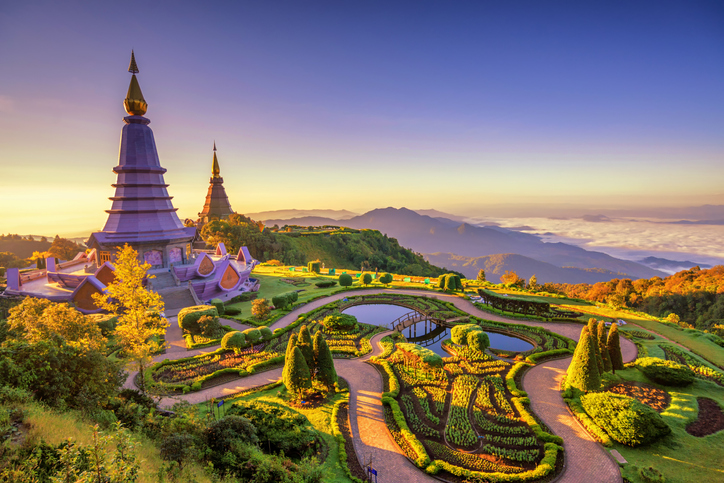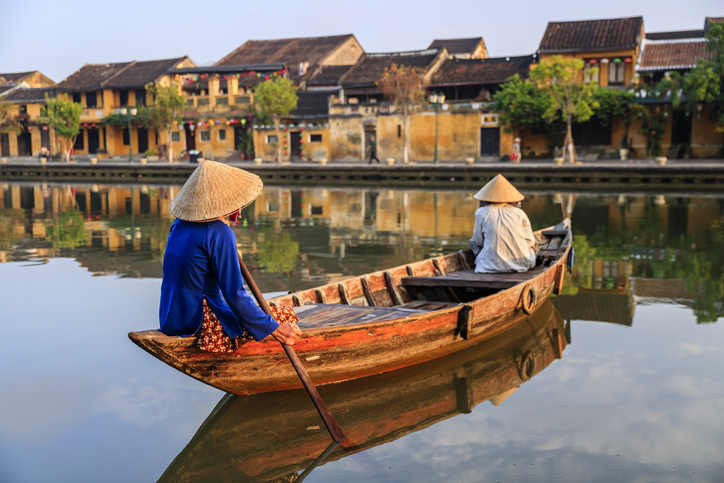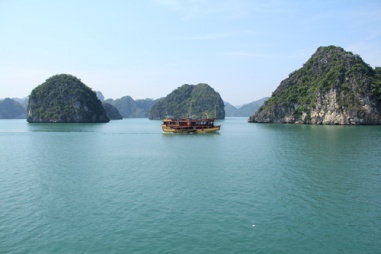 International Living's 2020 Southeast Asia Tour
Through Thailand and Vietnam
Chiang Mai – Hua Hin – Da Nang –
Hanoi – Ha Long Bay
January 12-25, 2020
Dear Reader,
Don't let Southeast Asia's "exotic" reputation fool you.
Yes, this part of the world is rich with color and unfamiliar culture…
…but what you may not realize is that Southeast Asia is also one of the EASIEST places for English-speaking expats to get "set up" and start living very well…
…for a small fraction of what a comparable lifestyle would cost at home.
Sure, once you arrive in Southeast Asia:
You'll find yourself surrounded by centuries-old, awe-inspiring gilded temples… laid-back beachside cities and towns… lush, green jungles… towering, limestone islands… coconut palm-lined white-sand beaches… and UNESCO World Heritage sites…
You'll hear expats and locals chatting away in English, Thai, Vietnamese, Chinese, and perhaps a few other dialects you may have never heard before…
You'll notice scents of cloves, wild orchids, incense, coriander, chilies, lemongrass, garlic and countless more treasures for the senses…
(Ah… the "come-hither" aroma of sizzling stir-fried pad thai in Chiang Mai, Thailand on a balmy late-January evening. It can make even the most diehard of "foodies" think they've died and gone to heaven!)
So yes, it's exotic…
But when you know where to go and how to "work the system," you'll also find yourself in a completely "turnkey" environment for English-speaking expats who seek the best of all worlds…
The adventure of a lifetime… and the comforts of a truly pampered lifestyle at super-affordable Southeast Asia prices.
It's Easy to Enjoy A Fantastic Lifestyle On A Much Lower Budget All Over Southeast Asia Today
In today's Southeast Asia, once you're connected to the right places and the right people, it's easy to:
Live on a palm-fringed island… where you can rent a modern, brand-new, fully-furnished apartment just 20 meters from the beach with high-speed fiber-optic internet access, a TV, a microwave, a toaster, a cooker, a kettle, plates, cutlery, glasses and more for just $288 a month.
Enjoy expat living in a place that Condé Nast Traveler ranked as one of the "Top 25 Cities in The World." This alluring Southeast Asian city is a massive favorite for expats looking to enjoy "city life"… but without the congestion (and high prices) of other well-known big cities around the world. And here, you can rent a furnished three-bedroom, two-bathroom house just a few minutes away from this city's thriving restaurant, shopping and nightlife areas for just $421 a month!
Upgrade your lifestyle in a tropical paradise… on as little as $1,200 a month!
Travel throughout the region from a comfortable local base and explore exciting, exotic locales with ease… and on a budget, too.
Retire in comfort and even luxury. Imagine having a housekeeper who comes to your house to cook and clean six days a week for as little as $150 a month!
Stay connected with friends and family back home. You'll find fast, easy, reliable AND affordable mobile phone coverage just about everywhere… and widespread, high-speed fiber-optic internet access, too. Even on tiny tropical islands like Koh Phangan, Thailand, you can now enjoy blazing-fast 200Mbps download speeds and 100Mbps upload speeds!
Enjoy great weather year-round! No need for winter coats, gloves, hats or snow shovels in Southeast Asia. In this part of the world, every day feels like summer. Even the "rainy" season towards the end of the year produces a surprising number of sunny, pleasant days!
Eat outstandingly well—in restaurants, food stalls, open-air markets and grocery stores. Throughout Southeast Asia, you'll find a jaw-dropping array of culinary options. And you can enjoy an unbelievably tasty, filling "streetside" meal here for less than $2…
Meet new friends right away in some of the friendliest spots on the planet. Not only do locals live up to their welcoming reputation (Thailand is, after all, the "Land of Smiles"), but in many communities, well-established expat groups make integrating fun and easy…
Try new and exciting activities—and enjoy a real adventure. Everything from shopping for one-of-a-kind bargains at world-renowned night bazaars to trekking through the jungle in search of exotic wildlife. It's all there… waiting for you.
Enjoy access to first-class, affordable healthcare. Every large city in Southeast Asia has several modern hospitals with English-speaking medical specialists on hand. Public hospital consultations can cost less than $5, with tests and procedures just as inexpensive.
ALL THIS AND MORE is why Southeast Asia has become such an increasingly popular expat destination in recent years…
…for North Americans too.
Yes, the journey is long. But, as seasoned Southeast Asia expats will tell you, it's well worth it…
"Yes, it's a long trip. There's no getting around that. But once you're there in your new and exotic surroundings, wearing shorts, a T-shirt and flip-flops in January… eating some tasty Pad Thai you just bought off a street-side food cart for less than $1… and watching the sunset over the Gulf of Thailand with your new expat friends, you'll know it's totally worth it. You'll probably feel like the luckiest person in the world."

Jason G.
American expat living in Thailand since 2007
Now I'd like to give YOU the opportunity to discover FIRSTHAND the VERY BEST Southeast Asia has to offer with our on-the-ground experts and expats to introduce you to what life is like in this welcoming, affordable place to be.
Come Join Our Experts On An Exotic, Once-In-A Lifetime Southeast Asia Adventure!
My name is Jackie Flynn.
I'm the publisher of International Living.
And today, I'd like to invite YOU to join our experts on an epic, first class adventure this coming January as we head to Thailand and Vietnam.
Together you'll visit this region's finest destinations for overseas living over ten amazing, fun-filled, life-changing days.
You'll get the chance to:
Meet some of our on-the-ground experts in Southeast Asia – each of whom will help you understand what it's like to live and live well – while spending far less that you probably are right now…
Find out what it's REALLY like to live in Southeast Asia as an expat or retiree – straight from the expats already doing it…
Get all your questions answered – so you'll know EXACTLY what you need to do to start living WELL in Southeast Asia as quickly, easily and hassle-free as possible…
Build a network of "on-the-ground" contacts already living in Southeast Asia. This way, the next time you visit, you'll already know a few expats and experts living there. This will help you whether you're looking for a part-time diversion or a full-time retirement escape…
And a whole lot more!!!
Here Are Just A Few Exciting Activities You'll Get To Experience With Our Expat Experts…
When you join us next January and you'll get the chance to…
Experience hill tribe village culture – including the world-renowned "long-necked Karen" hill tribe, the Lahu hill tribe, and the Palong hill tribe…
Ride on a two-seat "trishaw" through Chiang Mai's historic "Old Town" and take in the ancient sights…
Step foot in the same magnificent beachfront palace that was once home to Thailand's royal family…
Explore a mysterious, 100-meter tall cave filled with beautifully-illuminated golden Buddha statues and spectacular stalactites…
Hang out with elderly Asian elephants (and feed them bananas!)
Learn how to cook tasty Thai dishes from scratch in the Thai countryside – using fresh ingredients you picked out yourself at local open-air markets…
Take photos of mischievous wild monkeys near a sacred cave…
Shop for authentic, hand-made, one-of-a-kind crafts in Chiang Mai's massive, world-renowned Night Bazaar…
Stroll through the streets of Hoi An, Vietnam – recently rated the "#1 City In The World" in Travel + Leisure's 2019 "World's Best" survey…
Tour Hanoi's 1,000-year-old "Old Quarter" as well as an exciting City Tour of Hanoi (including a visit to the notorious "Hanoi Hilton" where late Senator John McCain was held prisoner for several years during the Vietnam War.)
Go on an unforgettable overnight cruise of Ha Long Bay – one of the seven natural wonders of the world…
PLUS: Many, MANY more surprises we've got in the works for you!
Here's a bit more about the world-renowned destinations you'll experience when you join us for the International Living 2020 Southeast Asia Tour.
Chiang Mai
"The Rose Of The North"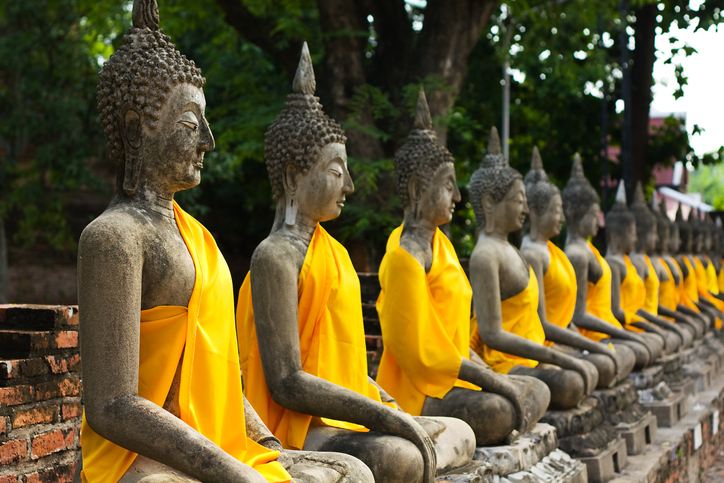 In recent years, Chiang Mai, dubbed "The Rose of the North," has become one of the most popular expat havens in the entire world.
And for good reason…
Chiang Mai offers all the perks of "big city" living… yet it's not nearly as frenetic or chaotic as the much bigger capital city of Bangkok.
Chiang Mai boasts air-conditioned shopping malls… fully-stocked grocery stores… electronic stores… motorbike dealerships… countless cafes and coffee shops with free hi-speed Wi-Fi internet access… and just about every other modern amenity you could ever want.
Yet at the same time, Chiang Mai also offers a thriving arts-and-crafts scene, plentiful outdoor adventure activities such as jungle trekking, lake swimming and bird watching, a fantastic selection of first-class restaurants, a world-famous night bazaar, world-renowned live music, and a whole lot more.
You'll find Chiang Mai brimming with golden wats (temples), teakwood houses, dragon sculptures, and intriguing alleyways.
And beyond Chiang Mai, you'll find a mosaic of white-water-rafting rivers, jungle-covered mountains, and hill-tribe villages.
It's no wonder more than 40,000 foreigners from all over the world have relocated to Chiang Mai to appreciate its plentiful activities and surroundings.
But Chiang Mai's modern amenities, great restaurants, thriving arts-and-crafts scene, and amazing surroundings are just the beginning.
What sets Chiang Mai apart is the extraordinary values you'll find.
After all, this is a place where you can rent a fully furnished, two-bedroom, one bathroom apartment for just $259 a month.
And if you want to spend a little bit more, you can rent out a fully-furnished, three-bedroom, three-bathroom house with 24-hour security and close proximity to some of Chiang Mai's finest landmarks and shopping centers for just $583 a month!
It's also easy to meet like-minded expats in Chiang Mai. Just ask expat Brenda J.
She recently relocated to Chiang Mai… and she couldn't be happier with her new surroundings.
"Chiang Mai charmed me immediately. It has all the exotic temples and colorful tribal peoples of tourist brochures, as well as Western comforts.," Brenda says.
"For social connections, the Chiang Mai Expat Club hosts bimonthly breakfasts and monthly meetings that help newcomers settle in quickly. The range of activities available (mostly free) is amazing. I'm here for the long run."
We'll spend a total of 4 days and 3 nights in Chiang Mai, which will give you a chance to explore the city's finest attractions.
And while we're here, our "on the ground" expat experts and contacts will give you the "inside scoop" on how to make Chiang Mai your new part-time or full-time home.
Hua Hin
"Thailand's Royal Beach City"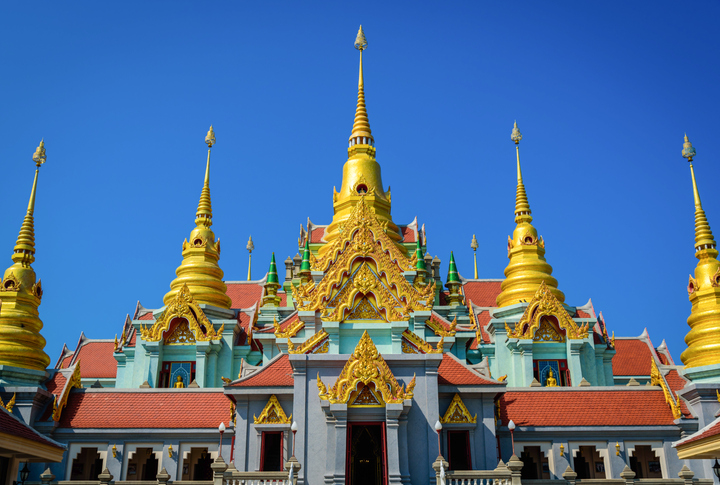 Once a quiet fishing village, Hua Hin became a popular summer getaway destination for Thais in the 1920s, when the Royal Family built their summer palaces there.
Located on the shores of the Gulf of Thailand, Hua Hin is laid back enough to feel like a beach town, but still has all the modern conveniences of any Western city.
The city itself runs parallel to the beach, with fancy hotels and seafood restaurants lining it. The restaurant scene has benefitted from Hua Hin's international expats.
Many of the expats that live here are Scandinavian, French, and Swiss, which gives the city a European flair. You can choose from literally hundreds of international restaurants all over Hua Hin at all price points. And peppered in between all these inviting restaurants are plenty of bars and lounges, many with live music nightly.
And if you like to cook, you'll like that there are many international grocery stores to get those imported goods that remind you of home in Hua Hin. Of course, you can also go "local" and shop for Thai culinary treats at the local daily markets all over the city, which offer the freshest and cheapest places to buy your produce.
Hua Hin offers fantastic healthcare, too. Because the Royal family lives in Hua Hin from time to time, excellent healthcare is a requirement here. You'll find the JCI-accredited Bangkok International Hospital right in the center of town. And many of the doctors and nurses are fluent in English, so a lot of expats choose it for their network of physicians.
Beyond the beach is a lively city just waiting to be explored. It's also a golfer's paradise, with seven different courses around the area and a few driving ranges to practice on. There is even an award winning vineyard 45 minutes away, with elephants and a restaurant that overlooks its five acres of grapes.
Canadian expat Michael Brown, who loves to golf, enjoys having the help of a friendly local caddy. He says, "They know the course really well. It is almost like having a private coach. They get to know my swing and tell me to shoot for the coconut tree. If I can get close to it, I'll be close to the green."
Michael moved here a few years ago and only spends around $600 a month, excluding his mortgage. But that does include all his food and drinks, one massage a week, one round of golf a week, health insurance, electricity, phone, pay TV, and internet.
And if you don't want to buy, rentals in this tropical haven run the gamut.
You can rent a one-bedroom apartment, five minutes from the beach, for as little as $430 a month, leaving you plenty left over for extras like a maid—only $9 for a half-day—and a massage for $8.30. Fast internet is around $15 a month, and a cellphone plan with 4G is only $8, so the essentials in life are pretty cheap. Even a haircut with a shave is only $3.40.
A fully furnished, four-bedroom villa—with a pool—in a gated community, only 10 minutes away from the city center, can be found for $985 a month. And a simply furnished, three-bedroom townhouse in an expat area, with a shared pool, can be rented for $624 a month.
And on our upcoming tour this January, you'll get to find out all the reasons why so many expats and retirees love living in this "royal beach city" so much, in person…
Da Nang
"The Most Liveable City In Vietnam"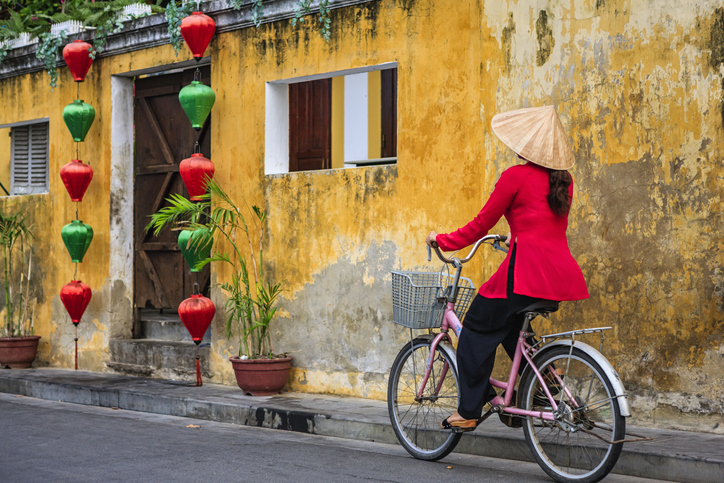 Da Nang is a modern, cosmopolitan and dynamic destination that is frequently called "The Most Liveable City In Vietnam" by many media outlets.
Surprisingly, given its population of about 1 million, there is little hustle and bustle in Da Nang. There are, however, lovely parks, riverside promenades and a long, uncrowded, powdery sand beach. Da Nang residents are relaxed and social—and it's very easy to meet people and make new friends.
Da Nang's expat community has flourished in the past few years. Estimates vary, but there are at least 1,000 Western expats in Da Nang currently, and there may be as many as 5,000. There are also a significant number of expats from Japan, Korea, Singapore, Taiwan and China who have made Da Nang their home.
The increased demand for services means that there are more restaurants serving international cuisine, more supermarkets selling imported products and more medical and dental facilities with multilingual staff.
Many people have settled in Da Nang because of the beach, which is certainly one of the prettiest in Vietnam. It's known as My Khe Beach, though some Westerners may know it as China Beach. Although resorts line the road next to the South China Sea, the beach receives relatively few sunbathers, and it isn't difficult to find a deserted stretch of sand almost anywhere in the area, even on the nicest days.
Two of Asia's best golf courses provide further incentives for settling in Da Nang. Montgomerie Links was mentioned as one of Asia's 10 most elite courses by the 2012 Forbes Travel Guide. The Danang Golf Club, which was designed by golfing legend, Greg Norman, was named in 2013 as the best golf course in Vietnam and one of the top 10 golf courses in the Asia Pacific region by Asian Golf Monthly. Both courses are located about a 15-minute drive south of the city.
Samuel M. relocated to Da Nang several years ago and loves everything about it – especially the food, the lively expat scene, and of course the cheap prices.
"Some of my favorite local dishes are bánh xèo—crispy pancakes with bean sprouts, shrimp, and pork belly—and nem l?i—grilled minced pork on skewers—which are both served with a heaping pile of fresh herbs and veggies, and peanut sauce to dip. My appetite is fully satisfied for less than $2. If I want to go upscale, a splurge at a Western restaurant will set me back $20 to $30 for two, including wine", says Samuel.
"The expat scene is tight-knit and very friendly, as are the locals. It's easy to make friends, and there's no shortage of entertainment—there's live music, bars, coffee shops, cinemas, and the beach. My preferred beer usually costs $1 at a pub. If I feel like going truly local, I'll sit at a bia tuoi (draught beer) spot that pops up on the streets at night, where beers are 25 cents or less."
It's not just the food and drinks that are cheap. So are rentals.
"A comfortable house or apartment can be found for $300 to $500—spend anything more than that and you're living in luxury," says Samuel.
"I'm paying $180 per month for a small house just a 10-minute walk to the beach."
And on this tour we'll spend three fun nights in Da Nang, giving you the chance to see for yourself why up to 5,000 expats from all over the world now live here.
Hanoi
"The Heart of Vietnam"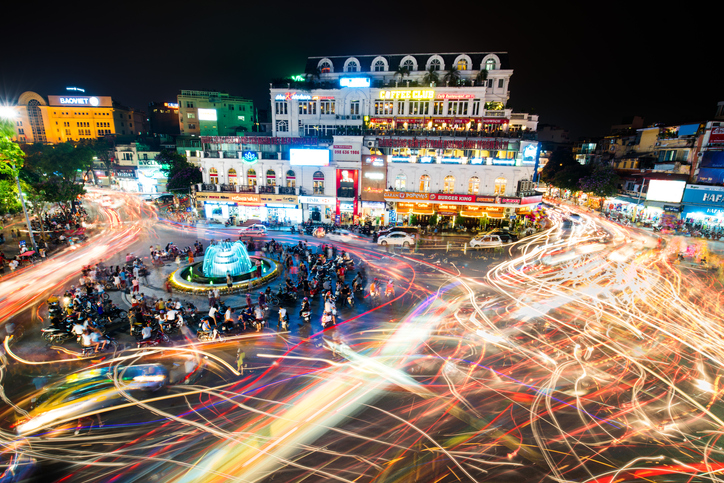 Hanoi is Vietnam's capital and the second largest city, after Ho Chi Minh City.
It's over 1,000 years old!
Today it's one of Southeast Asia's most popular destinations for travelers – thanks to its unique culture, its proximity to many of Vietnam's most impressive tourist spots and its cheap prices.
It's a favorite with expats, too. An estimated 10,000 expats live here both part-time and full-time.
It's not hard to understand why…
Hanoi's hot summers, chilly winters, and near-perfect spring and fall weather are attractive to many foreigners.
It also boasts unique architecture, fascinating historical sites, a vibrant, traditional city center, well-manicured parks and tree-lined boulevards that are oases of calm in this burgeoning, bustling city.
And of course, Hanoi is home to the much-loved Hoan Kiem Lake. The entire lake is surrounded by footpaths and comfortable park benches, mature trees and an ever-changing display of flowers.
Early in the morning, you can watch joggers make their way around the lake as others practice their t'ai chi.
In the afternoon, elders get together and play chess while youngsters enjoy badminton. In the evening, lovers stroll and trade promises as the lights of the city shimmer in the quiet waters. The entire area around the lake and many of the streets of the Old Quarter turn into a pedestrian-only zone every weekend.
And in the evenings, the promenades fill up with families, while the park benches are taken up by groups of friends or couples taking in the romance of the twinkling city lights.
Vietnam also has an active café culture – thanks to French influence.
People enjoy spending their days out on the street rather than in their apartments and homes, and coffee shops are found on nearly every block, always filled with customers.
And even though Hanoi is over 1,000 years old, it has retained many of its ancient traditions, while offering all the modern amenities that expats desire at an affordable price.
Expat Wendy Justice (one of International Living's expat experts you'll meet on this tour) lives in Hanoi for the last few years, so she knows firsthand just how fun and affordable it can be to live in Hanoi these days.
"Living in Hanoi is inexpensive by any standard. Rents in furnished modern houses and apartments start at around $600 per month. A big bowl of ph? (Vietnamese noodle soup) costs less than $3 and delicious bánh mì sandwiches cost just $1.50. Regardless of where you settle in Hanoi, a couple can live comfortably for less than $1,500 per month—including a weekly housekeeper—with plenty left over for travel and entertainment," Wendy says.
We'll spend a total of four nights in Hanoi – including several guided walking tours – giving you ample time to discover all the most well known and hidden wonders this 1,000 year old city offers.
Ha Long Bay
"One Of The 7 Natural Wonders Of The World"

Ha Long Bay literally translates as "descending dragon bay."
And when you see Ha Long Bay up close for the first time, you probably won't believe your eyes…
It is, without question, one of Mother Nature's most spectacular, awe-inspiring masterpieces. Just recently, it was listed as one of the seven natural wonders of the world!
It is simply breathtaking when you first see it…
This UNESCO World Heritage Site boasts literally thousands of towering limestone karst islands… glimmering aquamarine seas… exotic island fauna (including monkeys, sea eagles, hornbills and cuckoos) and authentic "floating villages" populated with local fisherman, families and pets – many of whom have never once stepped foot on dry land…
We'll spend two days and one night on an upscale cruise throughout Ha Long Bay… and will spend the night anchored right in the middle of the bay.
You'll experience all this and more when you sign up for International Living's 2020 Southeast Asia Tour.
With Our Help, You'll Get The Lowdown On How To "Live The Dream" In Today's Southeast Asia!
It's not just all the world-class sights and attractions you'll experience on International Living's 2020 Southeast Asia Tour that you can look forward to next January.
It's also the connections we'll help you make with experts and expats "on the ground" that make this tour different from anything else out there.
You'll discover secrets like:
How to find a great place to live in Southeast Asia at a great price…
How to obtain the right visa for you…
The best ideas for starting a new business in Thailand, Vietnam and elsewhere in Southeast Asia…
The best places in Southeast Asia to meet like-minded locals, travelers, expats and retirees…
How to set up a bank account in Thailand and Vietnam…
The best health insurance options for expats living in Southeast Asia…
How to travel affordably throughout Southeast Asia…
Tax and legal information you need to know…
Whether you should rent or buy in Thailand and Vietnam…
All the advantages and disadvantages of living either part-time or full-time in Southeast Asia…
You'll get to find out EVERYTHING from our experts in Southeast Asia who have gone before you…
…leverage their decades' worth of hard-won experience…
…come up with a REALISTIC and TOTALLY DOABLE game plan…
…and move forward, confident that you won't have to make the same mistakes they may have made… because you'll know exactly what to do from step one!
This will give you a MASSIVE head-start over trying to do it all on your own…
This is the kind of adventure you'll remember for years to come.
And the kind of adventure most people only dream about…
And when you factor in:
The first-class VIP treatment…
The networking with on-the-ground Southeast Asia experts and expats…
The lifestyle opportunities you'll discover…
The new friendships you'll forge with your fellow attendees…
…this is the kind of trip that will show you how a "dream" expat lifestyle in Southeast Asia really is possible.
But please don't delay if you're interested in joining us on this trip.
I'd hate for you to miss out…
SPACE IS EXTREMELY LIMITED
Only the First 36 Sign-ups Are Guaranteed a Spot
To ensure that you receive the very best personal service and attention at all times during this trip, we are only allowing 36 people to register.
That's why it's a wise decision to sign up now and guarantee yourself a spot.
This is an intimate program – there won't be any "herding of tourists" as they say.
You'll be in a small group, traveling with other, like-minded attendees, and you'll be meeting with forthcoming, welcoming, helpful folks on the ground. But to keep the program small and effective, we're strictly limiting participation.
Keep in mind we have about 500,000 readers who we can inform about this tour – so we expect it to fill up very quickly.
If you're interested… please don't wait and risk missing out.
Unbeatable Value, Life-Changing Experience
In addition to being a VIP program—including not only great travel experiences but also incredibly valuable contacts and connections—this tour also (just like Southeast Asia itself) represents great value.
In all likelihood, you'd find it nearly impossible to arrange to meet on your own all the contacts we'll have lined up for you.
What's more, access to just one of the professionals we have on hand could cost you several hundreds of dollars just for a few hours of time. But as part of this program, you'll meet with and hear from a whole collection of insider experts gathering at each stop along our expedition to answer your questions and share their insights.
It could easily cost you $10,000… $12,000… or perhaps even or more to arrange this kind of first-class overseas luxury travel experience on your own, and frankly it can be hard to know whom to trust when you're outside your home country.
We cut through the red tape and connect you with our experts in Thailand and Vietnam…
…without you having to do ANY of the preliminary homework or research.
We deliver the time-saving, money-saving, trouble-saving secrets you need so you can get settled easily, quickly, affordably, and enjoyably.
The price for this fully guided, landmark, two-week adventure throughout Southeast Asia's finest expat destinations is just $6,449 for one person, if you're traveling as a couple. ($7,699 for one person, if you'll be joining us solo).
But, in fact, when you book early, you save big… so you'll pay even less…
Here's Everything You'll Get On This Luxury Tour Of Thailand And Vietnam
Airfares
Los Angeles, CA, USA to Chiang Mai, Thailand*
Chiang Mai, Thailand to Hua Hin, Thailand
Hua Hin, Thailand to Da Nang, Vietnam
Da Nang, Vietnam to Hanoi, Vietnam
Hanoi, Vietnam to Los Angeles, CA, USA*
* If you wish to fly to and from Southeast Asia on your own, you can deduct $900 from your fee and choose not to take the two Eva Air flights we've pre-arranged for you. Email [email protected] or call 1.866.381.8446 to let us know your preference.
Meals
13 Breakfasts
7 Lunches
7 Dinners
Hotel Stays – 13 nights
Chiang Mai, Thailand (4 nights)
Hua Hin, Thailand (2 nights)
Da Nang, Vietnam (3 nights)
Hanoi, Vietnam (3 nights)
Ha Long Bay, Vietnam (1 night on luxury "junk" boat)
PLUS:
All airport transfers in Chiang Mai, Thailand and Hanoi, Vietnam
Sightseeing and excursions with all the entrance fees and tips
Thailand and Vietnam expat and expert meetings
Optional hospital tour in Chiang Mai
All currently applicable taxes
Tips and gratuities for waiters during the group meals
Expert guidance, advice, and perspective offered by IL representatives Rachel Devlin in Thailand and Wendy Justice in Vietnam
24/7 service by one of our tour staff at International Living and Opportunity Travel who will be traveling with you
Save When You Book by October 16, 2019
When you reserve your place now – before October 16, 2019 – you can come for just $6,499 $5,899 per person, if you're traveling as a couple ($7,699 $6,799 if you'll be joining us solo).
I encourage you to act fast to reserve your seat at the lower price today.
With such limited availability, we expect this program to fill quickly.
To claim your spot now, contact our tour partners at Opportunity Travel by phone at 1.866.381.8446 or 1.410.622.3040 or by email at [email protected].
For fun, adventure, and good-value living,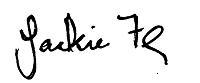 Jackie Flynn
Publisher, International Living
---
P.S. The travel, lifestyle, retirement and entrepreneurial opportunities in Southeast Asia today are virtually endless. It's a part of the world where you really can live large, prosper and enjoy a truly extraordinary lifestyle for significantly less than what you'd pay for an "ordinary" lifestyle back home.
It's an easy place for North Americans to explore. The weather is warm year-round. And the locals will welcome you with open arms.
Whether you're in the market for a full-time escape or looking for a place to spend part of the year, the spots we'll introduce you to on this Southeast Asia trip are well worth your attention.
Join us for two power-packed weeks and you'll get an insider's view with all the secrets you need to embrace a new life in Thailand or Vietnam.
Call 1.866.381.8446 or 1.410.622.3040 now or email [email protected] for answers to your questions or to book your spot.
P.P.S. Below you'll find the pricing breakdown, plus a few more details about the trip. And if you have any questions, please don't hesitate to call and talk to the good folks at Opportunity Travel, our tour partners.
They're standing by to help you out and put your name on the attendee list.
You'll find them at 1.800.926.6575 or 1.410.622.3040 or by email at [email protected].
---
Day-by-Day Snap Shot Schedule
International Living's
2020 SOUTHEAST ASIA EXPAT EXPEDITION
Chiang Mai – Hua Hin – Da Nang – Hanoi – Ha Long Bay
January 12-25, 2020
Friday, January 10 to Sunday, January 12
Depart from Los Angeles, USA To Chiang Mai, Thailand
Flight from Los Angeles, CA to Chiang Mai, Thailand via Taipei, Taiwan
Cross the International Date Line (and skip a day!)
Arrive in Chiang Mai the morning of January 12
DAY 1: Sunday, January 12
Arrive In Chiang Mai, Thailand
Check Into Shangri-La Hotel, Chiang Mai
Group Lunch At The Shangri-La Hotel, Chiang Mai
Afternoon on your own
Dinner on your own
Overnight at The Shangri-La Hotel, Chiang Mai
DAY 2: Monday, January 13
Chiang Mai, Thailand
Breakfast at The Shangri-La Hotel, Chiang Mai
Feed and bathe elephants at The Thai Elephant Care Centre
Discover hill tribe culture at the Mae Rim district
"Local-Style" lunch at the Baan Tong Luang Cultural Village
Dinner on your own
Overnight at the Shangri-La Hotel, Chiang Mai
DAY 3: Tuesday, January 14
Chiang Mai, Thailand
Breakfast at The Shangri-La Hotel, Chiang Mai
1/2 Day morning expat orientation at The Shangri-La Hotel, Chiang Mai
Authentic Thai lunch
Afternoon on your own
Dinner on your own
Shopping for bargains at the Chiang Mai Night Bazaar
Overnight at The Shangri-La Hotel, Chiang Mai
DAY 4: Wednesday, January 15
Chiang Mai, Thailand
Breakfast at The Shangri-La Hotel, Chiang Mai
Visit open-air food markets and shop for fresh Thai produce
Learn how to cook tasty thai meals at the Thai Farm Cooking School
Eat your own Thai Meal on an open-air terrace overlooking the countryside
OPTIONAL: Tour a Chiang Mai Hospital and learn about healthcare in Thailand
Dinner at The Shangri-La Hotel, Chiang Mai
Overnight at The Shangri-La Hotel, Chiang Mai
DAY 5: Thursday, January 16
Chiang Mai, Thailand To Hua Hin, Thailand
Breakfast at The Shangri-La Hotel, Chiang Mai
Fly To Bangkok
Deluxe, air-conditioned mini-van transfer to Hua Hin, Thailand
Check into The Sheraton Hua Hin
Lunch on your own
Afternoon on your own
Dinner on your own
OPTIONAL: Street-food tasting and shopping on Hua Hin's "Walking Street"
Overnight at The Sheraton Hua Hin Resort & Spa
DAY 6: Friday, January 17
Hua Hin, Thailand
Breakfast at The Sheraton Hua Hin Resort & Spa
Visit Maruekatayawan Palace – former summer beach residence of Thai royalty
Group lunch at a local restaurant
Explore the massive Khao Luang cave
"Farewell" dinner at The Sheraton Hua Hin
Overnight at The Sheraton Hua Hin Resort & Spa
DAY 7: Saturday, January 18
Hua Hin, Thailand To Da Nang, Vietnam
Breakfast at The Sheraton Hua Hin Resort & Spa
Fly to Da Nang, Vietnam
Check into The Pullman Da Nang Beach Resort
Lunch on your own
Afternoon on your own
Dinner on your own
Overnight at The Pullman Da Nang Beach Resort
DAY 8: Sunday, January 19
Da Nang And Hoi An, Vietnam
Breakfast at The Pullman Da Nang Beach Resort
Walking tour of Hoi An (recently named "The World's Best City")
Lunch at Restaurant Epice in Da Nang
1/2 Day afternoon expat orientation at The Pullman Hotel
Beachside dinner at The Azure Beach Bar
Overnight at The Pullman Da Nang Beach Resort
DAY 9: Monday, January 20
Da Nang, Vietnam
Breakfast at The Pullman Da Nang Beach Resort
1/2 Day tour of My Son and the Vietnamese countryside
Lunch on your own
Afternoon on your own
Dinner at The Cargo Club in Hoi An
Overnight at The Pullman Da Nang Beach Resort
DAY 10: Tuesday, January 21
Da Nang, Vietnam To Hanoi, Vietnam
Breakfast at The Pullman Da Nang Beach Resort
Check out of the Pullman Da Nang Beach Resort
Fly to Hanoi, Vietnam
Check into The Intercontinental Hanoi Westlake
Lunch on your own
Afternoon City Tour of Hanoi
Dinner at Club De L'Oriental restaurant
Overnight at The InterContinental Hanoi Westlake
DAY 11: Wednesday, January 22
Hanoi, Vietnam
Breakfast at The InterContinental Hanoi Westlake
Morning on your own
Lunch at the Wild Rice restaurant
Afternoon Hanoi Old Quarter Tour
Dinner at The Press Club
Overnight at The InterContinental Hanoi Westlake
DAY 12: Thursday, January 23
Hanoi, Vietnam To Ha Long Bay, Vietnam
Breakfast at The InterContinental Hanoi Westlake
Air-conditioned mini-van transfer from Hanoi to the coast
Sail to Ha Long Bay on the Indochina charter cruise boat
Lunch buffet on board the Indochina charter cruise boat
Dinner in Ha Long Bay on board the Indochina charter cruise boat
Overnight in Ha Long Bay on the Indochina charter cruise boat
DAY 13: Friday, January 24
Ha Long Bay, Vietnam To Hanoi, Vietnam
Breakfast buffet in Ha Long Bay on board the Indochina charter cruise boat
Sail Around Ha Long Bay On The Indochina charter cruise boat
Sail back to the coast
Air-conditioned mini-van transfer to Hanoi
Lunch on your own
Dinner/evening in Hanoi on your own
Overnight at The Intercontinental Hanoi Westlake
DAY 14: Saturday, January 25
Hanoi, Vietnam To Los Angeles, CA, USA
Breakfast at The Intercontinental Hanoi Westlake
Air-conditioned mini-van to airport
Flight from Hanoi, Vietnam to Los Angeles, CA, USA