The Easiest and Most Cost-Effective Way to Explore the World's Best Retirement Destinations—From the Comfort and Safety of Your Home
International travel is challenging right now, so we're gathering our best resources around the world and bringing them to you, via our groundbreaking Private Screening online events.
There are scenic, culturally-rich, kind and calming places in the world where you can live safely, happily, and affordably…$2,000-$3,000 a month (and sometimes even less) is all a couple might need to fund a very comfortable, some would say luxurious, lifestyle. And that's including your rent and health care plan!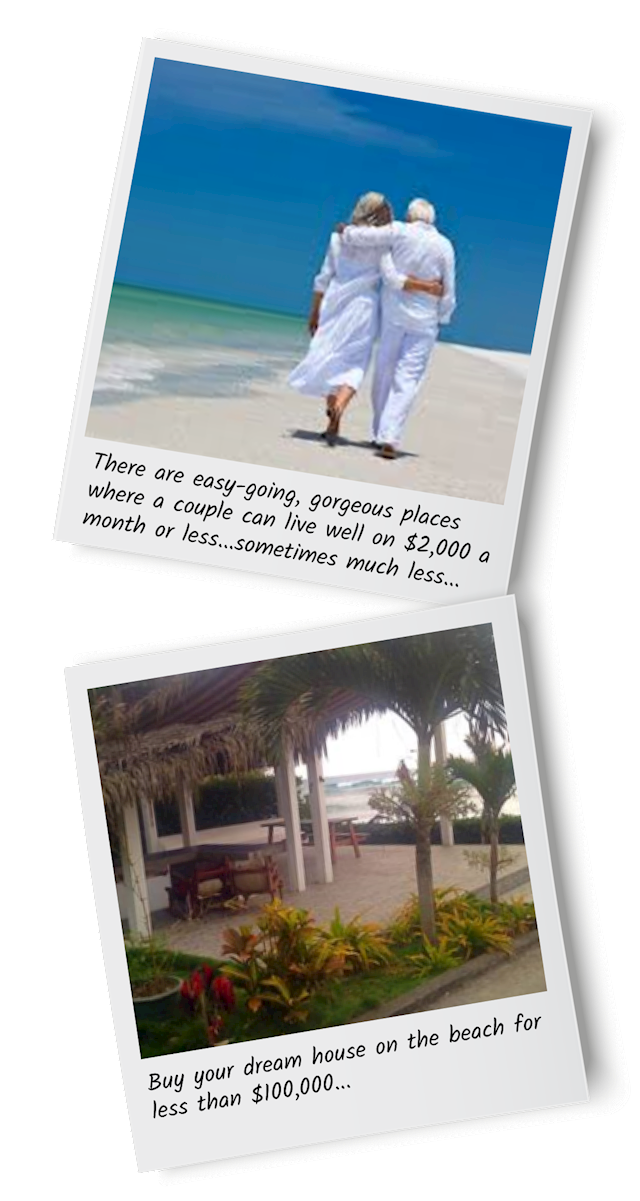 You can spend your days poking around one of the world's grandest and most historic cities, stopping for a cappuccino or a glass of wine and a bit of nosh at a sidewalk café…or maybe you'd rather cook for yourself…
"We swim, sunbathe, take long walks picking up seashells along the way… We watch the surfers. And we watch the cute little Capuchin monkeys that live in the trees.
At an open-air farmer's market, just a couple of bucks can fill your tote bag with fresh fruits and veggies open air farmer's market…plucked from the ground that very morning.
Maybe beach living is more your style. Imagine walking out your front door and digging your toes into the sand. There are places where you can buy a beachfront home for less than $100,000…or rent, fully furnished, for $1,000 or less. And most days you'll have the wide, beautiful beach all to yourself. (In the U.S., you'll pay in the millions for true beachfront…if you can find any for sale, that is.)
But there are hundreds of places around the world where you can live the life of your dreams. They're safe, they're attractive, they're affordable. And they're far from the fast pace, troubles and tribulations of home.
There's no time like the present to investigate your options to live happier, more comfortably, and more affordably.
For more than 40 years now, International Living has been showcasing your overseas retirement and relocation options. We have editors, correspondents, and wide-ranging contacts living in and reporting on every country we think deserves your attention. For decades, we've been hosting conferences and events in these locations to show you firsthand where you can live better for less.
Today, we think our mission is more important than ever and we remain committed to introducing you to your best options for international retirement, investment, and other lifestyle opportunities. We're just going about it a little differently these days..
This is the next-best thing to traveling
and exploring in person..
Extraordinary times call for extraordinary measures. No doubt you'd like to travel and check things out in person. But until you're able to do that with confidence, let us bring the world to you.
This year, we're hosting a series of Private Screening online events. They'll deliver the same kind of in-depth content you'd expect from one of our in-country events. But you can attend online, from the comfort and safety of your home.
In fact, it may be far better than an in-person visit. There are no expensive airfares, hotels, or rental cars to book, no hours of time spent researching, no appointments to make… We've done all the heavy lifting for you.
This is your way to virtually meet the best resources we know in the world's top retirement destinations—the experts and expats that can offer you the real-world guidance and insightful advice you need to design your own personalized overseas strategy.
Over two power-packed days, we'll focus on the best and easiest places abroad to live, retire, and invest—opportunity-rich destinations with a year-round excellent climate, top-quality healthcare and infrastructure, stunning scenery, and an affordable cost of living.
Join us for our special Panama Private Screening Online Event and when you're able to travel, you'll have all the knowledge and contacts necessary to move forward on your plans with confidence.
Save the Dates for This Extraordinary
Private Screening Online Event:

Panama Private Screening Online Event
Taking place August 11-14, 2021
Discover the country that's home to the World's Best Retirement Program that can save you thousands of dollars a year. You'll get perks and discounts on a wide variety of goods and services, from travel and entertainment to restaurant meals, medical bills, and much, much more. Right next door to Costa Rica, Panama is also home to beautiful beaches, temperate mountain villages, and a super-sophisticated Latin-flavored capital city.
Ready to Get Started? You Can Register Now
and Lock in Your Place at a Big Discount
Don't lose momentum. If you're ready to use your time right now as efficiently as possible, go ahead and register now. Do that and you'll lock in a guaranteed seat and be eligible for the biggest discount we'll offer for our Private Screening events.
To register—or if you have questions—just pick up the phone and call Jillian now 1-866-381-8446 (toll free in the US and Canada) or 1-410-622-3040 or contact her online at http://intliving.com/contactevents.
JOIN US ONLINE to discover everything you need to know to move closer to living your best life in the overseas haven that's perfect for you.
And when you're able to travel, you'll have all the knowledge and contacts necessary to move forward with confidence.
Call 1-866-381-8446 (US/Canada toll free) or 1-410-622-3040 or contact us online at http://intliving.com/contactevents.
We'll open registration soon.
Add your name to our "First in Line" list for the Panama Private Screening. You're under NO obligation, but you'll be first to receive details about this exciting interactive online event AND get the biggest discount we'll offer.
We'll introduce you to our best legal, healthcare, and relocation resources in Panama, along with experienced expats. They'll show you how to make your move there as easy and cost-effective as possible. Unlike our live conferences, recordings of this event will not be immediately sold or released.
Add your name now.
*Dates are subject to change