I've been indulging my passion for travel quite a bit this year.
I spent two months in Rome, soaking up the culture of the Italian capital before setting off to explore Venice, with its maze-like alleyways and fantastical mask shops.
I've breathed in the fresh, mountain air in the charming alpine town of Villach in Austria and fallen for the charms of Zagreb in Croatia, where markets sprawl across lively squares, squid is served crispy and fresh, and ancient church steeples tower overhead.
Right now, I'm in Dubrovnik, spending two springtime months on Croatia's Dalmatian Coast where birdsong wakes me every morning. From my apartment I gaze out over lush, green hills and terracotta rooftops, and every evening I'm captivated by the brilliantly pink sunset that lights up my living room.
Here, I take ferry rides to offshore islands with quiet walking paths, and I take mini road trips to resort towns along the coast, like postcard-perfect Cavtat, with its bustling seafront shops and restaurants, and its gleaming yachts moored along the strand.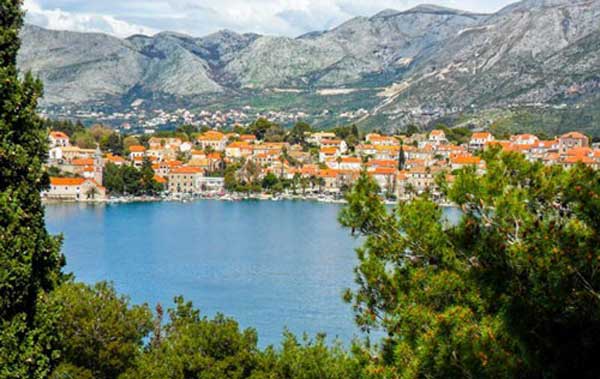 And, when I so choose, I settle in on my cozy loveseat with a cup of cinnamon tea from the nearby market and I do the thing that makes all this travel possible…the thing that pays my bills and allows me to book each new ticket…I write.
As a freelance copywriter, I write everything from business reports to billboards, survey questions to website content—and a bit of everything in between. Writing is something I love doing, something I've loved since I was seven years old. And now it's what I do for a living.
It allows me ultimate flexibility. I can do it from any country in the world as long as I have reliable WiFi and a little creative inspiration. Just this morning, as the sunrise set the hills aglow outside my window, I did one little project that earned me $470.
For the past five years I've been enjoying the freedom and flexibility that copywriting affords me. In that time I've walked the verdant Water of Leith Walkway in Edinburgh, Scotland and learned to Salsa in Sayulita, Mexico, with a live band on stage and a margarita in hand. I've also been able to enjoy settling into life in the Italian countryside, in a romantic Parisian neighborhood, and in a tiny Swiss Alpine village; staying for weeks or months, or however long I choose.
I spend about 15 to 20 hours per week writing, which earns me enough to support myself, have some savings, and fund my travels. On Fridays I take the day off just to get out and about. I'll take a food tour or take on a hiking trail or go for coffee with friends. On Wednesdays, I go to fresh markets and run errands—a thing that might be a chore back home but when traveling it feels like an adventure. And in between, I write…because I get paid to…and because I love it.

Need a Way to Fund a New, Better Life?

Join our Fund Your Life Daily e-letter today, and you'll hear from us five times a week, telling you about ways to earn income that lets you live anywhere, travel anytime… and give you the funds to make your dreams of a better life real. We'll also send you your FREE report Fund A New, Better Life With These 6 Portable Careers.
Related Articles
5 Tips For Safe and Fun Solo Travel
The Quickest Way to Make Money Online