I still remember the first time I went to the feria, or farmers' market, in Grecia, the Central Valley town I call home here in Costa Rica. It was a bit embarrassing. I was buying some carrots and potatoes and had dutifully handed over my filled-to-the-brim bags to be weighed. The vendor read out the total, and I handed over a 10,000 colones note (about $20). Still adjusting to the exchange rate, it took me a second to realize I owed him only about $1.50—and I was taking all his change for the day! I quickly counted out some coins and handed those over to the grateful vendor instead.
It was a great introduction to a huge benefit of living in Costa Rica. But shopping like a local is just one way to cut costs. With rents starting at $300 per month for a simple two- or three-bedroom "Tico (local)-style" home (for sale starting at $50,000) and just $500 per month ($150,000 and up for sale) for a two-bedroom North American house with a view and perks like a dishwasher…you can save a lot on housing, too.
Of course, there are plenty of other advantages to living here.
It never gets cold. And here in the Central Valley, the mountainous interior region where elevations start at 2,500 feet, it never gets above the mid 80s. If you like tropical heat moderated by sea breezes—just head to the Pacific or Caribbean coasts. And, by the way, because Costa Rica is small, about the size of West Virginia, the beach is never very far away, only one to two hours from any spot in the middle of the country.
Natural beauty surrounds you. National parks and protected areas are everywhere—covering about 25% of the land. And with a half-million species, it's incredibly biodiverse. I have had a half-dozen friends throughout the country become amateur wildlife photographers because of the plethora of monkeys, sloths, toucans, and other creatures that regularly cruise by their home.
And this next benefit to living in Costa Rica is a big one: medical care. The facilities are modern; doctors (many speak English) are trained in the latest techniques—it's high quality care. And, with a rambunctious two-year-old at home, I've experienced it personally. House calls from our pediatrician when we didn't have a car to get to the clinic conveniently, weekend calls to his cell phone (yes, I have all my doctors' cell phone numbers) when the baby seemed to be coming down with a serious infection, and late night emergency room visits to both public and private hospitals (once for a leap off a couch that might've broken an arm—it didn't—and another for a very high fever).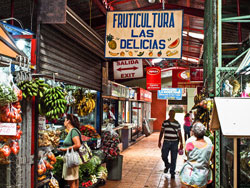 In every instance we were very satisfied. The bedside manner from physicians and staff was excellent. And the price was right. As part of the public system, known as Caja, foreign residents pay a monthly fee based on income and after that receive free prescriptions, doctor visits, testing, even major surgery and hospitalization. No pre-existing condition or age exclusions.
I had a friend get what would have been $100,000+ in surgery and hospitalization in the U.S.—and he pays just $75 a month. In the private system, you can be covered by international or local private insurance. But even if you pay cash, costs are low—about $50 for a visit to your GP, $75 for an ultrasound…and a half to a third, even a quarter, of what it would cost in the U.S. for knee replacements, cosmetic surgery, and other procedures.
Taken all together, the benefits of living in Costa Rica mean I have less stress in my life. I don't worry as much about money. And you can't help but be happy when you live in a great climate surrounded by spectacular views of mountains, jungle, and, if you live on the Pacific or Caribbean, amazing beaches without the crowds.
Finally, I must mention the people. They're friendly, welcoming to new neighbors…and respect for guests and the older generation is part of the culture. It makes for a smooth transition when you move down…and you can do your part too to assimilate. Learn a few words of Spanish to start, like greetings and "How are you doing?", learn more and more as you go, and you'll become a true part of the community.
Related Articles
Best Places to Live in Costa Rica: Five Top Expat Havens