I turn off the Pan-American Highway and start up a gentle slope. Well-maintained and brightly-painted homes with gardens full of vivid blue hydrangeas line the fences on either side of the roadway. Mango trees, heavy with almost glowing green and red fruit, loom above.
Ten minutes later I'm in the heart of the village.
There is a picturesque little white church with a tidy park in front.Children in pressed uniforms file out of their classrooms at the school down the road. Passers-by hail me with a hearty Buenas Tardes as they walk by.
I'm in Miramar, a small town in the hills about an hour west of Costa Rica's capital San José. It's just a 10-minute drive from the Pacific coast. That must be why the garlic seafood dish I ordered at an open-air restaurant in the center of town tasted so fresh…and was just $6.50 for a heaping plate of clams, calamari, fish, and shrimp, with sides of salad and French fries.
Miramar has a lot going for it. It's position, just off the highway, offers quick access to San José. The route takes you on the Pan-American Highway for a short time, and then you're on Highway 27, also known as the Caldera Highway. Completed in 2010, it's a well-maintained, modern toll road that zips you into the western suburbs of the capital in an hour.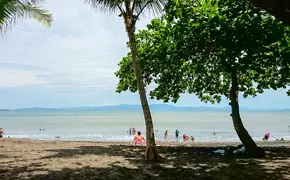 There, in towns like Escazú and Santa Ana, you have the best shopping in the country, including ritzy shopping malls with shops and brands you know from the U.S. There are gourmet restaurants and movie theaters showing new releases in English. And you also have the best medical care in the country (the top hospitals and the most specialists) in San José and its suburbs.
Here in Miramar, you're close to the beach too. A quick hop in the car brings you to a beachfront park with picnic tables and plenty of shade trees. There's also a small seafood restaurant on the beach—a small, protected cove that makes for safe swimming. It's a popular weekend spot for Ticos. They come down with coolers full of food and cold drinks and use the charcoal grills to cook up savory sausages and huge pots of rice and beans. It's all watched over by monkeys, especially capuchins, who cavort in the trees above.
All these advantages and you get to enjoy small town Costa Rican life, where neighbors know neighbors and family and community are the most important part of most people's lives. You get to know the merchants in the neighborhood shops and the weekly farmers' market is a highlight of the week.
And the climate is right, too. Because Miramar is located at a higher elevation, you also have cooler weather, not as hot and humid as right on the coast. Another perk of the elevation is that in some spots in town and surrounding area, you can see all the way to the Gulf of Nicoya, a vast Pacific coast waterway.
As yet, not many expats have made their home in Miramar. It's an undiscovered gem. But that may change as more people discover its charms.

Related Articles
Life is Good at $2000 a Month in Costa Rica
Caribbean or Pacific: Choose Your Paradise in Costa Rica
Renting in Costa Rica From $400 a Month
---
The Countdown Is On! Discount Ends June 15
Right Now Is the Best Time in History to Start Earning as a Freelancer
If you crave the freedom and flexibility of a side income that allows you to earn when you want and play when you feel like it...we have a solution for you.
"Remote work" is here to stay, and we can show you how to capitalize on this trend and turn what you already know how to do into a side income online that can help fund a retirement that looks the way you want it to. Can you really afford to miss this?
Online Portable Income Masterclass
June 26-27, 2021
---