Starting a successful business overseas is much like starting a business in your home country: Find a need and fill it.
California native Ingrid Anderson, 41,  saw that expats and tourists on the southern Pacific coast of Costa Rica, in the beach community of Uvita, needed a spa and salon—a place to be pampered, primped, and peeled.
She was right. Since opening in  September 2012 the appointment book for  Mia Bella Spa and Boutique fills up regularly with clients seeking a massage, body waxing, eyebrow tinting, make up, spray tanning, facials (including microdermabrasion and  chemical peels), as well as chiropractic care.
Ingrid works alone in the spa, but brings in a professional masseuse for massage clients and a chiropractor for those services as needed. With 17 years as an esthetician with her own spa and makeup artist for event and swimsuit photo shoots in the U.S., she's well suited to her new role here.
And even though she charges half or less of what a similar spa in the U.S. would charge  ($60 for a full 60-minute facial versus $125+  back home), Ingrid has nearly recouped her  $10,000 initial investment just six months  after opening.
"Every month is different. Sometimes I only make $1,200 and other months $2,000 to $2,500. Overall, we've done really well," says Ingrid. "But you don't come to Costa Rica to make a killing. You come to enjoy the lifestyle. The region where Ingrid lives, also known as the Southern Zone, runs roughly from the surfer town of Dominical south to the Panamanian border. It's graced with the natural beauty of green mountains dropping dramatically to the Pacific; wild, deserted beaches; steamy jungles filled with toucans and monkeys; world-class surf; and jawdropping sunsets.
Pampering Niche
And while it has plenty of surf shops,  hardware stores, grocery stores, and other "practical" places to shop, it was seriously lacking in the pampering and beauty treatment department before Ingrid came along.
With better access to the region thanks to the completion of a coastal highway in 2010, a growing numbers of expats call the Southern Zone home. These days, with luxury homes dotting the hills up and down the coast, many aren't the rough and ready type. And they're hoping for some comforts from home they are used to.
The clients at Mia Bella Spa and Boutique are mostly expat women, although Ingrid does get some Ticas, as Costa Ricans call themselves.
The salon hours fit Ingrid's pura vida lifestyle—9 a.m. to 4 p.m. Wednesday to Saturday. She takes walk-ins but most of her work is done by appointment. Many of her clients already have a favorite treatment.
"The 'Signature Facial' is the most popular because it includes microdermabrasion, vitamin C or pumpkin enzyme, as well as an upper body and hand massage. Sometimes we add oxygen for an extra fee," explains Ingrid.
Networking for Business
Another great source of customers has been local hotels. Accommodations here tend to be smaller scale, without on-site spas, so Ingrid has gotten to know the managers and staff at local boutique hotels, B&Bs, and ecolodges. She leaves brochures in the reception area so when a guest asks where they can get beauty treatments, they send them to Ingrid.
"It's nice to be hiking in the jungle or out surfing all week. But then you go and get a facial on Saturday." She also has a team that will go to hotel to do treatments. Word of mouth and an ad in the local phonebook and expat magazine have also brought in business.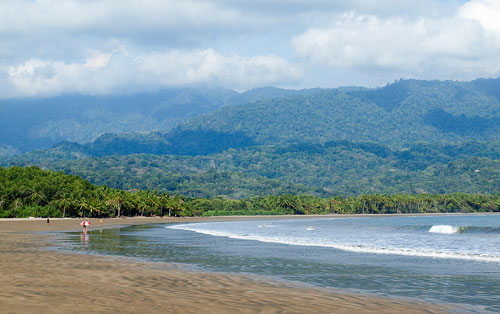 While the spa has taken off well, it was actually a long time in the making. Ingrid and her husband, Robert had owned a house in the area for six years and were frequent visitors.  They made the decision to make a permanent move to the area about a year ago, after their oldest daughter graduated from high school.  Their youngest daughter is with them.
Unlike the stress, traffic, and other hassles she had to deal with in the U.S., doing business in Costa Rica has been much easier.  "It's hard to have a business in Los Angeles with all the taxes and fees," says Ingrid.  "Plus, there it seems the more you make, the more you spend. No matter how much we worked there was nothing left over at the end of the month."
If possible she schedules appointments for either the first half or second half of the day, giving her plenty of time off. "That way I can enjoy time with my family. That's why I'm here after all," says Ingrid. "I have a very flexible schedule. If I'm not busy, I'll head out."
She also spends plenty of time on the beach—she's a fan of stand-up paddle boarding. Personal fitness and martial arts are her passions as well and the focus of another business in town, a gym, which she runs with her husband.
Minimizing Costs
Her start-up process for the spa included refurbishing the interior of the shop and building a separate cabin with air conditioning. She was able to use some equipment from her old shop in the States in her new location, but brought things like natural skincare products and cosmetics.  Instead of shipping  supplies down, she chose the cheaper option of paying  an extra baggage  fee ($40 per piece  on Taca Airlines)  to bring a new microdermabrasion and facial machine,  a massage table,  airbrush tanning  machine, and three  waxing stations.
Her rent is just $300 a month on a three-year lease; a steal compared to rents in Los Angeles. "In a nice area you would pay thousands for the same type of space," says Ingrid, who adds that her electric bill is just $75 a month.
There have been challenges though.  Getting supplies can be difficult, especially  for the natural products Ingrid offers, but  she's recently found local suppliers for things  like castile soap (a chemical free product)  and organic coconut oil (for massage). She's also started selling jewelry from a local expat artist. On an upcoming trip back to the U.S. she plans to spend about $2,000 to buy more all-natural products (her first run sold out quickly).
"I will be adding swimsuits and coverups soon as well. I keep adding to the spa/ boutique because now that I live here I see there is a need for these things. I notice what people still want and need from the States and bring it to the shop. In the Southern Zone we are still limited in certain things."
Worth the Effort Navigating the government bureaucracy to obtain operating permits from the local municipality and health department was not smooth sailing. She made several visits to get her health department certificate—each time, officials told her she needed yet another document.  But Ingrid says it's still worth it, and patience is key. "Here, nothing is 'now'.  It'll get there, just not now. And that's okay," she says. "I'll take that over the L.A. freeway."
With all the growth and lack of amenities, Ingrid sees a very positive business climate here, ideal for people who want to live overseas but aren't ready to retire. "It's great for people who want  to live here and enjoy all the area has to  offer but need to support themselves," says  Ingrid. "Life is good here, and I'm very lucky to have the opportunity to be here raising my child and living the dream."
Editor's Note: Learn more about Costa Rica and other countries in our daily postcard e-letter. Sign up for IL's free daily postcard here and we'll send you a FREE REPORT – Why Are Americans Still Flocking to Costa Rica.