For many prospective expats, the quality of medical care in the country they plan to move to is a very important factor. Of course, most hope to never find out how good the health care system is. But things happen.
Mike Crump, 71, who lives in the small farming community of Turrubares in Costa Rica's Central Valley, had his first experience with Costa Rican health care soon after he and his wife, Janet, also 71, moved down to their property. He was clearing land—they had bought a former coffee farm, which they've since got up and running again—when an errant chainsaw sliced his leg.
"We went to the local EBAIS [a primary care clinic in the public health care system staffed by a doctor, nurses, and support staff]," explains Mike. "I got great care. It was terrific."
The Crumps are big proponents of the government-run public health care system, known as Caja. Legal foreign residents are required to join and pay a low monthly fee based on income, usually starting around $75 per person, though the higher your income the more your payment. After that you don't pay anything for care, including doctor visits, testing…even surgery.
There is a network of local clinics (usually in your neighborhood), larger clinics in nearby towns, and large hospitals in big cities and regional centers throughout the country, although it's important to note, if you have existing medical issues, that the best facilities, best equipment, and top doctors—including specialists—are in and around the capital city, San Jose.
The couple have taken full advantage of their Caja coverage, including more visits to the local emergency room but also day-to-day care.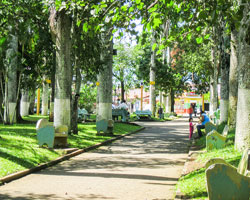 "The Caja is our first line. We love getting our prescriptions and doctors' visits covered," says Mike.
Mike notes that most drugs, except those that are psychoactive or habit-forming, or antibiotics, are available over the counter in Costa Rica without a prescription. As such, your pharmacist becomes an important health care provider, though he says it's important to always coordinate care with your doctor.
When Mike had a cataract they started with diagnosis and treatment in the Caja system but switched over to private doctors and facilities for surgery because the waiting list for a public hospital was too long.
And that's one of the disadvantages of public health care in Costa Rica. Although the treatment is good and the doctors and staff well-qualified, because it does serve so many people (every Costa Rican citizen is also eligible) with limited resources, there are waiting lists for diagnostic testing, visits to see specialists, and elective surgery. Of course, in emergency situations you are seen right away.
Like the Crumps, many expats mix and match private and public care for this reason. They have a public system primary care doctor and get their prescriptions there…but if they need a test or procedure, they might visit a private clinic to get it down right away. Luckily, even private facilities are low cost. For example, an ultrasound—done by a radiologist—is just $75. Doctor visits run about $50; specialists are $80 to $100 per visit. Even surgeries are cheap in the private system. They cost a third or even less than the same procedure in the U.S.—that's if you're paying cash.
Of course, you can use medical insurance in Costa Rica, with international policies or local options available.
All in all, most expats in the country find their health care needs well met. And a big bonus: the quality of care is much higher and the typical bedside manner is very comforting. Doctors don't rush you out of their office, and they'll take time to make sure you understand the diagnosis and treatment. And they're reachable—I have all my family's doctors' cell phone numbers and email addresses. They'll answer—even if you call on nights and weekends—which I've done when my year and a half year old was having some issues.
Free Costa Rica Report:
Learn more about Costa Rica and other countries in our daily postcard e-letter. Simply enter your email address below and we'll send you a FREE REPORT – Why Are Americans Still Flocking to Costa Rica. 
This special guide covers real estate, retirement and more in Costa Rica and is yours free when you sign up for our IL postcards below.
Get Your Free Report Here