First come the artists, the writers, then those with money follow…
This is a pattern I've witnessed time and again in places that undergo gentrification. Artists and creatives find an overlooked town, city, or neighborhood. They move in…make it an exciting place to live…watch as a whole micro economy grows up around them…as old buildings get new facelifts. Before you know it, money is flowing in and the town is booming.
In San Miguel de Allende in Mexico's Central Highlands, it started with a gringo from Chicago. An American artist named Stirling Dickinson.
In 1937, Dickinson set off to Mexico with a friend to write a book about his adventures. His plan was to set up base in San Miguel. But when entering town for the first time, and seeing the spellbinding architecture of the Parroquia de San Miguel Arcángel, Stirling instantly knew he was going to stay for the rest of his life.
And thousands more artistic and adventurous folk followed…including pioneers of the Beat Generation, Jack Kerouac and Neal Cassady, Allen Ginsberg, and William Burroughs.
For six decades, until his death in 1998, Dickinson led a renaissance that transformed tiny San Miguel into an international art center and one of Latin America's most magnetic destinations.
Walk the streets of San Miguel today and the legacy of this vibrant arts community is tangible. There are street artists around every corner. Over 130 art galleries. Music spills out from bars and restaurants. The place is awash with color…buildings in shades of lemon-yellow, tangerine, cobalt, and crimson line the cobbled streets.
And like I say, with gentrification comes money…
San Miguel draws in wealthy folks from Mexico and all across Latin and North America. You'll find plenty of Europeans and Asians too, shopping in the sleek boutique stores or sipping craft beers in trendy bistros.
The international wedding industry in San Miguel de Allende is especially huge, with some 830 weddings held there in 2019.
This year-round influx of visitors is what makes such a powerful investment case for San Miguel. And it's a big component of our recent Real Estate Trend Alert deal in San Miguel.
Today, it's estimated that 15% of San Miguel's population is made up of expats. One of whom is the newest member of my research team…
Jason Holland has lived in San Miguel for over three years. He knows its breweries and its jazz bars. He knows where the find the best tacos and tamales. And he knows how to crash a wedding…and how to get crashed by one…
Read his story below…
Crashed by a Mexican Wedding
By Jason Holland
"Stay! You're welcome here.
Let me get you a drink—we're celebrating!"
I'd just stumbled into my first Mexican wedding.
It was my first time in San Miguel de Allende, Mexico, and my first time drinking mezcal.
The location: a hip restaurant/bar in the heart of the historic centro, just a block from the showcase Jardin central park.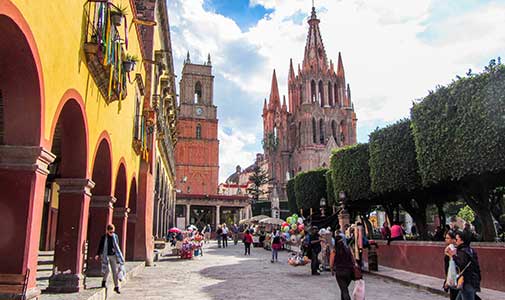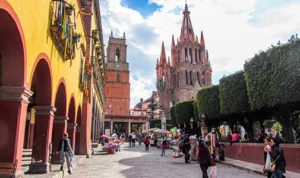 As per the regulations laid out for this UNESCO World Heritage Spanish colonial city, the exterior of the bar was preserved, with the same look as it had centuries ago.
But the inside had been done up to something you'd find in Miami or Manhattan or Milan—well, other than a few interior walls that had been left "distressed"; that's a big part of the San Miguel aesthetic. Multiple levels. Sunken cushioned areas for lounging and enjoying craft cocktails and fusion sushi. Lots of mirrors and chrome. Abstract multimedia art on the wall. Populated by a hip, moneyed crowd in designer fashions. Downtempo chill-out music spun by the DJ in the corner.
I was at the bar with a friend who had lived in town since the 90s. Big changes everywhere in the last few years, he told me, gesturing to our surroundings…
That's when the wedding crashed us.
The bar began to fill with people of all ages wearing white. They came up the stairs in groups of four or five at first. Then a steady stream.
The bartender then told us the restaurant was closing, and we had to go. Turns out a family had rented out the whole place for a night-before-the-wedding party. As I gestured for the bill a member of the family sidled up to the bar…
"Stay! We are celebrating LIFE!"
Those of the group not already inside were dancing in the streets to a frenzied performance from a banda group—think up-tempo polka with lots of horns.
I did a little dancing…and some drinking. I met some cousins, uncles…and as the speeches started, I made my escape…
In San Miguel it's easy to get swept up in the action like this.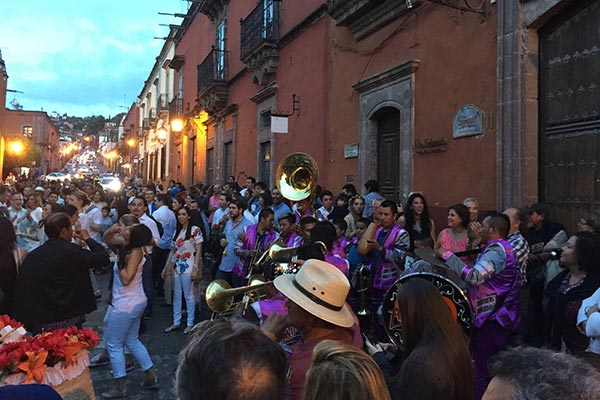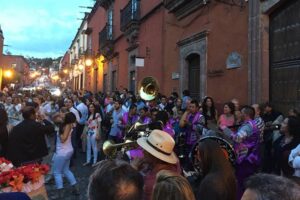 This is how I learned that San Miguel de Allende is the destination wedding capital of Mexico. Well-heeled families from Mexico City, Monterrey, Guadalajara, and the like…as well as the U.S., around Latin America, even Europe and Asia…flock here for the fairytale look and charming ambiance.
They join abundant numbers of national and international tourists—not to mention thousands of full and part-time expats, just looking for a good time among the historic churches, quiet parks, and narrow cobblestone lanes of centro, as well as in the gourmet food halls, rooftop bars with panoramic views, boutique hotels, French cafes, and day spas.
It's no wonder San Miguel has been named the best small city in the world by the readers of Conde Nast Traveler in 2020…and 2017 and 2018. It's garnered the same nod from Travel & Leisure in recent years.
San Miguel is in many ways Mexico in microcosm: very modern, yet with a still-strong emphasis on a proud history, the Catholic Church, and centuries-old traditions. Not to mention the people, expats and locals, who—no matter their background—like to have a lot of fun too.
That mix is what drew my family and I here after that initial visit.
We've now lived here for just over three years…
I can get anything I need for cooking my favorite Thai and Indian food at home. My wife and I can see a live gypsy jazz band one night…a classical string quartet the next…or check out an art gallery open house with wine and apps. We have 250MB fiber optic highspeed internet at my house. Cell service is excellent. And if I need a new charging cable for my laptop, there are several places I can get it.
Yet, at the same time, we have corner taco stands, regular processions tied to patron saints for different colonias (neighborhoods), Day of the Dead, La Alborada (featuring daylong parades of dancers in indigenous costume and a 4 a.m. fireworks battle in the town square), and mariachis strolling the plazas in the evenings ready to serenade you and your sweetheart with romantic ballads.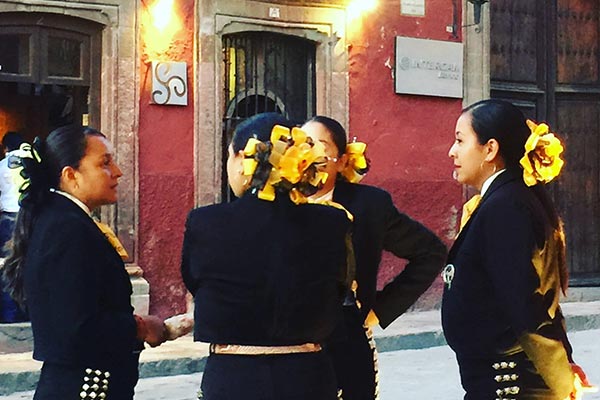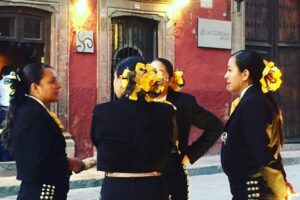 The old and new live side by side in San Miguel. And it's an easy place to live, whether you want a rehabbed colonial in the centro or a modern home just outside the historic district.
It's a walkable place…the climate is temperate year-round, with warm but not hot days and cool nights. Sure you have Uber or a taxi for bringing home groceries from the market. But mostly I walk, which allows me to feel the pulse of this vibrant community.
Ronan says: When I brought RETA members our recent deal in San Miguel, it was with the goal of casting a wide net across the entire rental market.
As Jason observes, San Miguel is always buzzing with international tourists, wedding parties, and well-heeled Mexican just there for a break.
Its perfect climate is a huge draw for snowbirding expats—along with the art, food, architecture.
You'll also find folks escaping the heat of Texas and Florida in San Miguel…there's always folks coming and going.
But because of San Miguel's strict building regulations, travel accommodation in the historic downtown is limited to small and expensive boutique hotels. Even at rates of up to $400 per night, these boutique hotels sell out fast.
With our RETA deal, we hit the sweet spot…
Perched on a hill overlooking San Miguel, our RETA opportunity is close enough for you to walk to the center of town, but not so close you're kept awake at night by weekend revellers.
The design of the development mixes old and new, comfort and culture, to create a unique high-end community that's perfect for capturing overflow from San Miguel's small and expensive boutique hotels.
At a RETA-only price from just $166,300, we're getting an incredible deal—a huge discount of $45,666 on retail.
I figure these condos will be worth $250,000 five years after delivery, and—once delivered—could make $24,000 a year in rental income.
I reckon you could charge $200 a night for at least 60 nights a year and get $120 for another 100 nights. That's a total of up to $24,000 per year in rental income (with plenty of free availability for you and your family to enjoy your condo too).
And like I say, on top of this, I expect strong capital gain. I figure these condos will be worth $250,000 within the next five years… adding an additional $83,700 in appreciation to your total profits.
RETA members can learn more about the deal, right here.
Get Your Free Real Estate Report Now
Sign up for our free daily Postcard e-letter and get a valuable free report on the The 5 Best Places to Buy Real Estate In 2023.
Related Articles
Calculating Risk and Reward in Real Estate
Finding the Diamond in the Real Estate Haystack