Chicago natives Brad and Christine Schofield have always loved the beach and the water. As their children were growing up, family vacations always seemed to be centered on the sand and sea. As time marched on, their dream to own an inn on the beach headed toward reality.
Brad (56) was a manager in the restaurant industry, and most recently general manager of a Chicago environmental company that processes waste cooking oil for the restaurant and hotel industries. Chris (53) owned her own interior design and room renovation business.
Growing tired of the brutal Chicago weather and the high cost of living, they started searching the Internet for properties that met their criteria—great weather year around…affordable cost of living…friendly people…and, of course, an attractive destination market for tourists.
Belize kept emerging time and time again as the ideal place to make their new home. It's a country that really has it all; beautiful beaches, eco-tourism adventures, the second-largest barrier reef in the world, ancient Maya ruins, and friendly laid-back people.
There are excellent restaurants and bars and it was easy to get to from North America. Business opportunities keep cropping up, fed by the growth of the expat population from North America, and the official language is English.
Brad and Chris traveled to Belize several times to view properties, and Chris ultimately found the ideal place in Placencia in February, 2012—an inn for sale. A structurally sound building, along with the ability to purchase the beachfront property in front of the inn, made it the perfect choice. The renovations required to upgrade the inn to meet their needs were affordable and achievable.
Never shy about making decisions, this determined couple decided to go all in! The purchase of the property was completed in June, and they immediately closed the inn for renovations. Chris started work on the building in August, and Brad went back to the States to finish up business there. They sold their house, furniture, cars, basically everything that wasn't going to be needed in Placencia. They cashed in retirement plans, 401(k)s, stocks, and other investments.
Brad joined Chris in September, and the dream started to take shape. The Sea Glass Inn was born. As they told me, "We had a lot of work ahead of us, but we didn't spend much time worrying about whether it would succeed or not. We just did it."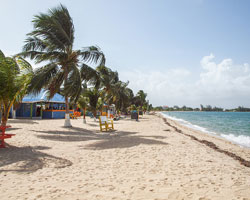 They hired a crew of five local workers to do the major construction, electrical, and plumbing work. They did some of the lighter work themselves, and spent four months on-site supervising the work. They opened for business on December 2, 2012, and business has been growing steadily ever since.
To some people this may sound impulsive, but they did their homework, developed their plan, and moved ahead with it. No hesitation, no looking back, no regrets.
Health care was not a major factor in their decision to move here. Belize does not have the outstanding health care reputation of Costa Rica or Panama, but there are good local doctors and clinics for relatively minor issues. Brad and Chris feel they would likely return to the States for anything major.
Their new life is rich and full in other ways. Chris is a member of the Placencia Rotary Club, and is involved in other volunteer activities, while Brad plays the guitar with a local band that performs in various bars, restaurants, and resorts.
Free Report:
Sign up for IL's Fund Your Life Overseas e-letter today and we'll also send you a FREE report about ways to earn money abroad. Simply enter your email in the box below and we'll send you this free report: Fund Your New Life Overseas With These 6 Portable Careers.
Get Your Free Report Here