I'm excited about our lots opportunity in Rocha, Uruguay. The investment case couldn't be simpler or more clear-cut.
Real Estate Trend Alert member can buy ocean-view lots, in a best-in-class community, close to fabulous Atlantic beaches, with interest-free finance for $31,356.
Here's why it's such a great deal:
Little Uruguay is a safe haven—an ideal place to park money and assets in good times and bad.
The current crisis has all but stopped sales for the developer…and with the strength of our group buying power, I was able to negotiate a deal that gives us significant discounts on retail prices.
We're also buying from a developer who purchased the land for this project way back in the 1990s. That gives him more wiggle room in his pricing for us.
We're buying ahead of a Path of Progress which will transform this location.
The developer has deep pockets so he can make a very attractive finance offer…
Uruguay is known as "The Switzerland of South America." It is a beacon of dependability and calm in a turbulent world. It's a solid, stable, and welcoming country, with low levels of inequality and poverty. It ranks highly in indices such as the Human Development Index, the Human Opportunity Index, and the Economic Freedom Index. In the 2019 Corruption Index, Uruguay was rated less corrupt than the US. It was #15 in the 2019 Democracy Index…10 spots higher than the U.S.
As such, Uruguay has become a popular place for investors to park their money during times of uncertainty.
During the crisis in 2008, while many countries saw real estate prices tumble, Uruguay's market remained remarkably stable. This was partly because Uruguay has a very small mortgage-backed-lending market. 90% of transactions are done with ready cash, so the country didn't experience an asset bubble. Plus, steady growth in the local property market offsets any discernible fluctuation in the foreign market.
The case for Uruguay remains as strong today as it did then. It's an ideal safe haven for smart investors. But what makes this crisis different is that developers' sales have all but dried up. Argentina, the primary market for second homes here, is in lockdown. That's why I have been able to negotiate special members-only pricing on 19 handpicked lots.
The RETA price is as low as $31,356. That's a discount of $6,422 on retail price.
Plus, there's interest-free developer finance on the table. On the $31,356 lot, members can buy with a manageable down-payment, followed by 48 monthly payments of $490.
And there's cream. Members who pay cash can slash the price on that $31,356 lot to a screaming bargain of $26,652—a whopping $11,126 savings on retail price.
Once the current crisis passes and the world gets back to a new normal over the next few years, I expect these $31,356 lot will be worth $50,000.
As I explained in yesterday's mailing, members are benefiting from a Path of Progress rolling east along the coast from Uruguay's ritziest beach town, Punta del Este.
In Punta, you'll see sleek yachts and Ferraris on the streets. Royalty, celebrities, and discreet but super-rich businessman mingle with locals. But if there's one thing the super-rich like, it's exclusivity and privacy. As Punta became more built out, they went east. They followed new infrastructure which opened up La Barra and then Jose Ignacio.
As happened in Punta and La Barra, real estate prices in Jose Ignacio soared when the jet-set came to town.
For a while, because natural lagoons acted as a barrier, the Path of Progress couldn't go any further. But now, the new Laguna Garzón Bridge has opened up the region of Rocha to well-heeled buyers looking for the next place to be on this stretch of coast.
The jet-set is already making moves there. There's a swish $50 million project, selling three-quarter-acre lots for up to $400,000. New boutique hotels are opening up. And Rocha's beaches and beach towns are on the lips of the "who's who" of real estate in Uruguay.
But RETA members can still get in here ahead of the mainstream…and for a mouth-watering $31,356 too.
Remember, we're only getting this price because the current crisis has all but stopped sales for the developer. This allows RETA to swoop in with our group buying power and snag this deal.
The best-in-class community members can buy in is close to everything. It's surrounded by serene countryside—fields and farms, forests, and lakes. It's less than a mile from a huge national park. It's also close to the beach town of La Paloma—where you'll find boutique hotels and a choice of eateries. And it's just a short walk to a gorgeous beach.
Staying in this area in peak season is already getting expensive. $180 a night is the going rate—and that's for a bare-bones room. That means, if you choose to build, you can target strong rental income. I figure you could make as much as $1,500 a week. And because you can buy low, you maximize your yields.
But the beauty of lots is that there's no obligation to build. This is a passive, sit-back-and-wait kind of play. A way to lock-in a hard asset in a safe haven, with minimum effort, and plenty of upside potential.
And with an ocean-view for just $31,356, I can't think of a better way to safeguard your portfolio during a crisis.
Remember, this is a RETA-only deal and supply is limited.
Get Your Free Real Estate Report Now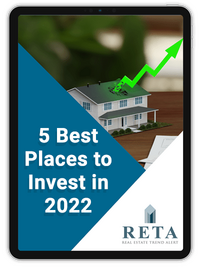 Sign up for our free daily Postcard e-letter and get a valuable free report on the The 5 Best Places to Buy Real Estate In 2022.
Related Articles
The 10 Best Places to Invest in Real Estate
3 Ways To Profit In South America's Best-Kept Secret
Let's Keep This Safe Haven To Ourselves…