In Ecuador, nature is ever-present. And you can enjoy it fully in the city of Cuenca, where those rivers trail amid mountain surrounds.
The colonial churches, grand mansions, shady parks, and fountain-anchored plazas have earned Cuenca world-wide recognition for its beauty.
A mild climate makes for comfortable living year-round. Average daily temperatures reach into the 70s F, and the nights are cool and fresh.
Cuenca is a place of Old World beauty, where you can enjoy the open welcome of an artists' community, the comforts of modern conveniences, and wallet-pleasing prices.
For a decade now, Ecuador has been one of International Living's favorite locations for overseas retirement. Ecuador has been among International Living's preferred locales ever since, regularly topping our top retirement havens list.
For retirees, colonial Cuenca is Ecuador's most attractive city. The third largest in the country, it offers the relaxed pace of a smaller town with the first-class amenities and healthcare of a bigger one.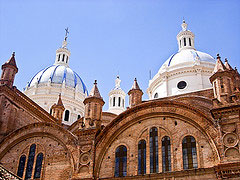 And since Ecuador's official currency is the U.S. dollar, you have no problems determining the cost of goods or services. Although imported goods are more expensive, local products and labor are quite reasonable.
Despite its recent popularity, Cuenca has retained a strong culture and cosmetic beauty that people are falling in love with. The expat community is steadily growing so if you are thinking about making a move, now is the time to look at colonial Cuenca.
Cuenca is one of Ecuador's three UNESCO World Heritage Trust sites (the others are Quito and the Galapagos Islands). In 2006, an international association of urban planners voted Cuenca as one of the two "most livable" cities in Latin America, citing its culture, low crime rate, and "middle class" feel. The city has received high ratings from other sources, including National Geographic and Stern magazine.
In Cuenca, not only can you retire on little money, you can also live very well. It's easy to retire on less than $17,000 per year, and this figure is based on a very comfortable lifestyle. Many foreign residents have their main home in the city, and also have a country home, a beach property, or even property in another country…a feat that would be impossible on a comparable budget in the U.S.
Here is a monthly breakdown of costs for a couple living in Cuenca:
Housing (rental of a luxury two-bedroom apartment): $500
Utilities (including phone, internet and CATV): $150
Maid (twice a week): $60
Groceries: $300
Maintenance and fuel for one car: $140
Clothing: $70
Entertainment (dining out eight times per month plus other): $175
Healthcare: (four $30 visits to a doctor per year for two people): $20
Monthly total: $1,415
Get Your Free Ecuador Report Here:
Learn more about Ecuador and other countries in our daily postcard e-letter.
Simply enter your email address below and we'll send you a FREE REPORT – Ecuador: Live Like Royalty on Your Social Security.
This special guide covers real estate, retirement and more in Ecuador and is yours free when you sign up for our postcards below.
Get Your Free Report Here