These days, Michael Hayden is often found strolling the colorful, cobbled streets of his adopted home, Granada, one of the oldest Spanish colonial towns in the Americas.
"There's no other place like Granada. It has a solid center…you can walk in any direction and see beautiful homes. You have impressive Mombacho Volcano in view over the streets and a steady flow of breezes from Lake Nicaragua," says Michael. "It's a special place to be. I like living here because it's an easy and tame town, I can walk wherever I need to go, and I don't spend a lot of money."
Only two blocks from the most famous street in town—La Calzada—Michael runs his restaurant, El Kapuyo.
After leaving California to spend time in Italy—where he nourished his artistic talents and enthusiasm for painting, decorating, and cooking—Michael made yet another big move, this time to Central America.
"I originally planned to move to Costa Rica, because I had been told it was the place to be in Central America." But over three exploratory trips, prices rose, and it became too expensive, he says.
So he began considering the "up-and-coming" country of Nicaragua, a search that ended in Granada.
Life in Nicaragua is significantly cheaper than in the States. "I've lived in seven houses here, and never paid more than $350 per month until opening El Kapuyo," says Michael. "I keep my utility bills low by not using air conditioning. You don't need it if you have the right house—one with high ceilings, eastern exposure, and winds off the lake."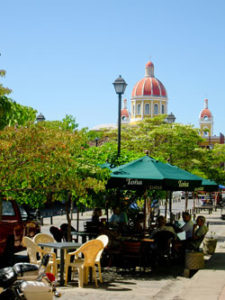 El Kapuyo is Michael's "palace" where he both lives and runs the restaurant. "I pay $800 per month to lease this gorgeous colonial. My staff is very inexpensive. I have to sell only 12 dinners per evening to uphold a good profit margin. I spend 25% of my income on food—all fresh ingredients that I find in the small, organic markets of Granada."
Currently, El Kapuyo opens only for dinner. During the day, Michael enjoys hunting for unusual and flavorful ingredients to put into his three-course vegetarian menu. Often, he likes to sit and watch the world go by from a cozy outdoor table. "I'm not a social butterfly," he says, "I'm so committed to the restaurant now. In my free time, I like to be by myself, have a beer…I've had my age of partying—it's time to be a little quieter now."
Granada seems ideally suited for that approach as it's proven to be both a comfortable and convenient place to live. And it's not just the rent and food that's affordable. "Dentists here are cheap—I had a couple wisdom teeth pulled for $10 each," says Michael. "I had a bridge done for $150, and I've had no problems with it in two-and a-half years. Vivian Pellas is the private hospital nearby. They offer health insurance at $500 per year."
Expats are flocking to Granada, Michael says. "There's a big, organized expat community here—search for the Facebook groups, 'Expats in Granada' or 'Expats in Nicaragua.' It's useful to keep in touch with other North Americans who know the ropes."
In the near future, Michael says he'd like to rekindle his love for painting. "Maybe I'll create a gallery inside the restaurant. I'd love to help build a larger community of local and expat artists to get this town known for its art."
Need a Way to Fund a New, Better Life?

Join our Fund Your Life Daily e-letter today, and you'll hear from us five times a week, telling you about ways to earn income that lets you live anywhere, travel anytime… and give you the funds to make your dreams of a better life real. We'll also send you your FREE report Fund A New, Better Life With These 6 Portable Careers.
Related Articles
The Quickest Way to Make Money Online
5 Reasons to Become a Travel Blogger