Culture takes in far more than the arts, the architecture and the history of places. Sure, Rome is outstanding for antiquities and churches and Paris has the Louvre. But whether it's watching an afternoon cricket match on an English village green, going naked in a German sauna, or riding a bike through the Dutch tulip fields, Europe has a multitude of fascinating cultural experiences. And when you can combine city thrills with good food, so much the better.
For a different take on "culture" as well as delectable taste sensations, add these five cities to your European wish list.
1. Oxford, England: Pub Culture at its Historic Best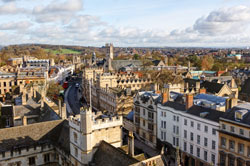 The UK is synonymous with pub culture. With around 50,000 inns and pubs, there's no shortage of places to try your hand at a game of darts, take part in a quiz night or prop up the bar and tune into local gossip. And with the explosion of gastro pubs as well as real ale (similar to craft beer), you'll find far more on menus than steak-and-kidney pie.
With its town-and-gown history going back over 800 years, Oxford, the City of Dreaming Spires, is the UK's oldest university city. One of its most architecturally stunning, too. After you've heard the Christ Church choir, and explored the fabulously quirky Ashmolean and Pitt Rivers museums (don't miss the shrunken heads), hire a long, flat boat called a punt and take the water route through the meadows along the river Cherwell. The latter is the name given to Oxford's stretch of the famous river Thames.
Within an hour or so of punting, you can be at a 17th-century riverbank inn called The Trout near Wolverton. Crispy duck salad…slow-cooked pork belly….rib-eye steaks…smoked haddock and spinach fish cakes. There's an extensive menu, and the two-course daily specials start at £12.50 ($20).
In the city center, a standout pub on the literary and real ale trail is The Eagle and Child. The inn dates back to 1650, and during the English Civil War, the building served as a playhouse for Royalist soldiers. During their time at Oxford, J.R.R. Tolkien, C.S. Lewis and fellow writers met here and formed a writers' group called "The Inklings." Along with traditional fish and chips, mains include pork and black-pudding sausages with creamy mash potatoes, venison and sloe gin pie, and rare roast beef and mushroom salad with horseradish mayonnaise.
 2. Valencia, Spain: Fire Culture (and Paella)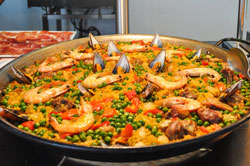 Spain has an obsession with pyrotechnics. It would be a strange fiesta that didn't end with a spectacular firework display, but the coastal city of Valencia takes things to the ultimate fiery extreme with Las Fallas festival. Thousands of flame-loving revelers hit this Mediterranean beach city for the five-day run-up to St. Joseph's Day on March 19.
Rooted in the pagan fire festivals that once celebrated the return of spring, Las Fallas revolves around the creation and then the burning of over 350 monumentally-sized ninots. Erected all around the city, made of papier-mache, cardboard and wood, these colorful structures and figures are often quite bawdy and many mock politicians and celebrities.  On the stroke of midnight on March 19, all but one ninot gets put to the flames and Valencia looks as if it's auditioning for a remake Apocalypse Now. The heat is intense and everyone eventually trudges home after the final firework display with their clothes reeking of gunpowder. Saved by popular vote, the ninot indultat (the pardoned puppet) goes on display in Valencia's Fallero museum to join other spared favorites from the past 80 years.
Be there before the night of La Crema (the Burning) as a lot else goes on during the fiesta—colorful religious processions in honor of St. Joseph, bullfights, paella contests, nightly fireworks and the daily mascletá which erupts in the Plaza Ayuntamiento at exactly 2 p.m. Thousands of firecrackers are ignited and the noise is so explosively loud that the ground shakes.
As Valencians claim that paella (a delicious combination of saffron-yellow rice and meat, or rice and seafood) originated here, it's not hard to find. A traditional meat paella includes chicken, rabbit, vegetables and sometimes snails. A seafood paella (de marisco) will almost certainly include shrimp, mussels, and chunks of cuttlefish. In business since 1898 and beside the beach, La Pepica isn't the cheapest place for paella, but you can be guaranteed it's the real deal and not something frozen and heated in a microwave. Its clientele has included everyone from the King of Spain to Ernest Hemingway. Including a choice of starters, dessert, and coffee, a meat or a seafood paella here will set you back €27.50 ($35.60).
Horchaterías are another Valencian institution. They serve horchata—a non-alcoholic drink similar to soy milk made from crushed tiger nuts. Agua de Valencia is a bit more lethal. Although it sounds like water, it's a long-established local cocktail. Normally served in large jugs and shared between friends, the ingredients are Cava (Catalan sparkling wine), orange juice, gin and vodka.
3. Vienna, Austria: Opulent Café Culture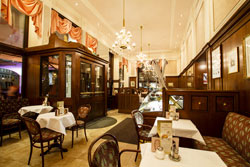 Vienna delivers opera, the horses of the Spanish Riding School, the Viennese Boys' Choir, boat trips on the Danube, a multitude of galleries and museums, the Ferris Wheel in the Prater and the music of Mozart, Schubert and Strauss. And its coffee houses are my idea of the best coffee houses anywhere. They have been part of the city's social fabric since 1683, when marauding Turks fled from the city gates and allegedly left their bags of coffee beans behind.
Steeped in chandeliered tradition, Vienna's historic coffee houses aren't merely for drinking coffee and scoffing sweet delights in sumptuous surroundings. They're for reading, writing and playing chess and card games. They're for reflecting on the nature of life and discussing the issues of the day. Many even maintain the glorious tradition of smoking. My personal favorites in the inner city include the dark and arty Café Hawelka (Dorotheergasse 6-8) whose sweet specialty are Buchteln—warm, sweet rolls filled with plum preserve. In Café Central (Herrengasse 14), you're sharing tables with history's revolutionary ghosts—both Lenin and Trosky were once patrons.
Silver trays and glasses of ice water on the side are the norm. So are display cases crammed with apple strudel, cherry gateaux, chocolate bombs and calorific Sachertorte—a rich chocolate cake spliced with apricot jam and served with whipped cream. But the variations on ways to serve coffee are almost as extensive as places to sample it. For example, a Melange is a mix of frothed milk and steamed coffee served in a glass with a dusting of cocoa powder. A Kaisermelange is strong black coffee poured over egg yolk mixed with honey with a shot of cognac added. Named after the famous Empress of Austria, a Maria Theresa is black coffee with orange liqueur.
If living on coffee and cake sounds too decadent, then enter the battle of man (or woman) versus meat. In 1905, Johann Figlmüller opened a small wine tavern on Wollzeile, behind the Stefansdom, the city's Cathedral. It's renowned for its classic pork and veal schnitzels—the classic Wiener Schnitzel. Measuring around 12 inches diameter and sliding off the edge of the plate, this golden gargantuan of hammered and breadcrumbed veal is best sampled when ravenous, not merely peckish. And it's carnivorous perfection when accompanied by potato salad. Although Figlmüller is in every guidebook, it's one of those rare places that for once justify waiting for a table.
Of course, schnitzels and other local delights such as herrings, goose liver terrine and Tafelspitz (boiled beef) with rosti potato cakes and an apple sauce can be sampled throughout the city. For a less touristy experience, try dining in a beisl, the Viennese equivalent of a French bistro. For €19.60 ($25), the veal schnitzels at Rudi's Beisl are just as mouthwatering but a little less expensive than Figlmüller.
4. Naples, Italy: A Culture of Death, Dreams and Pizza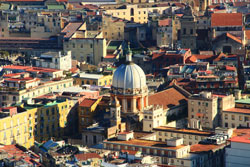 The glittering Bay of Naples and the shadow of Mount Vesuvius…the Catacombs…the teeming chaos and color of inner city Spaccanapoli…the "secret room" in the Archaeological Museum with its erotic treasures from Pompeii and Herculaneum…the dried blood of San Gennaro that miraculously liquefies on September 19, December 16 and the Saturday before the first Sunday in May. No place in Italy delivers drama quite like Naples—or Napoli, to give it the Italian name. And if you have a taste for the macabre as well as the magical, there is no better place to indulge it. A superstitious city that was originally founded by the ancient Greeks around 3,000 years ago, it has a Cult of the Dead that lingers on to this day.
Hewn from tufa rock, the Cimitero delle Fontanelle is a cavernous bone chapel that contains thousands upon thousands of skulls. Plague victims…cholera victims…those too poor to afford a proper burial—nobody knows who these skulls belonged to, or indeed, how old many are. Although the Catholic church often tried to ban the ritual, it's still common for poorer Neapolitans to "adopt" a skull, place it in a small home-made shrine and bring it gifts of flowers and small trinkets. By taking care of abandoned skulls, it's believed that the souls of the dead bequeath good fortune on their new protectors. On Saturday mornings, similar practices take place in the heart of Spaccanopli at the Church of Santa Maria delle Anime del Purgatorio ad Arco, dedicated to souls in purgatory.
A less macabre way to get lucky is through an occult book called La Smorfia. Whether it outsells the Bible or not, I don't know, but seemingly most Neapolitan families own a copy—and you can often leaf through one in tobacconists' with a lottery outlet. This interpretation book assigns numbers from 1 to 90 to your dreams, and you use those numbers for your weekly lottery pick. The lottery takes different forms in Italy—you can get fixed odds for a single number, two numbers, etc. If you dream of a lunatic (22) and a naked woman (21) drinking coffee (42) in an Italian (1) garden (51) full of flowers (81), those are the numbers to select.
"See Naples and die" as the saying goes. Hopefully not, but it certainly won't be from hunger. You're never far from a wood-burning oven and Naples is the spiritual home of pizza napoletana marinara (sweet San Marzano tomatoes from the slopes of Vesuvius, oregano, garlic and olive oil) and pizza napoletana margherita with tomatoes, mozzarella, basil and olive oil. If you see DOC after the latter, it will be made with buffalo mozzarella and extra virgin olive oil. Heaven on a plate for around $6. Where to eat? Too many great pizzerias to list, but the best are always packed, and you often have to take a ticket and wait in line. The city's oldest pizzeria is Antica Port' Alba (via Port'Alba 18). It has been in business since 1738.
Black and bittersweet as sin, an espresso in Naples is a deadly serious espresso. Neapolitans mainline on espresso as if it was the elixir of life—it's not a city for skinny decaf pumpkin latte lovers. If you crave a different coffee taste and a morning pick-me-up, try a caffè corretto. This isan espresso 'corrected' with a shot of brandy or grappa. Or go to Il Vero Bar del Professore (Piazza Trieste e Trento 46), renowned for its caffè nocciolato—an espresso topped with a froth of hazelnut cream.
5. Lyon, France: Illuminations, Bouchons and Gallo-Roman Ruins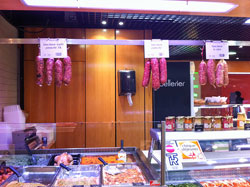 Lyon in south-east France is a heritage city par excellence. On the classic cultural table, only Paris can outdo it. Lyonnais life comes with 2,000 years of history and a plethora of riches—some 30 museums, an opera house, art galleries and much more. Now going for 60 years, the city's Nuits de Fourvière is a two-month long celebration of the performing arts—theater, dance, music and circus arts. Held in June and July, performances are in two Gallo-Roman amphitheatres almost at the summit of Fourvière Hill—on a clear day, you can see the French Alps from here.
Early December (this year 5 to 8 December) brings the enchantment of one of Europe's best Festival of Lights. What began as a religious celebration to honor the Virgin Mary by lighting candles in windows has evolved into an international Fête des Lumières event that draws professional light artists from all over the world. Buildings are turned into dazzling works of art, and there are massive sound-and-light shows with a different nightly theme. It seems fitting that Auguste and Louis Lumière invented the motion picture film camera in Lyon in the 1890s.
What makes Lyon a stand-out city is that it's France's undisputed gastronomic capital. The surrounding countryside is a culinary larder, and the city's reputation is enhanced by outstanding markets, Michelin-starred restaurants and the legendary chef, Paul Bocuse. He has given his name to the Bocuse d'Or, a bi-annual event often billed as the Olympics of the gastronomic world. Master chefs from 24 countries come to Lyon to compete for gold, silver and bronze trophies.
A huge attraction for epicures on a tight budget are the city's bouchons. Traditional restaurants with a tavern atmosphere, they serve moderately priced and down-to-earth Lyonnaise dishes that haven't changed much since the days of the city's silk-making trade. Along with jugs of Beaujolais wine, staples include andouillettes (chitterling sausages), rabbit terrine, quenelles (feather-light dumplings, often stashed with fish), all parts of the pig you can imagine, and parts that you probably might not want to. Then there's cervelle de canut. It sounds far less terrifying in French—the literal translation is silk workers' brains. But you can't visit Lyon and not sample this speciality. The dish is made with a base of fromage blanc, (a soft, creamy cheese) seasoned with chopped herbs, shallots, salt, pepper, olive oil and vinegar.
In business since 1867, Café du Jura is as authentic as it gets. The lunch menu starts at €13 ($17). If crepinettes d'agneau à la liégeoise are on the menu, go for it. Wrapped in caul fat, coated in butter and breadcrumbs, spiked with crushed juniper berries and served with pureed potatoes, they may well be the most delicious lamb patties you have ever tasted.
Get Your Free Europe Report Here:
Learn more about the many countries of Europe in our daily postcard e-letter.
Simply enter your email address below and we'll also send you a FREE report – All the Charm and Romance of Europe…at a Price You Can Afford.
This special guide covers real estate, retirement and more in Europe and is yours free when you sign up for our postcards below.
Get Your Free Report Here