For me, and plenty of other Americans and Canadians who have scratched the surface, the capital of Chiriqui Province in western Panama is a retirement location that's hard to resist.
If you're looking for a convenient hub city that's a manageable size, David should be top of your list.
It's Panama's third-largest city and second only to Panama City for shopping, healthcare, services, logistics, education, and just about anything else. And, with a population of about 86,000, (the larger district of David has a population of about 250,000), it's certainly manageable.
There are lots of shopping centers and multi-story buildings, but not a single skyscraper. Once you become familiar with the layout it's easy to get around.
The amenities here are top-class, too, especially healthcare. David really shines when it comes to finding the care you want at good prices. We have two private hospitals that are comparable to U.S. facilities, numerous clinics, labs, and many well-stocked pharmacies. Residents from all over the province, and even from Costa Rica, come to David for medical services.
Not only are the fees a fraction of what you might pay in the U.S., the care here truly is accessible. For instance, when I need to have my cholesterol levels checked I go to the lab at Hospital Chiriqui, wait my turn, and have my blood drawn. I go back the next day to pick up the results, and take them to my doctor if need be. The total cost with my 20% pensioners discount is $26.
This pensionado discount isn't just good in David, in case you're wondering. This "senior citizen discount" provides money-off concessions to residents, women age 55 and over, men 60 and over, on all medical expenses, as well as transportation, entertainment, restaurant meals, utility bills and some professional fees. It can make a real difference in your monthly budget.
Healthcare is not the only place where you'll save in David. You can rent a furnished two-bedroom home here from $500 to $700 a month, or buy a similar home for under $200,000. Outside the city, where there are several new developments, you'll pay even less with homes available for around $100,000.
Utilities are very economical, especially since you don't need heating and may not need A/C (I don't have it in my home). All in, my electricity, water, trash, cable TV, and high-speed internet cost me about $130 each month. For me and my husband I spend about $500 on groceries each month, and a couple can live comfortably here for around $1,500 a month.
But costs are just a small part of what draws retirees to David. The lifestyle is what really makes it a place worth putting on your itinerary.
It's not a rushed city. Parque Cervantes, a lovely spot with huge shade trees, lots of benches, and a volcano-inspired water fountain in the center, marks the downtown center of David. Perfect for relaxing on a hot day.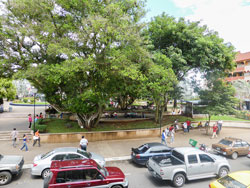 And, as I'm a country girl, not a city girl, I want to be surrounded by nature. Chiriqui Province is rural, with acres of crops, cattle ranches, dairy farms, plant nurseries, chicken farms, coffee plantations, citrus orchards, and horse stables.
It's also the site of Baru Volcano, Panama's highest peak, with spectacular highland views and unspoiled rainforest, and the favored expat destination, Boquete. With a community theater, large library, music festival, handicrafts fair, and much more, there's always something special to do in Boquete.
To the south, the Pacific coast stretches for miles, with mangrove shores and empty beaches. There are many more beautiful and fun places to go, things to see and do in Chiriqui.
And I can drive to any of these wonderful places in an hour or less…while enjoying the convenience, affordable cost of living, and accessible healthcare on offer in David.
Here in David, I have it all.
Get Your Free Panama Report Here:
Learn more about Panama and other countries in our daily postcard e-letter. Simply enter your email address below and we'll send you a FREE REPORT — Panama: First World Convenience at Third World Prices. 
This special guide covers insider advice on real estate, retirement and more in Panama. It's yours free when you sign up for our IL postcards below.
Get Your Free Report Here