As real estate investors, following a Path of Progress is one of the most powerful strategies we can use.
A Path of Progress includes anything that improves the accessibility of a piece of real estate, thus increasing its value. Infrastructure like roads, bridges, airports, air, and rail routes. Anything that improves amenities in an area…a new golf course, a big resort development…
On the Riviera Maya, the Path of Progress has brought such a phenomenal rate of growth that they are not only building condos as high as permitted (as high as density restrictions allow, at just four or five floors) but even cemeteries are going vertical…
Last year, the mayor of Tulum joined other local big wigs at the opening of a new vertical cemetery. He told the press that the economic and demographic growth of Tulum has generated a demand for funeral services, and since there is little development space left in the municipality, a decision was made to optimize the area by building a vertical cemetery.
When I first visited Tulum in 2004, the population was less than 7,000. Now it's well over 35,000 and growing.
The town of Tulum, three miles inland from the beach was but a few streets, one ATM, and a handful of stores in 2004.
Now, on each visit, I find the trendy bars and restaurants stretch yet another block back from the main road. You'll find international banks, a gourmet supermarket, newly paved roads, a brand-new clinic… You can get your craft cup of Joe in a café that wouldn't be out of place in Williamsburg, eat Argentine steak, or Japanese ramen…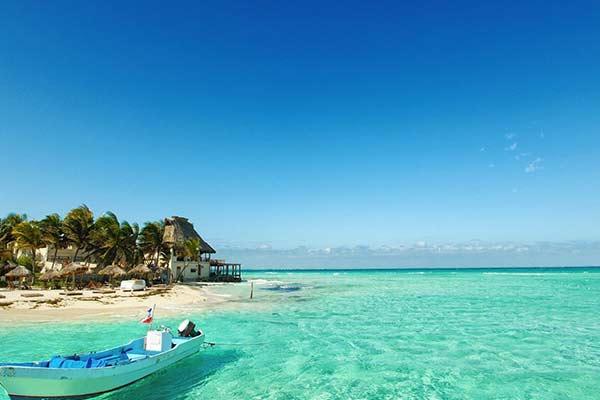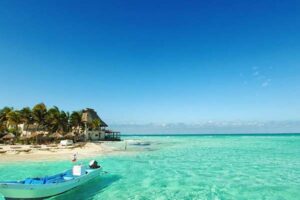 Sandwiched between 1,000 square miles of protected biosphere and an awesome cliff-top Maya archaeological site, there's nowhere left to go.We regularly identify Path of Progress events at Real Estate Trend Alert. But few, if any, compare to the spectacular one we've followed down the Riviera Maya to Tulum.
That's what makes our opportunities in Tulum so good…
Development is restricted along the beach, too. Which is great because it means the beach stays stunning, rustic and pristine…just check out this short drone video…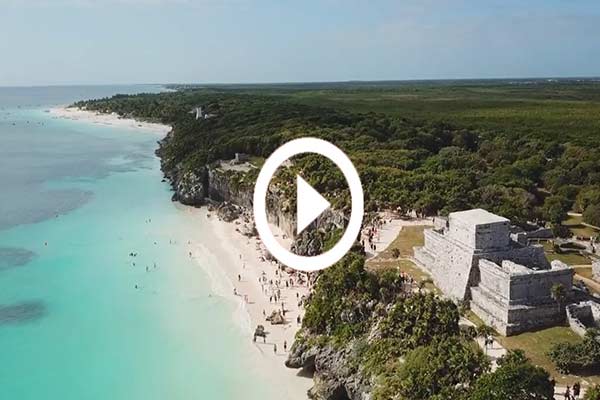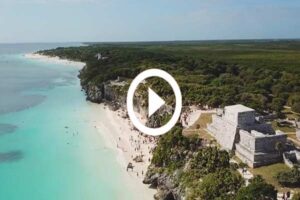 On Thursday, June 4, at 1 p.m. ET, RETA members have the chance to lock down a premium, luxury two-bed condo in Gran Tulum from just $214,600…condos I reckon will be worth over $300,000 within 18 months of delivery.But for RETA members it means that owning in the closest master-planned community to the beach is one of the best deals in the history of our group…
When we first had our opportunity in Gran Tulum in May 2019, I reserved a premium condo, along with RETA members. I wanted something extra special with a big terrace and a view into lush foliage and the heart of the community…a truly stunning condo that will have the strongest appeal to the high-end market driving demand for rentals in Tulum.
I figure that a very modest occupancy rate for these condos would be over 50%. With that I'd expect yields renting short-term of around 14.9% a year.
Now, the global shutdown has created a completely unique and very temporary buying moment for us. It means I was able to go to the developer behind Gran Tulum and use our awesome collective buying power to strike a deal.
I've got us 11 additional premium condos…all at original RETA-only terms and pricing. That means, on Thursday, we have a second chance at one of the best deals in RETA history, with prices starting from $214,600—the very same as our RETA pricing last year.
Other projects set to become our neighbors are big names…great projects from the highest-end developers in the area. And, it looks like their two-bed pricing is set to start at more than 50% higher than our price, per square foot.
Buy from one of the other projects and you'll likely get a studio for the same price as RETA members and I paid for a premium two-bed in Gran Tulum.
We're buying at such deep value that our yields are super-charged from the outset. And my figures are pitifully conservative when you look at how rentals have been performing in Tulum…remember, this is the closest master-planned community to the beach.
Deals like this are so rare in world-class, jet-set destination like this. And because of the crisis, RETA members are getting a second shot at it.
Members can read the Special Gran Tulum Briefing right here.
Stay tuned…
Connect with Ronan on Instagram  or Facebook 
Get Your Free Real Estate Report Now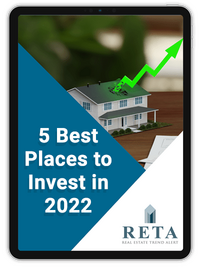 Sign up for our free daily Postcard e-letter and get a valuable free report on the The 5 Best Places to Buy Real Estate In 2022.
Related Articles
The 10 Best Places to Invest in Real Estate
What You Need to Know About Buying Real Estate in Tulum
Real Estate & Property Information for the Riviera Maya