"My work as a fashion designer has me working with artisans on several continents," says New Yorker, Nadia Inwood. "I travel quite a bit and I work from wherever I am. But when I get a break from travel, our jungle retreat in Tulum, Mexico is my favorite place to be."
A small town about two hours south of Cancún at the southern end of the Riviera Maya, Tulum is known for its beautiful stretch of world-class, Caribbean beach, and its tropical climate— frequently hitting temperatures in the 80s F.
However, Tulum is also beginning to make a name for itself amongst artists, creatives, and liberals. The volume of bicycles seen in town easily, rivals the number of motorized transports, while new age shops and massage therapists do a booming business here.
"There are many New Yorkers here, like myself, who are attracted to the bohemian-chic," says Nadia. "Tulum nurtures creativity, both in its natural beauty and through its community of artists, across all disciplines. You'll also find New Yorkers who own restaurants and hotels here. Plus, there is a large community of digital nomads," she adds. "There's something about the gorgeous beach, the tropical climate, and the jungle: It's a rare combination—and all that with fast, stable internet."
According to Nadia, one of the big attractions of Tulum is its accessibility. "You can get direct flights both from New York and L.A. (where my husband works). Cancún International Airport and another airport just north in Cozumel, make it very to get back to the U.S," she says.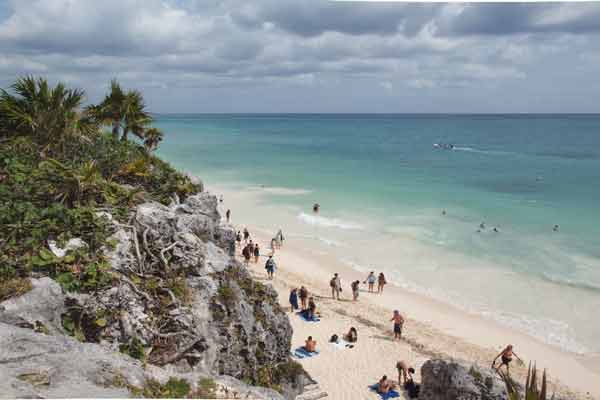 "The Yucatán Peninsula—and State of Quintana Roo in particular—is one of the most accessible and liveable areas of Mexico. It is full of vibrancy, nature, and wonderful communities. For those with children there are good options for international school, which are taught in both English and Spanish immersion."
The secret is out, however, and developers have made their way to Tulum over the past few years. One can either stay in the older part of the village, with older properties close to the shops and restaurants or explore the newer condos being erected closer to the beach. Rentals can be had for as little as $500 to $600 per month in the older part of the town and newer condos will run from $850 to $1,200 and up. All in, a monthly budget of around $1,500 to $2,000 is ample with some spending far less for a more cozy, shared lifestyle.
"We recently purchased a new condo," says Nadia. "It's a two-bedroom, two-and-a-half-bathroom unit with 1,400 square feet of interior living space. There is also a gorgeous pool and nicely landscaped grounds. We saved more than $35,000 by negotiating a cash price of $226,000. Naturally, we needed to furnish and decorate, but we saved enough to do that.
"We believed it is an excellent investment," she says. "Tulum town has been approved for an additional beach road access which will be located on the southern part of the Tulum Pueblo. When the road is completely paved it will push all the prices in Tulum higher as it will be more convenient for beach access from town.
"We like that Tulum doesn't have high-rises like Cancún or Playa del Carmen. Coming from New York and Los Angeles; we love that we can see the horizon without any big buildings around us. It is a more tranquil lifestyle," says Nadia.
Like many other nomads, Nadia seems to have a flexible definition of home. Also, like other nomads, it has little to do with putting down deep roots and everything to do with finding functionality in some of the world's most interesting locations.
"To be honest, learning Spanish has been my biggest challenge. But I'll get it, eventually, says Nadia. "Tulum has so many advantages, it's hard to beat."
Need a Way to Fund a New, Better Life?

Join our Fund Your Life Daily e-letter today, and you'll hear from us five times a week, telling you about ways to earn income that lets you live anywhere, travel anytime… and give you the funds to make your dreams of a better life real. We'll also send you your FREE report Fund A New, Better Life With These 6 Portable Careers.
Related Articles
One of the World's Premier Beach Destinations