To some folks, home is a place on a map or a house filled with memories and possessions. But for Ellen and Hank Barone, "home, it turns out, is something internal and portable."
"We've traveled to all 50 states and six continents and are curious and comfortable in the world," says Ellen. "So in 2011, when we began looking for a new place to live, it wasn't restricted to the U.S."
The couple explored Peru, Ecuador, Mexico, and Nicaragua. As their trips were part of a search for a new home, it made sense to stay awhile and get beneath the surface of a place. Ellen explains, "Extended stays make sense financially, giving us time between trips to recoup the cost of moving about."
But after three years of having no permanent base, they realized that it was actually this roving retirement lifestyle that suited them.
"Discovering unknown places, making new friends, eating unfamiliar foods, and learning languages and habits has yielded a life that feels rich, meaningful, and liberating," says Ellen.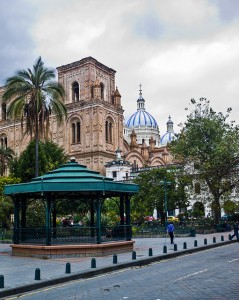 Latin America proved to be a perfect fit for the travel-hungry couple. "We found ourselves increasingly drawn to the friendly vibe and vitality," says Ellen. "Exploring Peru's mythical Inca city of Machu Picchu and Amazon rainforest; getting face to scaly face with giant tortoises and beady-eyed iguanas in Ecuador's famed Galapagos Islands; snorkeling with sea lions in Baja, Mexico; and awakening to the roar of howler monkeys, morning cups of local coffee, and sunset paddles in the shadow of sleeping Volcán Mombacho, on a tropical, private-island hideaway in Nicaragua," are all unforgettable experiences.
You might think it too costly to maintain such an international retirement, but as Ellen and Hank point out, it's often cheaper than living in the U.S. Nearly everything, from the price of groceries and dining out, to cell-phone plans and doctor visits, is less expensive in Latin America.
For instance, the couple used $2 taxi rides to explore Cuenca, Ecuador. They bought a kilo of fresh vegetables in Ajijic, Mexico, for less than a buck. And they had a three-course meal of smoked trout, creamy pumpkin soup, and a homemade dessert for just $4 in Cusco, Peru.
In Granada, Nicaragua, they paid just $40 a day to stay in a 1,400-square-foot hotel suite with soaring ceilings, hand-painted tile floors, free Wi-Fi, complimentary breakfasts, daily maid service, and access to pool and spa services.
"Our search for accommodations usually begins on vacation-rental sites like HomeAway, VRBO, and Airbnb. We usually pre-book flights and short-stay accommodations and wait until we're on the ground to make extended-stay decisions. This approach has saved us from making choices that seemed like a good fit online but not so much in person.
As for health care, they carry a combination of global catastrophic and Medicare-gap insurance policies. They pay out-of-pocket for doctor and dentist visits and have received excellent care, often from U.S.-trained professionals, at a fraction of the price they'd pay back home.
While there may be a fear factor for those thinking about this lifestyle, Ellen says, "Once we wrapped our heads around leaving, it was precisely the unknown that had us sitting up nights tossing ideas back and forth, too excited to sleep."
For a truly successful and satisfying roving retirement, she has this advice: "You're more adaptable than you think, there are kind people everywhere, language isn't a barrier to connection, and, to be really free, there is no option except to willingly give yourself over to change."
Get Your Free Report on the World's Top 10 Retirement Havens Now:
Learn more about the best places to retire in our daily postcard e-letter.
Simply enter your email address below to sign up for our free daily postcards and we'll also send you a FREE report on The World's Top Ten Retirement Havens.
Get Your Free Report Here