Now that January is bringing lots of cold, snowy weather, some friends in the U.S. are saying that one of their goals for 2016 is to get away to someplace warm…soon. My suggestion: Head to southern Spain, to sunny Jerez de la Frontera. It's warm, colorful, exciting, and—thanks to the current low euro—very affordable.
Temperatures right now in Jerez are in the 50s and even 60s F, with sun pretty much all day, every day. Okay, so that's too cold for swimming at the beach… But for those who like to acknowledge the seasons but don't want the extremes, those temperatures are just about perfect. "Yep, this is winter," you can say, as you slip on a sweater or light jacket and head out to sit at a sidewalk cafe.
I should know; I spent a month in Jerez early last spring for this very reason, enjoying everything Jerez has to offer…and that's plenty. This city—just a 10-minute trip by bus or train from Spain's southern Atlantic coast—is known for three things: horse breeding, sherry production, and flamenco. That's a hard combination to beat…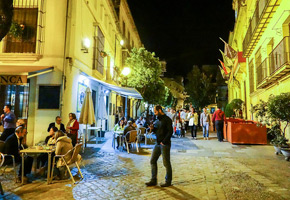 I spent my days strolling the streets of Jerez's historic center. I sipped coffee or sherry over the daily newspaper at the city's many bars and cafes. Or I'd grab a few tapas for lunch. In Jerez, nobody seems to eat at home…they're all at the outdoor cafes munching tapas. A couple of tapas and a sherry—costing you as little as $6 or $7 in all—makes a filling lunch.
I toured some of the sherry companies to learn about (and sample) this most Spanish of drinks. I attended a performance at the Royal Andalusian School for Equestrian Arts, where superbly dressage-trained horses are put through their paces for your enjoyment. And of course I watched flamenco—there are clubs around town where you can take flamenco dance classes, and bars that feature afternoons of flamenco singing by talented locals. The admission fee? That drink you buy at the bar…
And of course I toured the area. Ten minutes from Jerez is the beach, at El Puerto de Santa María, another sherry town that sits right where the Guadalete River pours into the Atlantic. And the grand city of Cádiz, with miles of beach, is only half an hour away by train. Both cities are worth a visit for their seaside ambience, lovely historic buildings, and excellent seafood. And don't forget to try Cádiz's crisp white wines with your food; there's more than sherry in this part of the world.
To top things off, you'll be pleasantly surprised at how affordable life is here. Spain has always been one of least expensive countries in Europe, and the Jerez area is particularly affordable. And these days it's even more so, thanks to the favorable exchange rate.
So if winter has you blue, consider a trip across the pond to enjoy sun, fun, and fabulous food in southern Spain. It sure beats shoveling snow.
Get Your Free Spain Report
Learn more about Spain and other countries in our daily postcard e-letter.
Simply enter your email address below and we'll send you a FREE REPORT —Live the Good Life in Sunny, Affordable Spain.
This special guide covers real estate, retirement and more in Spain and is yours free when you sign up for our postcards below.

Get Your Free Report Here