If you've ever ordered fried anchovies and a glass of nuttily-sweet sherry at 10 a.m., did people stare at you like you'd gone mad? If so, then you should move to Arcos de la Frontera—a small white town clinging to the hills of Andalucia in southern Spain. (If not, you should still think about moving there…)
Getting off an early morning bus, I headed to the nearest bar for a coffee before exploring Arcos. Honestly, coffee was the intention. But although fish and oloroso sherry sounds like a bizarre combination, that's what most locals sitting in the December sunshine near the town's open-air market were having. So I asked for the same. Believe it or not, it was delicious. And all this late breakfast cost was €1.50…just over $2.
Every time I return to Spain, I add places where I'd love to spend some extended time—six months, a year, maybe longer. Now Arcos de la Frontera is on the wish list too. It's certainly affordable—one 581-square-foot apartment in the modern part of town listed recently for $40,000. Granted, that was an exceptionally low price, even by Arcos's standards—but right now, you won't pay very much more for a larger place. Today, a 936-square-foot apartment, with two bedrooms, two bathrooms, and access to a pool, is available for $76,500.
(In Spain, it's not only coastal properties that have experienced drastic price falls—eye-popping deals are everywhere.)
Spain's living costs are also among western Europe's lowest. Outside major cities, furnished rental apartments can be had for $400-500 monthly—sometimes less. (Such was the rash of new building, in the Torrevieja area of the Costa Blanca, two-bedroom furnished apartments can be as low as $310 monthly.) And eating out doesn't have to come into the treat category. All over Spain, $13 for an excellent three-course menu del dia with wine is the norm, not the exception.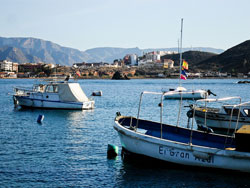 If you enjoy the sun, the climate is fabulous. Certainly in southern Spain, it's often warm enough to lunch outside all year round. Even in the depths of winter, I've seen people sunbathing on the beaches. On one December trip to the Murcia region, there were even a few hardy souls splashing in the Mediterranean.
Whether it's outdoor pursuits or nightlife, there's no lack of things to do in Spain. Tennis courts and golf courses are everywhere. It's a hiker's paradise—the Camino de Santiago from the French border to Santiago de Compostela is one of Europe's great pilgrimage routes, but there are also countless rambles through unspoiled countryside.
Public transport is good, so even if you don't drive, there's no excuse not to make daytrips to historic cities, lost-in-time villages, or coastal resorts. It's not only Madrid and Barcelona that have fascinating museums and art galleries. And so many quirky festivals—if you've never experienced the Fallas fire festival in Valencia, you don't know what fireworks are.
I'll tell you a lot more about Spain at the upcoming Fast-Track Your Retirement Overseas Conference, in Las Vegas. I'll talk to you about Barcelona…Granada…Alicante…and more… See here for more information.
Free Spain Report
Learn more about Spain and other countries in our free daily postcard e-letter. Simply enter your email address below and we'll also send you a FREE REPORT — Live the Good Life in Sunny, Affordable Spain.
This special guide covers real estate, retirement and more in Spain and is yours free when you sign up for our IL postcards below.
Get Your Free Report Here