The sun is setting, giving the beach a golden glow. Moments ago the water was a cobalt blue, and I could see the tail feathers of the seabirds gliding above. Now a single cormorant bobs close to shore. I kick off my sandals and walk along the surf, letting it roll over my feet. The water is the perfect temperature. A bit cooler than the air around me, it feels refreshing…inviting.
I'm in the Pacific beach town of Coronado, in Panama's Dry Arc region. My companions are surprised at how lovely the beach is…how quiet and tranquil. They remark at how pretty the sand is—like stars under their feet.
No one expects black sand to glitter so. It took my breath away the first time I saw it. White sand is swirled in with the black, so from afar it all looks the color of weathered pine. It's subtly beautiful—very different from the blinding white sands and electric blue waters you'll find on Panama's Caribbean coast.
But unlike the best-known Caribbean beaches, Coronado is close to Panama City. It's just an hour's drive, in fact. So those of us who live in this region have easy access to city amenities and all the delights the beach has to offer. In recent years, Coronado has grown into a bustling hub, with more amenities and conveniences than ever.
And yet the beach remains peaceful…no hawkers, boom boxes, or crowds in sight.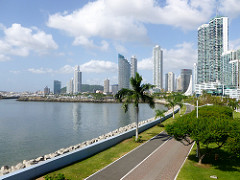 I live in Panama City and visit Coronado often. Though the vast community is gated, the guards simply ask where you're heading before waving you through. I always say I'm going to grab a bite at popular watering hole Picasso. It's a great place to have a beer or spot of lunch before sunbathing.
Today, the plan is to frolic on the beach, watch the sunset, then drive back to Panama City for a night out on the town. The capital is filled with theaters, galleries, malls, restaurants, and so much more. All year round there are performances, exhibits, and events…and much of it free or low cost.
The infrastructure in the Panama City-Coronado region is excellent. So is the weather. In fact, this region is known as the Arco Seco or Dry Arc because it is sunny much of the year.
Most every single morning, you can enjoy bright rays of sunshine and a sky that is a deep shade of cornflower blue. If it does rain, it's usually just for an hour or two in the afternoon. Temperatures rarely climb above 88 F during the day, and it's usually about 10 degrees cooler at night. Ocean breezes are the norm and in both Coronado and Panama City.
As for cost of living, it's about the same throughout this region. Most of the expats you'll speak to (whether single or living with a partner) budget at least $2,500 a month. That's for nearly all household expenses and entertainment…including rent, utilities, high-speed internet, and excellent cell phone service.
I enjoy the city hubbub and going out for dinner, drinks, or special events—sometimes several times a week.
Weekends are for the sunshine and tranquility of the beach. But many choose to do the opposite…
More and more expats are living in Coronado full time, thanks to new conveniences that include a clinic, upscale supermarkets, and shopping plazas. There are plenty of places to get a delicious dinner or have drinks and mingle with expats, visitors, and locals. There's no "high culture" to speak of. But the city's ballets, operas, and museums are always there, just an hour away.
Get Your Free Panama Report Here:
Learn more about Panama and other countries in our daily postcard e-letter. Simply enter your email address below and we'll send you a FREE REPORT — Panama: First World Convenience at Third World Prices.
This special guide covers insider advice on real estate, retirement and more in Panama. It's yours free when you sign up for our IL postcards below.
Get Your Free Report Here