I've never seen so much green…and in so many shades and variations. The tall, jungle-covered mountains of Costa Rica's Southern Zone dominate the landscape. And many locals and long-time expats say they enjoy these mountain views even more than the ocean, thanks to the lush vegetation that covers them.
This region, on the southern Pacific coast, is a land of empty beaches, wild Pacific waters, those tall mountains dropping to brief lowlands before turning to a strip of sand, and then blue ocean.
Monkeys and sloths are hidden in the trees. Toucans call as they fly past. The blue morpho butterflies flit across the roadway, clearings in the jungle, or hiking trails. Hermit crabs scuttle among the shells and rocks on the beach.
It's the natural beauty that makes this place so attractive. Yet it was little-known for many years, even as Costa Rica was put on the tourism map.
Bad roads steered most visitors—not to mention retirees and other expats—to more tourist-friendly and developed regions. Surfers, budget-minded backpackers, and wildlife enthusiasts were the name of the game. But the completion of a coastal highway a few years ago has opened up access—it's just three hours from San José and the main international airport there. That convenience has attracted families and older visitors, as well as more long-term foreign residents.
Last year, too, it was named a top destination by Travel and Leisure magazine. And real estate development is moving along at a good pace.
But the true character of this region will not be lost anytime soon. A large national park protects much of the coast from any sort of construction. And there's a cap on buildings—they can't go above three stories. Combined, those restrictions keep out large hotels. And the mountainous terrain prevents any cookie-cutter developments. Maybe it's the way the jungle plants grow so quickly in this climate, but buildings seem to meld into the surroundings.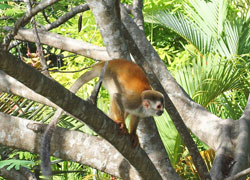 The Southern Zone has a quiet vibe. You won't find large resorts with golf courses (although there is one nine-hole course) or massive swimming pools. No high-rise condos loom above the jungle. No rows of beach loungers and umbrellas on the beach. Just eco-lodges and small hotels. Vacation rentals are also popular here—starting at $500 a week.
Around the main towns of the region, Dominical, Uvita, or Ojochal, you'll find quality accommodation, good eats, and plenty of fun stuff to do, whether that's surfing world-class waves, lazing away on the beach, or enjoying freshly caught seafood prepared by master chefs.
With mile after mile of nearly deserted coastline, Costa Rica's southern Pacific coast is the ideal place if you're looking to soak up the sun in solitude.

Related Articles
Caribbean Coast vs Pacific Coast A Look at Two Typical Costa Rican Beach Towns
A Better Quality of Life in Costa Ricas Central Valley