Back in the 1980s, Terresa Murphy arrived in the City of Light.
"I came with my guitar," she says. "I played for money in the metro to begin with, then in cafes. Then in the '90s, after much back-and-forth between Paris and the States, I got a job at the city's International Cinematography Festival through a friend."
But it was food that really drew Terresa's attention. "I fell in love with French food culture, particularly the artisan approach to both ingredients and cooking. It wasn't considered artisan at the time," she says. "It was just the norm."
The long-time vegetarian was especially drawn to Paris's nearly 100 outdoor markets, where she could seek out fresh produce to cook with. But soon, she wanted even more; the catering business began beckoning to her, a way to share her vegetarian cooking with Paris.
She got her big break when an acquaintance from her film days hired her to prepare food, first for crew and later for a special screening. "I cooked vegetables for 70 people in my little kitchen," she recalls. "I do not to this day know how I did it. But I thought 'if I'm pleased with the results, I'm gonna start a little business.'"
And that's exactly what she did. In 2007, Terresa decided to take advantage of her catering success and start La Cucina de Terresa. She began by catering for events, but decided to expand by sharing her food philosophy via cooking classes, teaching people how to "undress" vegetables to break them down to their essence. Her style is to put organic vegetables at the heart of everything she cooks. None of her recipes have more than about five ingredients, but each is full of layers of flavor and texture.
Terresa found a very small niche in the Parisian food scene. At the time, there were few similar cooking classes in the city. She put together a website and waited for the calls to come—and they did.
"A well-known cook and author, David Lebovitz, was working on a vegetarian guide to Paris and listed me on his blog," she says. "That allowed me to get my feet on the ground."
Her kitchen is the location of her cooking classes. She lives in a small studio apartment in the Aligre neighborhood. When she chose it, it was far from the fashionable district it is today. "I have lived in my quite quaint home and kitchen for a good many years, long before my neighborhood became trendy, and thus my rent remains nicely reasonable," she says.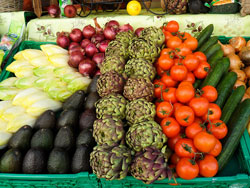 Terresa really loves what she does. It's work, but it's her passion.
For those who would do the same, Terresa has a few words of advice. "I suppose I'd say it's about having a clear idea of your venture, being patient and persevering, and slowly finding your way through the administrative aspect of starting a small business in France," she says. "And, of course vision, passion, and not being afraid of failure are essential."
Through her classes and guided tours of the markets, Terresa highlights her own knowledge of those in Paris still doing things the old-fashioned, artisan way. "You can look at their hands," she says of the market vendors; the key is to seek out those with hands that have worked the earth, those whose love of vegetables is the same as hers.
Of her business she says, "I feel very fortunate to be able to do what I do."
Get Your Free France Report Here:
Learn more about France and other countries in our daily postcard e-letter. Simply enter your email address below and we'll send you a FREE REPORT: A Taste of France: All the Ingredients for the Good Life.
This special guide covers real estate, retirement and more in France and is yours free when you sign up for our free daily IL postcards below.
Get Your Free Report Here