"Simply put, I am a girl with a dream," says Kiersten Brown, who teaches English to children and business professionals in Panama City, while also teaching yoga.
Kiersten left home in Southern California to move to a country where she had no major connections and only knew about three people. Multitalented, Kiersten has worked as a preschool teacher, dancer, performer, and dance instructor. But she always knew that moving away from the U.S. was something she wanted to do. "What I have learned from traveling is that the world is so much bigger than we think. I have always felt drawn to the culture and passion of Latin America," she says. "And Panama seemed like a good place to start."
Visiting Panama two years prior to her move, Kiersten discovered a country full of diversity, with a unique balance between city life and nature, and of course, perfect tropical weather.
"I felt like I needed a bigger challenge than just moving to a different state again," she says. "I needed a culture change and I wanted to improve my Spanish. After traveling and living in different cities across the U.S., I still felt like I was in a bubble, still seeing life through the North American viewpoint. I wanted to burst that bubble and I felt the only way to do that was to live abroad."
Kiersten describes life in Panama City as exciting and enchanting. She loves how the city is filled to the brim with income opportunity. What's more, she loves that just outside the city, you can be immersed in nature—something very special and unique for a thriving metropolis to have on offer. In fact, Panama City is the only city in the world with a jungle within the city center.
"The city draws people from all over the world," Kiersten adds. "On any day of the week, I can have dinner with a Canadian, a Venezuelan, a Colombian, and an American. The diversity of Panama is where I lucked out."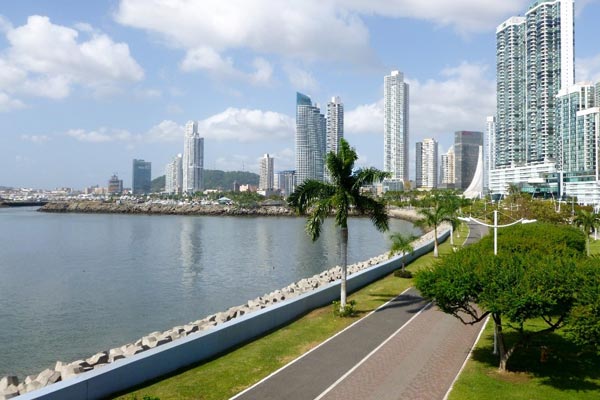 Upon arrival, Kiersten was eager to connect with the expat community. Luckily, social media groups such as Meetup and Facebook supported her effort to turn strangers into friends, and friends into clients.
"I started meeting many expats who were looking to try yoga but never had before, or considered themselves beginners," Kiersten says. "With my passion for empowering people through movement and a goal to help people feel good in their bodies, I started teaching yoga classes to different groups within the expat community. After each class, it still blows my mind that I am making a comfortable living by doing what I love in a foreign place."
Social media has also introduced Kiersten to other lesser known pockets of culture in Panama City, such as the poor and forgotten neighbourhood of El Chorrillo. There she volunteered for seven months creating educational programs for underprivileged children.
Kiersten lives, works, and enjoys her life in the El Cangrejo neighbourhood: a thriving melting pot of motivated and exciting expats from all over the world. She also enjoys the ease of a weekend escape to the beach, hiking, biking, and exploring the many nooks and crannies and sweet, unique, multicultural offerings that seem to pop up like daisies in and around the polished gem of a place that is Panama City.
Need a Way to Fund a New, Better Life?

Join our Savvy Retiree Daily e-letter today and you'll hear from us daily, telling you about ways you can gain the freedom to live where you want, travel when you like and create a life you love. We'll also send you a FREE Report Fund A New, Better Life With These 6 Portable Careers...
Related Articles
Retire in Comfort & Convenience in Panama