Sometimes, life can be just the luck of the draw. That was literally true for Noemi Gonzalez and Tom Bradburn. They met in 2000 while playing poker online. Romance bloomed, and soon they were married and living in Taos, New Mexico. But the cards were still being shuffled for them.
Although they loved their lives in Taos—in fact, they still keep their home there and visit from time to time—they wanted to spend their retirement someplace warm. In 2009, they visited the northwest coast of Ecuador, and decided to make the move to a life on the Pacific. Within 12 days they found a condo in a quiet northern town, and spent about six months renovating it and making it their own.
Once they were done however, they decided that maybe this wasn't the right spot for them. They loved living on the coast of Ecuador, but while Noemi is bilingual (she's originally from Argentina), Tom speaks only English, and in 2009 there wasn't yet much of an expat community on that part of the coast.
They began to look around the coastal region, and on a visit to Salinas they found what they were looking for in the nearby beach of Chipipe. It's a wide, sandy beach in a quiet, family-oriented area, but still close to a mall and restaurants, good infrastructure, and most importantly a growing expat community offering more options and more friends.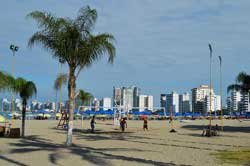 Chipipe offered the best of both worlds. It has a full-time population of only about 1,000, but on weekends the crowds of Ecuadorian families mean there's plenty going on. Chipipe is the last beach on the western tip of the Santa Elena peninsula, separated from the Salinas beaches by the Salinas Yacht Club. Most of the places to eat in Chipipe close at sunset, so it is a very quiet and peaceful place to be in the evening. Noemi says "I take walks on the beach, I exercise, we try to eat healthy. It's really beautiful here."
"We meet here with friends every Saturday to play Mexican Train, and my husband has a group he plays poker with", says Noemi, "There are so many things to do here."
There are indeed many things to do in the area. All of the restaurants, bars, and clubs of Salinas are a short walk or $1 cab ride away. Several bus lines turn around in Chipipe, and cabs are always available, so it is also easy to get to the modern El Paseo Mall for a movie and all of the shopping available there and in La Libertad. There are women's groups, men's groups, book clubs, cribbage and trivia tournaments, charitable organizations, karaoke nights, and more, organized by local expats.
For six years now, Noemi and Tom have lived in their beautiful high-rise condo overlooking Chipipe Beach and the Yacht Club. They are happy with the hand they've been dealt, and are enjoying the peace and camaraderie they have found in Ecuador. With beautiful, beachfront condos in this area still available in the $140,000 to $230,000 range, and rentals available starting at $900 a month, maybe it's time for you to get in the game?
Get Your Free Ecuador Report Here:
Learn more about Ecuador and other countries in our daily postcard e-letter.
Simply enter your email address below and we'll send you a FREE REPORT – Ecuador: Live Like Royalty on Your Social Security.
This special guide covers real estate, retirement and more in Ecuador and is yours free when you sign up for our postcards below.

Get Your Free Report Here