When you are considering where to retire, Nicaragua should be on your list. It has everything the other Latin American countries have…and then it has its own surprises that set it apart from the pack.
For example, Nicaragua's physical beauty is second to none. If you're a nature lover, crystal blue lakes, turquoise rivers and pools, miles of surf-worthy ocean and sandy beaches, majestic volcanoes, cascading waterfalls, sun-flecked canyons, islands that look like pearls in the sea, and sunny blue skies will call you to this beautiful place.
When you get here, the warm and friendly Nicaraguan people will welcome you with open arms and make you comfortable in your new home.
You'll live healthier by shopping at the local markets where un-waxed, non-GMO fruits and vegetables and real free-range meat and poultry are just a fraction of the cost of what you'd pay back home. Naturally, getting plenty of exercise is easy: Walking along the beaches in the fresh, unspoiled air will rejuvenate you.
Couple all that with a low cost of living, and you can see why Nicaragua is so appealing. In fact, this year Nicaragua (in joint top place with Vietnam) won the title of most affordable destination in International Living's Global Retirement Index. That's because a couple can live easily on $1,200 a month in Nicaragua. That includes a furnished apartment, food, utilities, going-out expenses, WiFi, and a cleaning service. A single person's life will cost much less. And for $2,000 a month can live like royalty, with  plenty left over to explore all the natural beauty in other areas of the country.
Just think about the life you could enjoy: lobster dinners on the deck of an ocean-view home that costs about one eighth of what you'd pay back home…enjoying a glass of wine with new expat friends while gazing at the golden-purple-pink-orange sunset…no heavy traffic, no rushing to get anywhere, doing only what you want to do every day.
It's a place where you can make your dreams come true. While $150,000 could buy you a modest ranch home in the U.S., for the same price in Nicaragua, you can have that ocean-view home along the Pacific coast. Maybe you always longed for a beautiful garden, but you could have it only during the two warm months of the year. Here, plant anything you want and it will grow; you can have the garden of your life—all year round. Like wine? Buy a great Chilean Merlot or Cab for $7, an Argentinian Malbec for a dollar more. Experience the most peaceful sleep ever with the fresh air and warm breezes.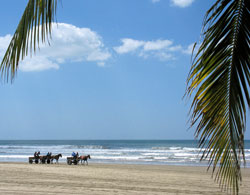 The most surprising thing about Nicaragua, though, may be all the things you'll find to do. People in the U.S. and Canada often wonder how they will spend their retirement days. After all, there are only so many bridge games you can play in a week or golf games in the summer months.
But in Nicaragua, you'll find yourself experiencing things you wouldn't have thought to do back home.
Learn Spanish in a one-month immersion class. Try salsa dance lessons, or take musical instrument lessons like the guitar, marimba, guiro, or ukulele. Learn to paint, make jewelry. Write a book, write for a magazine, start a community newspaper. Create a book club. Try out a business that you always wanted but couldn't afford because it is so cheap and easy to do it in Nicaragua. Start a drama club. Learn how to weave, how to dance Nicaraguan ballet folklorico, to paint, or to cook Latin cuisine.
The point is, you'll be so busy when you retire in Nicaragua that you'll just laugh when your kids ask why you're never around when they call. Just tell them you're having the time of your life!
Retirement is a dream in Nicaragua. It's anything you want it to be.
Get Your Free Nicaragua Report Here:
Learn more about Nicaragua and other countries in our daily postcard e-letter. Simply enter your email address below and we'll send you a FREE REPORT –  Start a New Life on the Beach in Nicaragua.
This special guide covers real estate, retirement and more in Nicaragua and is yours free when you sign up for our IL postcards below.
Get Your Free Report Here