"Do you need an assistant?"
I get this question all the time, once people learn I am a travel photographer who regularly visits exotic locations and earns an income doing it.
But why be an assistant when you can travel the world and take pictures yourself? Getting paid for your photos is easy if you know how.
I have traveled from Scotland to Spain, from Turkey to Thailand, and have always been able to sell my images afterwards. Along the way I have also met many friends, tried many foods, and learned about cultures, history, art, and languages. I even know how to say "Diet Coke" in Vietnamese.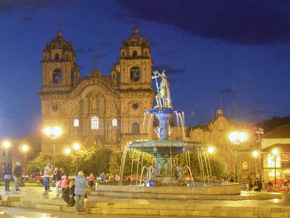 Taking pictures and earning an income from selling your images is not as far-fetched a dream as you might think. In the past, you may have found photography a little intimidating, with all those buttons and technical jargon to learn. But today's digital cameras are so advanced it is quicker than ever to improve your photography skills.
It is also easier than ever to get your work in front of potential photo buyers without knowing anything about marketing. Stock agencies—companies that represent photographers' work for a percentage of sales—are many and they are always looking for new content.
One of my best selling photos depicts Mexican dancers in Old Mesilla (Southern New Mexico, near the Mexican border) during the Cinco de Mayo celebration. That photo sold 10 times through agencies and I made $1,000.
Once you get accepted by an agency, they take care of marketing, licensing, and collecting fees for you, while you can be out taking more pictures. Shutterstock and iStock are two popular stock agencies. Rates vary depending on factors like image size, location in a publication, type of use, and area of distribution, but in my experience they range between $50 and $700 per image (minus agency fee).
For example, last fall I traveled to Peru to take pictures to submit to my stock agency. Within a few months of returning from the trip I had already sold images of Machu Picchu and Cusco.
And this is an income you can start earning before you leave home. Here in Colorado, where I live, last spring I drove to Aspen to photograph landscapes as well as the town's new art museum, designed by renowned Japanese architect Shigeru Ban. I have sold images of the museum a number of times, as well as some of the landscape images I took.
Images ©David Hammond
Get Your Free Fund Your Life Overseas Report Here:
Sign up for IL's Fund Your Life Overseas e-letter today and we'll also send you a FREE report about ways to earn money abroad. Simply enter your email in the box below and we'll send you this free report: Fund Your New Life Overseas With These 6 Portable Careers.
Get Your Free Report Here