My husband, Tim, and I were 44 and 49 when we decided to travel for a year and then work for a year. That was in 2010. Six years, and many adventures later, we're semi-retired and teaching English in Vietnam.

We always knew we wanted to see more of the world so, after a lot of research and having obtained our English teaching qualifications, we packed up our lives and hit the road.
We've now been to 130 countries and have no plans to stop anytime soon. We've just returned to Vietnam from our latest 12-month adventure (cycling through Scandinavia and Eastern Europe and sailing in the Caribbean.) Vietnam has been good to us and has played a big part in helping us achieve our dream lifestyle.
Our first stint here was in 2011. After travelling around Asia for a year, I applied for and obtained a three-month summer school position at a private language school in northern Vietnam. Tim picked up work once we got there by simply asking around.
You need a work permit to teach legally in Vietnam. It's a bit complicated but our school helps us through the process. Both work permit and visa rules change on a regular basis, so having that support is a bonus. Currently, you need an authenticated degree, a background check, a medical examination, and an ESL teaching qualification.
When we got back from our latest trip we had jobs waiting for us. Because we've done right by our school in the past, we can come back at any time, which means we can really kick back and relax while we're on the road.
I have two years' experience, teach about 17 hours a week and earn around $1,540 per month. Tim has slightly less experience and earns around the same for a few more hours. We live well and still manage to save all his salary. Best of all, we're not spending our savings or income from our investments back home, which are mounting up to finance our next adventure.
We've had some amazing experiences over the years, from following the Silk Route from Shanghai to Istanbul via Tibet, to spending 10 months "overlanding" in Africa (Think large trucks with a multinational group of people, camping and cooking as a group.)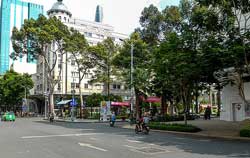 The other big bonus for us is the amount of free time we have to pursue personal interests—I'm writing books, building a freelance writing business, and running two websites. Tim is busy planning our next trip—a 12-month cycling tour through the U.S., Canada, and Cuba.
When we're not on the road we really enjoy our time in Ho Chi Minh City, where we rent a spacious, modern two-bedroom apartment for less than $700 per month. It's fully furnished, air-conditioned, and in a quiet, secure neighborhood, within walking distance from the city center. The rent also covers cable TV, WiFi, a cleaner two days a week, a gym, and secure motorbike parking.
Eating out in Ho Chi Minh City is cheap. We can easily eat for less than $8 a day if we choose local Vietnamese food. And, if we decide to stay in, over 600 local restaurants deliver to our door, serving any cuisine you can imagine. Australian steaks, Tex-Mex, or Afghani. It's all here.
We like to treat ourselves at least a few times a week. A nice meal in a medium-priced restaurant rarely costs more than $23 for both of us, including a couple of beers each. If we head to the movies, a ticket costs less than $5.
Transport is also very cheap. I rent a decent motorbike for less than $45 per month, and it costs me about $1.50 a week to run. A taxi across town is rarely more than $5.
Vietnam, especially Ho Chi Minh City, is growing and changing so rapidly. It's exciting to be here and watch it happen. We've found people to be open and welcoming and have made many new friends. A thriving expat community creates plenty of opportunities to socialize.
We've been really lucky to have these amazing experiences thanks to teaching English in Vietnam. We're certainly not missing the 9-to-5 grind!

Need a Way to Fund a New, Better Life?

Join our Fund Your Life Daily e-letter today, and you'll hear from us five times a week, telling you about ways to earn income that lets you live anywhere, travel anytime… and give you the funds to make your dreams of a better life real. We'll also send you your FREE report Fund A New, Better Life With These 6 Portable Careers.
5 Tips For Safe and Fun Solo Travel
The Quickest Way to Make Money Online