Ecuador has been one of our favorite locations for overseas investment and retirement for many years. In fact, we ranked it as the world's best retirement destination six times in the last 12 years (2008-2019) in our Annual Global Retirement Index, due to its exceptional quality of life and affordable cost of living.
From snow-capped volcanoes to dense Amazon jungle…sun-drenched Pacific beaches to the famous Galápagos Islands, Ecuador offers something for everyone and at prices unheard of for years in North America and Europe.
Whether you want to live, invest, vacation, retire, or simply relax in Ecuador, you'll find the perfect combination of climate, culture, and affordability to make your dreams come true.
Like to know more? Join us for this Fast Track Ecuador Conference—the only event International Living will host in Ecuador in 2019—and discover everything you need to know to help you decide if Ecuador is your ideal retirement or relocation destination…
You'll meet dozens of experts and expats and come away with all the knowledge and contacts necessary to make your move happen with confidence. Learn more here.

Where is Ecuador?
For generations now, Ecuadorians have been proclaiming their country to be "La Mitad del Mundo" (the center of the world) and it is exactly that. With the equator running through the middle of the country (hence the name Ecuador), this land in the northwest corner of South America is bordered by warm waters of the Pacific Ocean on the west, the jungles of Columbia on the north, and both jungles and deserts of Peru, which wraps around both the eastern and southern borders of Ecuador.
To put the location of the country in the perspective of air miles, it's 1,786 miles southwest of Miami (about three hours, 45 minutes by air), and 2,820 miles (five hours and 50 minutes) from New York City.
Because Ecuador is on the equator, its lowlands are warm (and in some cases hot) 12 months out of the year. Ecuador has rainforests, lush farm country, and even some desert land scattered around its 109,484 square miles of land (about the size of the U.S. state of Nevada.) There's arid land in the north and southwest; but the eastern third of the country is part of the Amazon River basin, with annual rainfall of almost 200 inches. The mitigating factor in Ecuador's climate, however, is the Andes mountain range, which runs south to north through the entire country.
Mountain altitudes as high as 20,000 feet above sea level give the country some peaks that are snow-capped year-round, and high-altitude, major cities like Quito and Cuenca in which it never freezes, but the temperature never goes higher than the mid-70s F even in summer.
Altitude and Temperatures in Ecuador
The equator is only a few miles north of downtown Quito, in the northern third of Ecuador, meaning that the southern two-thirds of the country is in the Southern Hemisphere—where December is a summer month and June is in winter—so the seasons are reversed in the two hemispheres.
And since the equator runs right across this country (which is about the size of the U.S. state of Utah and is in the northwest corner of South America—bordering Colombia to its north, Peru to its east and south, and the Pacific Ocean to its west), it's safe to assume that when you are packing your bags for a visit here, that there's no need to throw in a coat, right?
But if you let the "equator always means hot weather" theory dictates your travel plans, then you are likely to fall into a trip that illustrates another concept that's seldom wrong: "a little knowledge is a dangerous thing."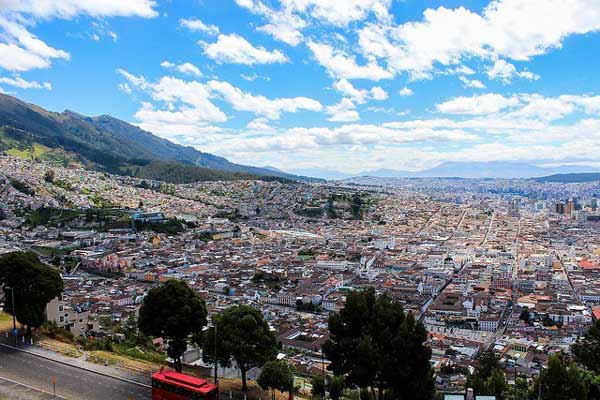 It can get legitimately cold in much of Ecuador, including the capital of Quito and the expat favorite of Cuenca. That's because of another geographical fact about Ecuador—the majestic and formidable mountain range, The Andes, runs through the middle of the country from north to south. So Ecuador is at the confluence of two major, climate-determining geographical forces.
Those two forces, latitude and altitude, are at war with each other, and once you start getting above 6,000 or 7,000 feet above sea level—altitude wins.
"Our house in Cuenca is at 8,425 feet above sea level, and we sleep under a blanket every night. I have a digital thermometer in our bedroom and in summer the temperature reads 65 F and 62 F in winter," says IL Cuenca correspondent Donna Stiteler.
"And oh yes, our equatorial location offers another gift—at least a gift in my opinion—the sun rises at 6:30 a.m. and sets at 6:30 p.m. 365 days a year. I like the stability of that. There is no Daylight Savings Time—that's something for the U.S. and other far-away places."
So in the mountains, which cover about a third of Ecuador's land mass, you'll find coolish to cold temperatures much of the time, although "cold" would be in the 50s F, with the rare drop into the mid-40s F. There's never ice or snow in high altitude cities like Quito or Cuenca—that happens up in the mountains above the cities.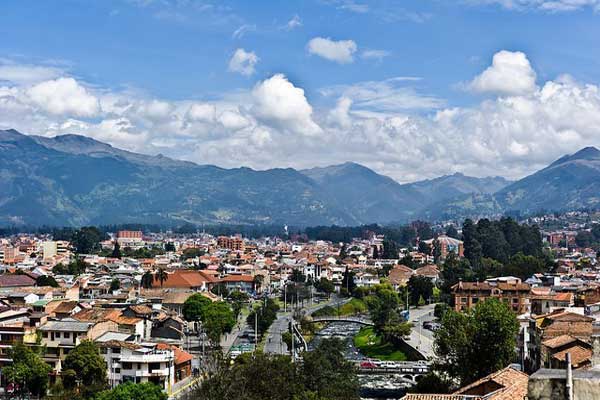 If you fly into Ecuador's busiest airport in Quito and then fly southward to Cuenca, you could get the impression that this country on the equator is something like Switzerland in late spring—lots of green farm land with snow capped mountains as far as the eye can see—even from your 35,000 feet vantage point.
Take a look at an altitude map of Ecuador and you'll see that only a quarter to a third of the country is in the Andes Mountain range. Go east or west from the Andes and you'll find that Ecuador gets low, flat, and quite warm very quickly. Fly into Guayaquil, the largest city in Ecuador with a population of 1.95 million and you will immediately decide that shorts and a tee shirt will likely be your wardrobe at all times during the visit. The average daily high temperatures are going to range between 91.3 F in December and 86.8 F in July.
There are two things you should know about Guayaquil: First, Guayaquil is going to be like Houston or Miami in summer, only it's always summer there because, there is almost no temperature variance at all as the "seasons" change.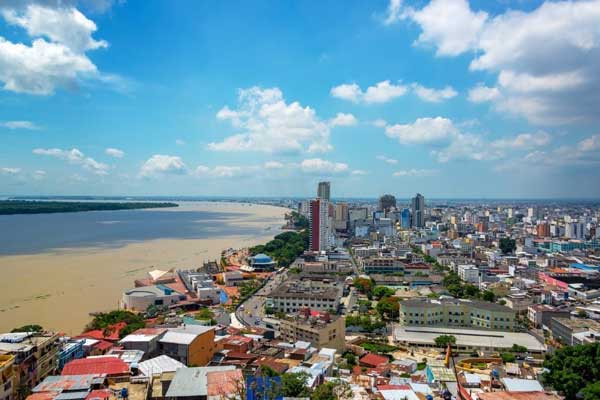 Secondly, don't worry, just like Miami or Houston, every building in Guayaquil is air conditioned 24/7. And Guayaquil, with a big airport and lots of direct service to cities like Los Angeles, Denver, Miami, and key European cities, makes a great gateway to Ecuador. And once you arrive, you are very close to compelling Pacific beach destination like Salinas.
That gateway concept is also true of Quito, with the newest, largest, and most used airport in Ecuador, with direct service to Amsterdam, Atlanta, Bogota, Buenos Aires, Fort Lauderdale, Havana, Houston, Lima, Madrid, Mexico City, Miami, and San Cristobal (Galapagos Islands of Ecuador.)
Another note about altitude and temperature. They do not constitute a fixed "either/or" choice when visiting the country. There are scores of "in between" altitudes that allow the country to claim to have the most natural biospheres of any nation on earth. You can be in an Amazon river delta rainforest in eastern Ecuador with lush ecologically-oriented resorts in the morning, in a region with green, rolling farmland that is not unlike Ireland in the middle of the day, and be in the mountains overlooking the Los Angeles-like city scape of Quito by night.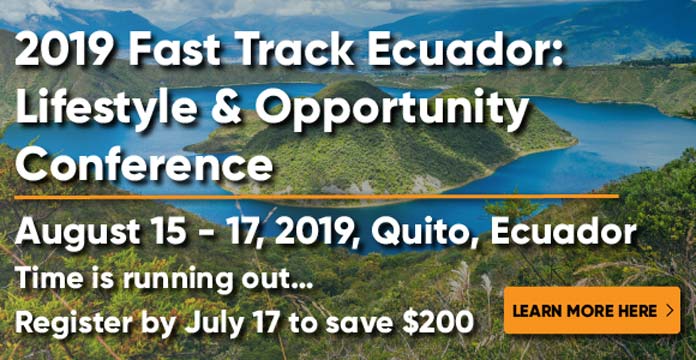 Progress in Ecuador
By Jim Santos
Often when I speak to people at International Living conferences, or reply to emailed questions, I get the feeling that many North Americans have a mental image of Ecuador as a rather backward country—charming, to be sure, but other than a few large cities, a nation mired in the past.
After living in Ecuador for six years and visiting much of the coastal and Andean areas, I am happy to say that this is a misconception. Sure, there are some wonderfully quaint small villages where people live much as their grandparents lived before them, but there is much more to the story than that.
Over the last decade Ecuador's middle-class has been expanding, and it seems everywhere you go there is new construction taking place. Not just private enterprise building homes and condos either; the government has funded many projects to upgrade drainage and roads, expand and improve the electrical grid, bring fiber-optic Internet to more places, and provide new and better public use areas.
Here's a short video showing just a little of the progress we have witnessed in coastal Ecuador.
How to get to Ecuador?
It's easy to get to Ecuador. From the U.S., you can fly non-stop on American, Delta, Lan, and AeroGal. Flights depart daily from New York, Miami, Atlanta, and Houston in the U.S., as well as from many European and Latin American cities. If you don't mind a stop-over in Mexico, Colombia, Panama, or Costa Rica, you will have other airline options, such as Avianca, Taca and Copa.
If you are looking for the best airfares, consider breaking your trip into parts: one from home to Miami, and the other from Miami to Ecuador, for example. This can be considerably cheaper at times. Tickets will cost you more around Christmas and from June through August, which is the Northern Hemisphere summer vacation period.
You can fly into either of Ecuador's international airports, in Quito or Guayaquil, with Quito being the choice if you're heading to the north of the country, and Guayaquil being the best option if you're going to Cuenca or the south. If you're touring the country from top to bottom, we recommend you start in Quito. You will find regional international services from the airport in Cuenca—to Peru—and in Esmeraldas—to Colombia.
Living Comfortably in Ecuador on $1,100 a Month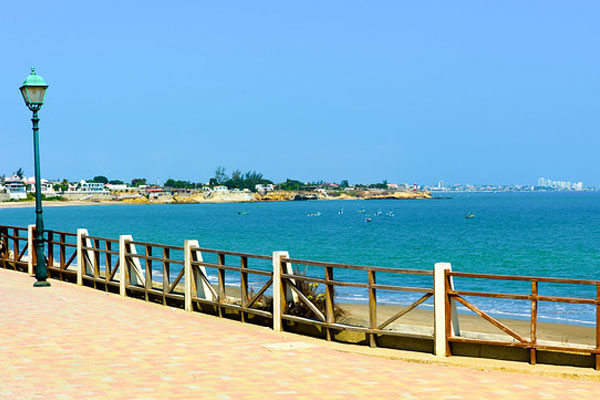 By Cathy McKay
My journey to overseas retirement started about 10 years prior to actually retiring. Although I have traveled a fair amount both domestically and internationally for work and pleasure over the years, I never thought much about retiring abroad. I tried living in some nice retirement communities in Florida and Arizona but found that lifestyle a bit limiting.
I loved visiting new countries and experiencing different cultures but I was concerned about moving to another country as an unmarried woman. I had googled retirement abroad from time to time and read some articles on International Livingthat were very inviting. My concerns other than being an unmarried woman were cost of living, climate, and adjusting to a new culture. It seemed many of the more affordable retirement destinations were in warmer climates and I had a problem with the humidity in Florida.
One day I was researching online and found Cuenca, Ecuador. High in the Andes mountain range at 8,500 feet, it had a very mild climate ranging from 40 F at night to 70 F during the day. It was perfect. I also was able to connect with some other single female expats on the Facebook expat exchanges who were living in Cuenca and felt very comfortable there. It didn't take long at that point for the spirit of adventure to kick in, and before long I was selling off my belongings (very liberating) and making plans for the move.
I have been in Ecuador for over two years and have never regretted the move for a minute. To say it is life-changing would be an understatement.
I am traveling light with three suitcases and one little dog. I wasn't sure where this journey was going to take me so I wanted as much flexibility and I could get.
I have spent most of my time in Cuenca. It is a bustling city of about 300,000. It has a European feel in its architecture most likely left over from the Spanish occupation some 500 years ago. It is a walking city with beautiful parks aligning the four rivers that run through the city. The Ecuadorian culture is warm, inviting, and always polite. There are many multi-cultural restaurants to choose from and I find myself cooking more with the wide variety of fruits and vegetables available. There are few additives in the food here so healthy eating is easy. With an estimated 8,000 North American expats living here it is easy to find friends for help and support. And I live comfortably on my Social Security income of just over $1,100 a month.
After being in Cuenca for a little over a year I decided I needed to get out of the city and try country life. So in August 2016, I packed up and moved to Cotacachi, a small town of around 9,000 about one hour driving north out of Quito, the capital of Ecuador. The expats support the community with volunteer opportunities and host a Thursday morning mercado (market) where many expat and Ecuadorian homemade foods and delicious fresh picked fruits and vegetables are sold. I was also able to take a number of short bus tours arranged by English-speaking guides to other cities such as Quito (the capital), Otavalo (known for its textiles), and Ibarra.
I am not sure if Ecuador will by my final destination. I feel a sense of wanderlust now that I am able to navigate a bit better in the expat world. However, this country is home for now and will always have a special place in my heart.

10 Things to do in Ecuador
"What do you DO in Ecuador?" That's a question that expats get asked all of the time. For the most part, the simple truth is that we do pretty much the same things that retirees do anywhere in our day-to-day life. We read, watch some TV, get together with friends, indulge in hobbies, and so on.
But living in Ecuador does give you some special options on ways to spend your time.
Here's a look at 10 special things to do in Ecuador.
1. Shop the Artisanal Mercados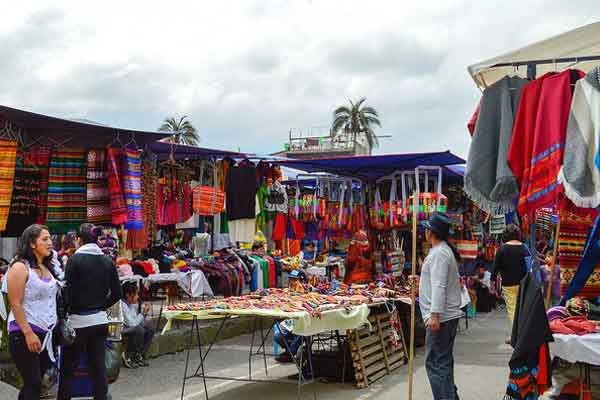 Ecuador has a rich, multi-cultural heritage. People have been living in this diverse and fertile land for over 10,000 years. This heritage, combined with the Spanish influence, has led to some of the most beautiful crafts and art in the world. Every region has their own specialties; there are the famous hats of Montecristi, erroneously know as "Panama hats", the colorful and intricate textiles of the Andean highlands, towns like Cotacachi where leather goods are made, experts in wood carving, ceramics…the list goes on.
No matter where you live in Ecuador, it is easy to find places where you can shop or just browse through a variety of lovely products.
2. Visit an UNESCO World Heritage City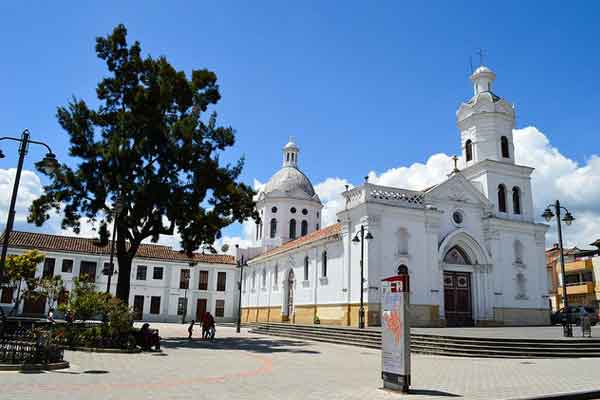 You don't have to live in the Quito or Cuenca to visit and enjoy their historic districts. It is safe, easy, and affordable to travel around Ecuador, which after all, is only about the size of the state of Colorado. Both cities are great places for a getaway to enjoy the architecture and history of their Old Town areas. There are guided bus tours and walking tours, but it is also pleasant to just spend some time strolling around the Parque Calderón in Cuenca, or the Plaza Grande in Quito.
3. View Quito From 13,000 Feet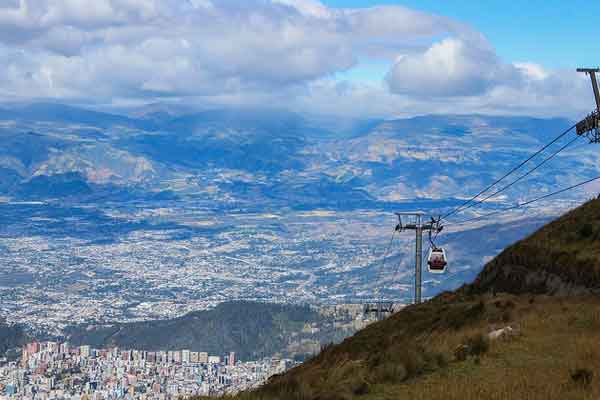 Speaking of Quito, you can visit the amusement park at the base of the Quito Teleférico, and then take the 20-minute gondola ride up near one of the summits of Mount Pichincha. From there you can view the entire valley from 13,000 feet. There are places to eat up top, exhibits, and shops, and even an Oxygen Bar if you're feeling a little dizzy. For the more adventurous types, you can also plan to hike from there to the top of Ruku Pichincha.
4. Stand at the Middle of the World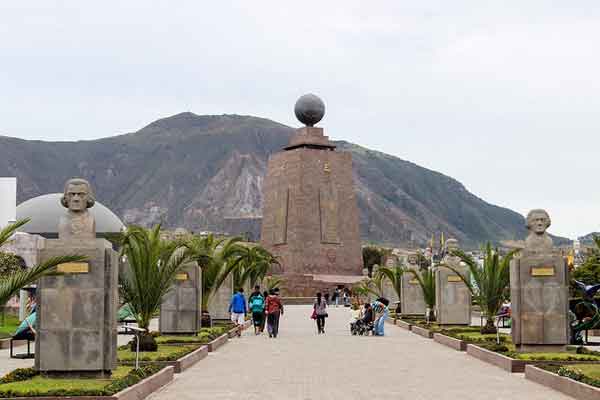 Sure, it's a touristy thing to do, but a great option in Ecuador is to check out the Mitad del Mundo, or the Middle of the World just outside of Quito. Ecuador, of course, gets its name from its position straddling the equator, and the Middle of the World Park is the largest tourist destination in the country.
Although modern GPS has shown the monument to be not quite on the imaginary line, the park has developed into a great destination. There are some wonderful restaurants, cultural exhibits, art displays, science stations, gift shops (of course), and a planetarium show to enjoy.
5. Discover New Almuerzos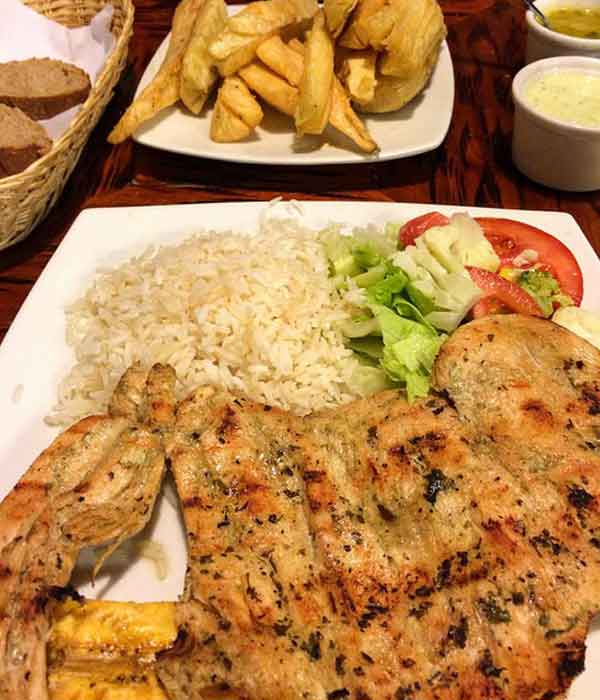 Closer to home, many expats enjoy discovering new almuerzos. Although technically the word just means lunch, this is the word used for the "lunch special" at Ecuadorian restaurants. Typically, the special will be start with some type of soup. You then get a main plate of either meat or seafood, served with rice, plantains, and maybe a small salad or French fries. You will often get a glass of fresh fruit juice, and sometimes a small dessert.
The fun is in the variations on this theme. Every establishment has their own specialty, and in many places the menu will change from day to day. Almuerzo sampling is a fun and delicious hobby, and it's easy on the wallet as well.These meals generally are priced at only $2 to $4 per person.
6. Take a Hike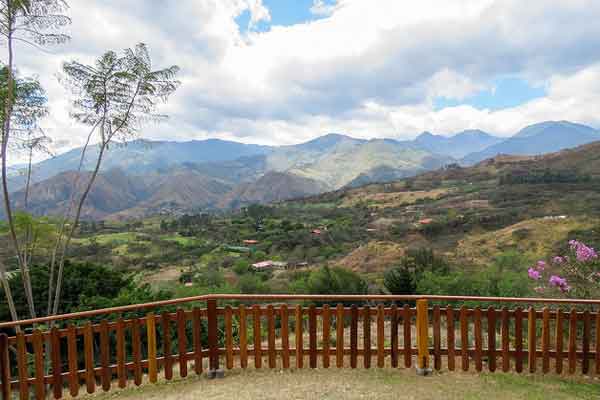 Experts agree that walking is great exercise and something almost anyone can enjoy. If you are an avid hiker or backpacker, Ecuador can offer you many challenging places to explore. But with the mild weather, expats find that they end up spending much more of their time walking than they ever have before. Whether you are strolling on a beach, walking through a city park, or tackling a trail in the Andes, Ecuador is a paradise for those who love to get out and stretch their legs.
7. Learn to Paddle Board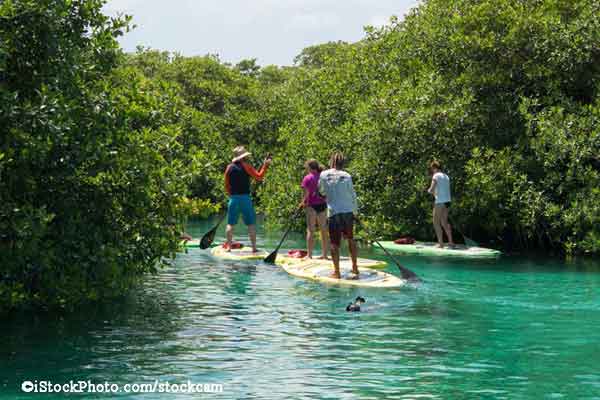 With over 1,000 miles of coastline, there are plenty of things to do on the water in Ecuador. Something becoming very popular with expats is SUP—Stand Up Paddleboard. Much easier to learn than surfing, the SUP fan stands on their wide board and uses a long paddle to propel themselves around the shoreline. Classes and boards to rent are available all along the coastal towns and there are clubs and competitions springing up in the larger cities of Manta and Salinas.
8. Shop Your Local Mercado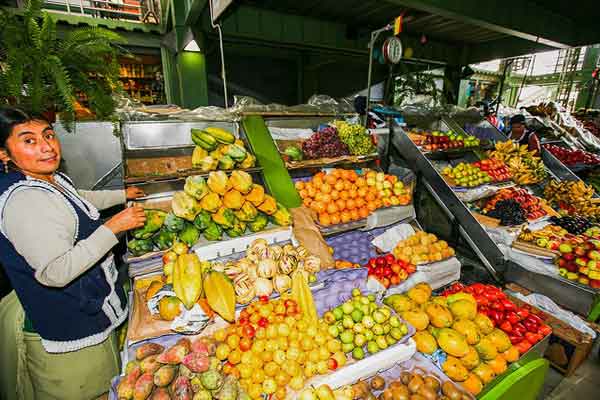 This is one of my favorite things to do. With a year-round growing season for most crops, and abundant seafood from the rivers and ocean, Ecuador produces some of the best—and healthiest—food on the planet. Every community has access to some sort of mercado, ranging from small trucks that pass through periodically, to permanent pavilions with multiple stalls, all the way up to mercados that spread over 10 or more city blocks.
You can spend a lot of time just sampling the many unusual varieties of fruits and vegetables that are grown in Ecuador and have fun practicing your Spanish with the local vendors. There are seafood and meat markets as well and the best part is that you will find that not only is the quality often superior, the costs are much lower at the mercados than at the modern supermarket chains.
9. Explore the Galapagos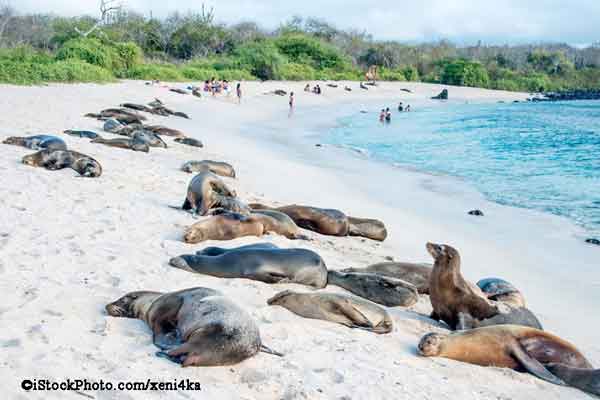 Although a rarely achieved "bucket list" item for many people, it is a lot easier (and less expensive) to take a trip to the exotic and fascinating Galapagos Islands if you live in Ecuador. For one thing, you are closer…it takes less than two hours to fly there from the Guayaquil or Quito airports. Also, Ecuadorian residents (including expats) get a substantial discount on the park entry fee.
10. Nothing At All!
Finally, Ecuador is a great place to live if you enjoy sometimes doing nothing at all. The mañana lifestyle you find here is very easy to get used to. With days and nights each a steady 12-hours long all year round, and in most areas very little change in temperature, sometimes it is great to just kick back and enjoy a quiet, peaceful life in beautiful Ecuador.