My wife Ann and I moved to the Ecuadorian beach town of Salinas at the start of this year.
We came for the wonderful weather and the low cost of living, and we have met some of the nicest people in the world—both Ecuadorians and expats.
But there was another factor involved in our move and that was our health. Now, I'm in no way an expert on the subject. What I'm about to tell you is simply based on our experiences and those of folks we've talked to here in Ecuador. But we are happy with how things have worked out.
Ann and I break things down into three categories: "healthy lifestyle," or how day-to-day living in Ecuador affects our health; "minor health problems," which is what to do if I'm sick or have a toothache; and "health insurance," or what happens if I'm in an accident or a major health issue arises.
Get Your Free Ecuador Report:
Learn more about Ecuador and other countries in our daily postcard e-letter.
Simply enter your email address below and we'll send you a FREE REPORT – Ecuador: Live Like Royalty on Your Social Security.
This special guide covers real estate, retirement and more in Ecuador and is yours free when you sign up for our postcards below.
Get Your Free Report Here
Healthy Lifestyle in Ecuador
With good food, more exercise, fresh air, and the relaxing sounds of the waves in the background, there is no doubt that we are living a healthier lifestyle in Ecuador.
I have Type II diabetes; I'm overweight—obese, really, by definition—and 56 years old. My cholesterol has always been low and my heart is not a problem. But if not controlled, high blood sugar will eventually cause me trouble. My doctor compares it to operating a vehicle with just a little over-pressure on the radiator hoses—the car will run just fine for a while, but after a certain amount of time, things start to go bad.
After we bought our condo unfurnished in March of last year, we came to Salinas for five weeks, starting in April, to set things up. Some interesting things happened during those five weeks. Without any deliberate attempts to change our diet or lifestyle, my wife and I each lost 10 pounds. After two weeks, I found my morning blood sugar was getting lower. During the third week, I had to cut my medication in half because my sugar was getting too low. Once we went back to the States, both the weight and sugar levels crept back up.
In talking to other expats, I have found that this is not unusual. In fact, many overweight expats who move to Ecuador find that in the first year they lose anywhere from 30 to 50 pounds. Again, without making any conscious effort to change their diet or exercise habits.
So what happens? First of all, the food is different. In Ecuador we get our fruits, vegetables, seafood, and grains from the mercado in Salinas. The food is fresher and tastes better than what we were getting in the U.S.—even though we shopped as often as we could at local produce stands and seafood markets. In Ecuador, for the most part, these foods are grown without pesticides and chemical additives. The milk, cheese, and eggs come from animals that have not been fed steroids.
Second, we chose not to get a car in Ecuador. Our first visit convinced us that it was an unnecessary expense here in Salinas, where local buses are 25 cents and taxis are plentiful, with most fares between $1 and $3. Since there's no point in stocking up when you can get the food fresh, we walk to the mercado two or three times a week. Each time, that's a walk of just over a half-mile each way. If we need something the market doesn't have, the supermarket Mi Comiseriato Jr. is about a mile round-trip in a different direction. Sure, we go to the SuperMaxi, a supermarket chain, once every week or so for some items we don't get locally, but at least 80% of our groceries comes from taking a little walk.
Plus, the beautiful weather encourages walking or just being outside. Most days we take a morning walk down the boardwalk or an evening walk after dinner—or both! We may walk to a restaurant rather than cooking, or walk down to meet friends at a local hangout. Even walking the dog becomes a nice stroll outdoors. I guarantee you, if we were back in the States, with sub-freezing weather and six inches or more of snow on the ground, we would not be lingering over the dog-walk!
It all adds up. I have a pedometer app on my iPhone (I know, a total geek), and I have found that we now walk an average of three miles a day during the week, and five miles a day on the weekends. That's 100 miles a month!
Minor Health Issues
Into every life, a little rain must fall—even here at the beach. So far this past year, on separate occasions, Ann and I have each found ourselves feeling sick enough to need a doctor. In the U.S., that means trying to get an appointment with your doctor or opting for a clinic with walk-in service.
Here in Salinas, we asked Gary and Kathy, two expats who operate a restaurant on the boardwalk, if they knew a doctor we could visit. They gave us the cell number of a local doctor who spoke some English, and suggested we give him a call. He listened to the symptoms, asked a few questions, and then asked where we live. We gave him the address and he said, "Okay, I can be there in about 20 minutes." That's right, a house call—remember those?
True to his word, he showed up and did the examination. He asked some more questions and made his diagnosis. In my case, he administered two injections. He then brought out medications for me to take over the next few days—and some as a preventative for my wife—and wrote out three prescriptions.
Finally, he spent some time discussing the issue with me. His fee for the visit, the injections, and the drugs he provided? $60. My wife filled the prescriptions at the pharmacy a few blocks away for just $20.
Best of all, I felt much better within the hour and was pretty much back to normal the next day. My wife's experience was similar, except that her visit was $50. We've talk to several friends since then with similar stories.
You can go to clinics that charge even less, and some of them provide free services (more about that later). But, as in the U.S., you may spend a good part of the day waiting in a room with other sick people. For us, knowing we can have an English-speaking doctor come to our home gives us great peace of mind.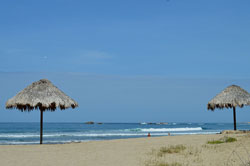 Health Insurance
Our personal needs may be a little different from the average expat. Insurance companies may consider Type II diabetes a pre-existing condition. I am still employed in the U.S. (I work remotely) and have good health insurance through my company for when we are Stateside. We can also use my coverage for preventative dental and eye-doctor appointments while visiting family. So what we need is coverage abroad. From our research into our best options, it really comes down to four choices.
Choice #1—Free health care! It does exist. You can walk into certain public hospitals and clinics and be treated absolutely free of charge—whether you are a citizen, expat, or just passing through as a tourist. However, as you should expect from free service, these locations do not have the best equipment or attract the best doctors. All in all for most expats, this is not a good option for anything but the most minor problems.
Choice #2—Recently Ecuador passed a law opening up its national health-care system, IESS, to expats with residence visas.
Under IESS (which stands for Instituto Ecuadoriano de Seguridad Social, or Ecuadorian Social Security Institute), you have access to a better quality of care at a wider range of locations. The cost is a nominal monthly fee based on a percentage of your income. For most Ecuadorians, that averages around $70 to $80 a month.
The big question is how do you figure an expat's income? Until the details of this option settle out, the most we can do is place this in the wait-and-see category.
Choice #3—Private insurance. Many companies offer private health insurance in Ecuador and internationally. A big reason for living in Salinas is that the cost of living is so low, we can use this as "home base" and afford to travel in South America and elsewhere. We figure that, for peace of mind, it would be nice to have insurance coverage if something happens while on vacation—especially since, once I retire, we may travel for a month or more at a time.
Many local and international plans, including the one we like best, have cutoffs at age 64. They continue to cover you past that age, but you cannot sign up after that birthday. That means that, in a little over a year and a half, Ann will no longer be able to sign up.
We spent several evenings meeting with different insurance agents and spoke to friends about the plans they use. We got quotes from Salud S.A., BestDoctors S.A., and Humana S.A.
As anyone who has bought insurance knows, a lot of variables go into figuring your rates. We found plans with no deductibles, and plans with large deductibles. We found maximum coverage from as low as $16,000 per year per person up to $1 million per person. The maximum-coverage issue is complicated a bit in Ecuador because medical procedures are much cheaper here. A procedure that costs $150,000 in Boston may cost you $25,000 or less in Quito. So a smaller coverage cap may be an option for you.
Again, this is complicated, and it's hard to compare apples to apples when looking at insurance plans. But just to compare rates, we were quoted anywhere from $3,000 a year for the two of us up to $8,000 a year.
For us, the most economical plan we found was with Salud S.A., which is the largest South-American provider. The plan gives us coverage of $33,000 per year each, with no deductibles. Total cost per month is $340. For an extra $60 per month, this plan also covers 80% of our medical expenses internationally (that is, outside Ecuador) up to $1 million each. Most medical services within Ecuador are covered at 100%, some at 80%. But the bottom line is good, solid coverage worldwide, with the best medical facilities, for about $200 per month each. Which brings us finally to…
Choice #4—Pay as you go. As many expats will tell you, medical services in Ecuador cost a fraction of their U.S. cost. If you are reasonably healthy, you may prefer to just pay for care as you need it. Alternatively, you can sock money away each month in a savings account against any future need. Most major hospitals and clinics will take credit-card or check payments, but keep in mind that smaller places may be strictly cash.
This can be a good option if you are one of the growing ranks of younger retirees. We are starting to see more people retiring in their late 40s or early 50s to take advantage of the cheaper and healthier lifestyle Ecuador offers.
Importantly, whatever option you choose, keep in mind that Ecuador's health care centers of excellence are concentrated in the highlands, in places like Quito. Except for Guayaquil, coastal towns only offer basic care. As a result, they may not meet your needs if you have serious health conditions.
Free Ecuador Report
Learn more about Ecuador and other countries in our daily postcard e-letter.
Simply enter your email address below and we'll send you a FREE REPORT – Ecuador: Live Like Royalty on Your Social Security.
This special guide covers real estate, retirement and more in Ecuador and is yours free when you sign up for our postcards below.
Get Your Free Report Here