Beautiful, friendly, perfect climate, inexpensive.
There…I've just told you why I think Ecuador is the best place on earth to retire.
The mountains and Pacific coast are remarkably gorgeous. The people are about as easygoing as people get. Being on the equator, the weather changes with the altitude, so you can pick any climate you like. And the cost of living can be astoundingly low, especially when you take high utility bills and property taxes out of the budget equation.
Is it perfect? Some expats think so…but they're the ones who don't expect Ecuador to be just like the U.S. or Canada at half the price. They know that Ecuador is its own country with its own laws, culture, history, and ways of doing things. And some actually prefer those Ecuadorian qualities over the ones they left back home.
Some retirees don't think Ecuador is perfect, of course, and I tend to agree with them…because I don't believe any place is perfect. If it was, it would be heaven, and I'd be dead. Real life has all the little annoyances and challenges that real life is known for, and real life in Ecuador is no exception.
Ecuador has bureaucracy, like everyplace else. And Ecuador has poverty, like every place else. And although the health care in Ecuador is world class, it is only so in the cities. Out in the countryside, health care facilities are less well funded and less well staffed—again, just like everywhere else.
And although Ecuador does have well-stocked supermarkets, even the best of them don't carry every brand of olive or peanut butter or coffee creamer or chili seasoning ever made, as some supermarkets in the U.S. seem to do.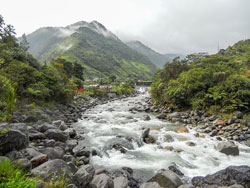 And the national language of Ecuador is not English. It's Spanish. For U.S. and Canadian expats, life would be much simpler if the national language were English. But it isn't, and that's something expat retirees need to deal with if they want to be happy.
Given all this, why do I still think Ecuador is the best place to retire on the planet?
Because I know myself well enough to know that I'd find something to complain about anyplace I lived. Like I said, no place is perfect, and I'm fully capable of complaining bitterly about the annoyances and inconveniences of any location on earth I happen to be.
However (and for me this is a mighty important "however"), in Ecuador I can do any complaining I have to do while surrounded by some of the most magnificent scenery I've ever seen, enjoying the company of some of the friendliest locals I've ever met, reveling in the most exquisite climate I've ever experienced, and spending only about $1,500 per month (for a couple excluding rent) for an astoundingly comfortable and well-stocked life that lacks absolutely nothing truly important for a happy existence.
Lots of expats agree with me about Ecuador. Lots of expats don't, which is why all the expats on earth aren't living in Ecuador right now. But for me and my personal wants and needs at this moment in my life, Ecuador ticks just about every box. I'm really happy it exists, and I'm really happy I found it.
Get Your Free Ecuador Report Here:
Learn more about Ecuador and other countries in our daily postcard e-letter.
Simply enter your email address below and we'll send you a FREE REPORT – Ecuador: Live Like Royalty on Your Social Security.
This special guide covers real estate, retirement and more in Ecuador and is yours free when you sign up for our postcards below.
Get Your Free Report Here