For years, Richard and Amy Griffin ran successful businesses in the southeastern United States. Amy's focus was interior design, while Richard was a food distributor for restaurants, hotels, and country clubs. Things were going well until the economic downturn hit in 2008.
"Charlotte is a banking community and all my customers were pretty much bankers, so they pulled the plug immediately, because they had no clue what was going to happen," says Amy.
Richard's business dropped by 30% during that time, also. "People were so scared that they stopped going out and stopped spending at restaurants," he explains. "A lot of the restaurants that I supplied—higher-end restaurants—closed, and I lost a lot of my customers."
Despite these setbacks, the couple and their businesses came through intact. However, they began seriously considering a change after Richard's back surgery made it more difficult for him to work.
The wheels began to turn and—having read online about it—it wasn't long before the couple was in the colonial city of Cuenca, Ecuador, checking it out for themselves. "We both really like the atmosphere. The climate, the mountains, everything," Richard says. "We decided to make the move."
Once on the ground in Cuenca, the couple embraced their new life. "So much of it, for us, was the adventure," Richard says about why they chose to move abroad. "Everything is new and different and every time you turn a corner you see something you hadn't seen before. We didn't come down here to make this a Little America. We live where everyone around us is Ecuadorian, and we want to be part of the culture. There's something about the Ecuadorian people—their lifestyle, their sense of family; it's like 60 or 70 years ago in the United States."
Other expats are part of their daily routine, as well. "We have met so many interesting people in the gringo community. At one particular café, about 20 men get together every Wednesday morning. We all sit around a big table and discuss things related to living in Cuenca," says Richard. There's no agenda or format, just expats helping one another out.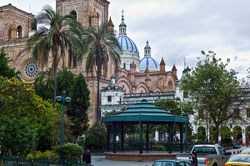 Their new life in Cuenca is also more affordable, without requiring lifestyle sacrifices. "A couple can live very comfortably on $1,500 to $2,000 a month here," Richard says. "Gas for cars is only $1.50 per gallon and the local markets are economical, though we go because we want to. We enjoy it." The icing on it all, though, is the stunning, 2,800-square-foot house they have rented. The three-story home comes with four bedrooms, a pretty inner courtyard, and two terraces—all for $1,000 a month.
While the Griffins are enjoying their new home, they hope that other people will consider breaking out of their comfort zones, as well. "I think it's unfortunate that more people don't travel and see the world, because it changes everything you look at," notes Amy.
Get Your Free Roving Real Estate Investor Report Now

Sign up for the FREE Roving Real Estate Investor e-letter and get a valuable report (free for a limited time) on The Exact Location of Where to Make the Most Real Estate Profits This Year (Plus 4 More Places to Build Your Fortune in Latin America and Europe).
Related Articles
The World's Best Real Estate Markets