Donna McNicol says that moving to Cuenca, Ecuador, has been a grand adventure.
But the truth is, the move to Ecuador is just the latest in a series of adventures…
"After being widowed at age 58," Donna says, "I spent part of a year traveling the U.S. on my motorcycle, covering 42 states and riding 27,000 miles alone. In another two years I sold everything I owned, bought a used Class C motorhome and started traveling full-time."
During her RV travels, Donna met and married Stu, and together they began planning their move to Cuenca.
"We wanted a place where we could live comfortably and still be able to save money," she says. Cuenca fit the bill. It's a gorgeous, colonial city in Ecuador's perfect-climate Andes Mountains with a lively arts and music scene. A couple can easily live on a Social Security income of as little as $1,500 to $2,000 a month—including rent.
Everything Donna and Stu could want for a good life can be found in Cuenca, including great healthcare, modern shopping markets, and reliable high-speed internet.
Donna can easily maintain her blog, twitter account, and the Facebook pages she's created to promote her writing. She has more than a dozen books to her credit, some children's books, but most in the "murder mystery" category.
"I enjoy writing dialogue and I love creating 'whodunit' scenarios," she says. "Most of my books are set in small towns with an interesting cast of characters. I rarely know who the killer is when I start writing, the story tells itself as I type. They're non-graphic, low on violence, and the romance stops at the bedroom door."
A former IT specialist, Donna always enjoyed writing but didn't pursue fiction writing as a profession until recently.
"I started writing in fourth grade and even created a neighborhood newspaper," she says. "Most of my adult life was spent writing non-fiction, both for work and as a freelance writer. I didn't seriously start writing fiction until my early 60s."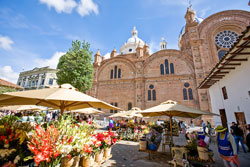 Admittedly, since moving to Cuenca, Donna's writing has slowed. "There is so much to discover about this beautiful country that carving out time to write is much more difficult."
"We have made local friends beyond our expectations. The locals are caring, friendly, and helpful…and they never fail to put a smile on our face."
Still, Donna manages to fit writing time into her busy social schedule in Cuenca.
"I write to keep readers enjoying my books. The money is a nice bonus," she says.
And would she encourage others to do what she has done…to pursue a career in writing while at the same time moving to a foreign country?
"I would encourage anyone to expand their boundaries, spread their wings, and try things they might have never considered," she says. "They might be surprised at the outcome. I certainly was."
Get Your Ecuador Report Here:
Learn more about Ecuador and other countries in our daily postcard e-letter.
Simply enter your email address below and we'll send you a FREE REPORT – Ecuador: Live Like Royalty on Your Social Security.
This special guide covers real estate, retirement and more in Ecuador and is yours free when you sign up for our postcards below.
Get Your Free Report Here