For decades I've read with wonder about the annual Monarch butterfly migration from North America to Mexico.
Each year, starting in October, millions of butterflies migrate south. Their path follows Mexico's Sierra Madre mountains to the protected World Heritage Monarch Butterfly Biosphere Reserve in Michoacán. This reserve becomes their winter abode until they return to North America in the spring.
Naturally, a visit to the Monarch Butterfly Biosphere Reserve in Mexico—where these regal beauties retreat yearly for the winter–was a must. And in 2019, I got to check it off my bucket list.
It was our first trip to Michoacán. We opted for a Mariposa Ecotourism tour with a knowledgeable local guide, Pablo Carrasco Durantes, of Permacultours. As luck would have it, we were the only two people on the tour. The three-to-four-hour drive to the reserve passed quickly as I peppered Pablo with questions about the region, the reserve, and the Monarchs. (The tour also included an overnight stay at Agua Blanca, a small resort built around healing mineral springs. The cost per person was $2200 pesos, about $110 US, which included the tour, transportation, lodging, and most meals.)
Around noon we ended up in El Rosario, the best-known Monarch butterfly colony. It was March, right before the butterflies returned to North America. Visitors are allowed two hours in the park. While walking the paths, the trail can rise above 10,000 feet, where the weather is cooler and at times rainy. We opted to ride horseback to the top of the trail, then take a leisurely stroll downhill to the park entrance. (The cost for the one-way horse ride was $10.) That allowed us more time to observe the Monarchs and to take pictures and videos. Once we dismounted our horses, Pablo led us along the path where we could view and learn about these elusive creatures.
Our first surprise was to learn that Monarchs cluster together in the upper reaches of the trees—mainly pine and oyamel—to retain the warmth needed for their survival. At first, we had a hard time spotting the Monarch clusters, until Pablo pointed them out. The butterflies had their wings closed, exposing the dark underside. We could see the tree branches sagging from their weight. Once we knew what to look for, we could easily pick them out. They were everywhere, looking more like enormous hanging termite nests than beautiful butterflies.
Then, everything changed. The clouds broke, allowing the sun's rays to shine down on the Monarchs. They disengaged from their clusters, exploding into flight. The air was filled with bright, colorful wings, flitting and darting wildly through the forest canopy, invigorated by the sun's energy. It was a stunning sight: the sun's rays reflecting from their boldly patterned wings, creating flickers of orange and black against the bright sky…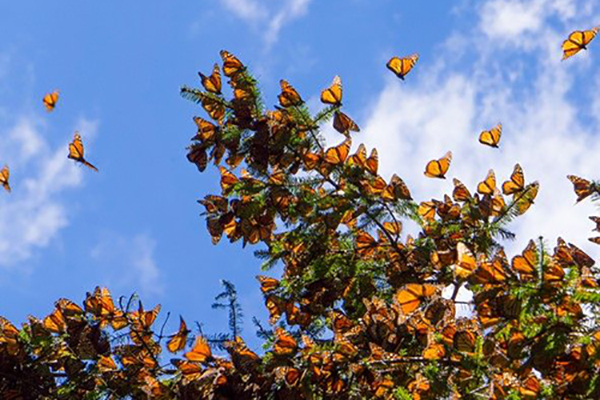 We had another surprise in store. This dynamic display left the forest ground carpeted with discarded butterfly wings–remnants of their brief lifespans. The delicate wings formed a natural mosaic, an expansive impressionist canvas laid out upon the forest's floor. It was both beautiful and melancholy, a reminder to enjoy life's rarest moments before they're gone.
It was with a profound sense of appreciation that I strolled through El Rosario with millions of the orange and black beauties surrounding me. In the past I'd only observed butterflies in small enclosures, or when a few visited our yard to pollinate plants. To observe millions of Monarchs in a wide-open, natural habitat was an awesome, breathtaking experience.
I never would have had the opportunity, had I not moved to Mexico. Many regions of the country offer similar types of spectacular natural beauty—just one of the many perks of my retirement abroad. I intend to enjoy as much of it as possible. Next up, the Ria Celestun Biosphere Reserve near Merida, where hundreds of pink flamingos flock together…
Get Your Free Roving Real Estate Investor Report Now

Sign up for the FREE Roving Real Estate Investor e-letter and get a valuable report (free for a limited time) on The 5 Best Places in the World to Own a Home From $150,000.
Related Articles
A Colonial Gem In The Mountains Of Central Mexico
Real Estate Opportunities In Tulúm, Mexico
Puerto Morelos: A Sleepy But Fun Beach Town On The Riviera Maya
---
You know more Spanish words than you think you do! And we guarantee you can be carrying on conversations...in Spanish...in just 20 Minutes. Reserve your spot now for our FREE webinar.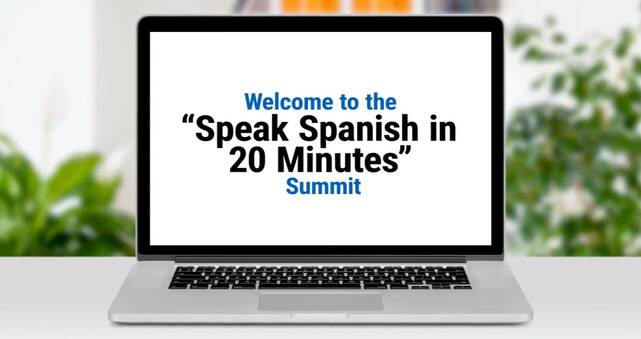 ---