Cycling a beautiful, well-loved path along the Loire River in France's famous castle-dotted Loire Valley, it was just as stunning as everyone said…full of quiet stretches of river, beautiful stone towns, arched bridges, river birds, happy cycling families, and a surplus of castles.
On this particular day, as I was cycling through a small, forested area, it started pouring down rain—and so I stopped to wait out the rain in the next town I reached: the beautiful waterfront city of Beaugency.
The first hotel I stumbled upon was a large stone building on the waterfront called Grand Hotel de l'Abbaye and, though I didn't know when I parked my bike and retreated into the warm reception area, it is a high-ranking hotel in a converted abbey.
The interior was fully restored, but had kept its castle-like charm, with grand statues, an enormous stone staircase worn smooth in the center from so many years of foot traffic, high-ceilinged rooms, and furniture that looked antique.
I thanked the gods for the rain that had driven me into this special place.
After a hot cup of coffee, the sun started peeking through the clouds, so I set out to explore the town—a place full of winding streets, excellent bakeries, a very pretty square or two, incredibly friendly people, and, of course (because it's the Loire Valley), a lovely castle.
The next morning, I awoke to another wonderful surprise: the buffet breakfast at the abbey-turned-hotel was not only delicious and expansive, but it was also unique. Every single product at the table—from the palette-cleansing liquor to the range of fruit jams to the fresh baked bread—was made by French monks and nuns. Here in the old abbey overlooking the river just steps away from a castle, I would be feasting on goods made in similar abbeys around France.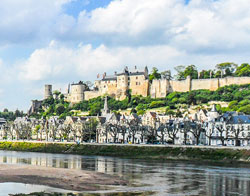 This is the magic of the Loire Valley—a place where tourists flock every summer to take in the famous, elaborate castles, the light, fluffy croissants, the old stone streets, and hopefully some of the tiny magical extras, like hotels in old converted abbeys and breakfasts made by monks.
I spoke to a American couple living in Amboise, another pretty town in the Loire Valley and they enthusiastically agreed that it is a magical place—not only because of its castles and abbeys, but because of its kind-hearted people, its year-round mild climate, the exceptional French healthcare system, and its excellent food.
Even better, though, they said, the magic is affordable.
I can attest to that, as nights in the old abbey start at just $75 and baked goods cost a euro or two. My meals out in the region usually ranged between $15 and $20. And, according to my expat friends, telephone (cell and landlines), internet, and basic TV package costs just $43 per month and a small house, in need of some renovation could cost as little as $164,000.
Get Your Free France Report Here:
Learn more about France and other countries in our daily postcard e-letter. Simply enter your email address below and we'll send you a FREE REPORT: A Taste of France: All the Ingredients for the Good Life.
This special guide covers real estate, retirement and more in France and is yours free when you sign up for our free daily IL postcards below.

Get Your Free Report Here