Oklahoma…Montana…Minnesota…Chile. Neil Sander has lived in numerous destinations, been involved in countless projects, and has had a plethora of careers…but since arriving in Panama in 2004 he has had no desire to live anywhere else.
He was approached to move to this beautiful Central American country and supervise the designing and building of a retirement housing development in a virtually uninhabited area of Bocas del Toro.
He was pleased to discover that, although Panama has rules, regulations, codes, and inspections just like everywhere else, theirs are driven by common sense, rather than blind bureaucracy. Through the project he developed considerable respect for the Panamanian people and their way of life.
Neil found the cooperative people and willing, helpful workers conducive to starting a business in Panama. Wages are very low, especially for unskilled labour. You must pay their social security but if you follow their labour laws and treat the workers fairly, you will have no problem.
And who could resist the opportunity to open the business of their dreams in this warm, sunny, tropical climate? It's almost always sunny (even when it rains it is a warm rain). There are excellent, low-priced restaurants, beaches, local theatre groups, and sporting events. Life is as stimulating or as laid back as you choose to make it.
Neill decided to stay on in Panama and became involved in a small manufacturing plant, a construction business of his own (with a construction material supply warehouse), dock refurbishing, and a restaurant/bar which he started in a refurbished shrimp boat.
In 2011, Neil's entrepreneurial spirit had him searching the horizon for yet another new challenge. There was, however, no question of leaving Panama. By now he had a special feeling for Panamanians. He understands them, respects them, and has an affinity for their warm, happy, gentle personalities.
He left the restaurant in the hands of his son and relocated to Chiriqui province after being approached by a friend to remodel a house she had purchased there.
This brought him to his current endeavor—The Branding Iron. The Panamanian-style restaurant (open air, bamboo, corrugated tin roof) is located on the highway between the tiny town of Dolega and the popular expat town of Boquete.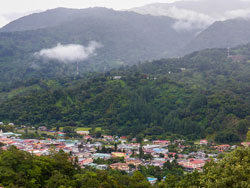 But there the similarity ends. Most eating establishments in Panama either cater mostly to gringos or have mainly Panamanian food and patrons. Not so with The Branding Iron. Neil's vision is to integrate the two peoples and he wants his restaurant to be a fun, relaxed, service-oriented oasis where gringos and Panamanians mingle, dine on both Western and local foods, and become amigos.
Panamanians are eager to enjoy products and services that have not yet been introduced into their lives. They admire North Americans, Europeans, and other consumer-oriented cultures and emulate them whenever possible. Whether it be fashion, home building materials, home decor, art, cuisine, or massage and other therapies, to name only a few, they are willing and eager to embrace new and innovative ones.
Neil immediately set to work building a bamboo bar with beautiful tables and chairs and organizing his menu and staff. He serves breakfast, either Panamanian or American, and provides everything from the local rice and beans to delicious steaks, seafood, and more. The restaurant is also licensed so stopping in for a cold cerveza is customary.
That entrepreneurial spirit is still hovering, though, and he has plans for expansion. This will include a large outdoor patio, a barbecue area, as well as, eventually, karaoke and/or jam sessions and a small dance floor.
Who knows what else is on the horizon for this man? He shows no sign of retiring anytime soon and continues to be constantly on the lookout for new opportunities. Panama offers him plenty of them.
Free Fund Your Life Overseas Report:
Sign up for IL's Fund Your Life Overseas e-letter today and we'll also send you a FREE report about ways to earn money abroad. Simply enter your email in the box below and we'll send you this free report: Fund Your New Life Overseas With These 6 Portable Careers.
Get Your Free Report Here