One of the truly great things I've discovered about living in Malaysia is that it's the perfect jumping off point for exploring some of Southeast Asia's most stylish destinations. Whether you're in the mood for a mini-break in a bustling city like Bangkok or a beach retreat in Bali, you can get there quickly, cheaply, and in style.
When I fancy a weekend relaxing on some of the world's most stunning beaches, I jet off from Penang's newly revamped international airport to the exotic island of Langkawi. It only takes 35 minutes and return flights can go for as low as $19. A great spot for dinner is the Bon Ton restaurant, where a three-course, five-star meal (including wine) is just $17. If I decide to stay the night, the accommodation at Temple Tree At Bon Ton is fabulous. The individually designed traditional Malaysian properties that make up this villa hotel can be enjoyed for as little as $45 a night. The resort is set next to a natural lagoon filled with exotic wild birds. It's the icing on the cake.
If I've got time to travel that bit farther, I fly from Kuala Lumpur International Airport. When I'm in the mood to soak up some culture, Chiang Mai in Thailand is a top choice. I can get return business class flights for $263. Once there, the award winning Fah Lanna Exotic massage center offers a fabulous four-hour pampering package for just $113—the perfect way to round off a day's sightseeing.
In Phnom Penh, Cambodia's capital, the elegant White Mansion Hotel is my go to for luxury lodging. Rooms in this stylishly decorated former US Ambassadors' residence start at $49 a night. Or you can upgrade to a suite, with stunning city views and a private balcony for $98. Located in the heart of the city, it's the perfect place to base yourself as you take in the nearby shops and restaurants and, when you're done, the cooling waters of the crystal clear pool are the perfect place to unwind.
I've always been drawn to the madness and energy of Bangkok, and going there for a long weekend when the return fare is just $74, makes it all the more attractive. There's something in the air in Thailand's capital, and even if, like me, you've been many times before, there's always something new to experience. This is a city built for sky bars, and there is a plethora of them to choose from. Vertigo and Moon Bar, on the 61st floor of the Banyan Tree Hotel, is the ideal hang out after a hot day visiting Bangkok's colorful markets and temples. Basic cocktails start at $6, but when you throw in a million-dollar view you'd happily pay more.
Angkor Wat, in Cambodia is another of my preferred destinations and the Golden Temple Residence Hotel, with its sculptured gardens, hidden pool, and large, air-conditioned, beautifully decorated rooms, is a dreamy place to overnight. At $105 a night, including breakfast, it's one of the best luxury hotels in Cambodia so it's not easy leaving here before daybreak—but watching the sun rise over the temple ruins of Angkor is more than worth it. And with return flights costing me just $92, there's no reason to miss out.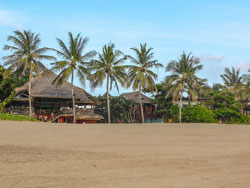 However, my absolute all-time favorite destination in Asia is the island of Bali. I've been travelling and surfing there since the 80s, and although I still love the beaches of Sanur and Nusa Dua—and the big surf of Echo Beach in Canggu—there are other attractions that keep me coming back…
Seminyak, with its five-star restaurants and swanky beach bars, is the place to stay. Ku De Ta is my favorite; it has a relaxed feel to it. Cocktails start at $5, and the food and view over the Indian Ocean at sunset are the best on the island. Entrées start at $8 and mains are just $20.
Travelling to and exploring other countries in Southeast Asia is just one of the attractions of living in Malaysia. It's so central—and affordable—that you can start your day watching the sun rise on a deserted beach and end it sipping champagne in the sumptuous surroundings of a ritzy hotel. You really can live like a millionaire here—without the scary price tag!
Get Your Malaysia Report Here:
Learn more about Malaysia and other countries in our daily postcard e-letter.
Simply enter your email address below to sign up for IL's free daily postcards and we'll also send you a Free Malaysia Report – Amazing Malaysia: Halve Your Living Costs While Living Like a King in the 'Pearl of the Orient'.

Get Your Free Report Here