Costa Rica is a laidback place. The unofficial national motto is Pura Vida, after all. Directly translated, it means Pure Life. But perhaps more accurate would be Life Is Good.
This carefree attitude is most felt in the coastal areas. And of those, nowhere more than the southern Caribbean coast. It's the least developed and most bohemian region in the whole country.
We're talking thick jungle—filled with monkeys, sloths, and toucans—running right up to the golden-sand beaches. Along the dirt and gravel roads that branch off the main paved coastal road, you'll find cabins and homes, often open air, under the trees. Protected areas keep much of this region wild. And at four hours' drive from the capital, San José and its international airport, it's far enough away that there is much less tourism than the Pacific coast.
You'll find small fishing villages with shops, restaurants, cafes, yoga studios, and bars—most of them open-air to catch the breeze…and not much else. If you're turned off by big resorts, gated communities, and condo towers…this is your place.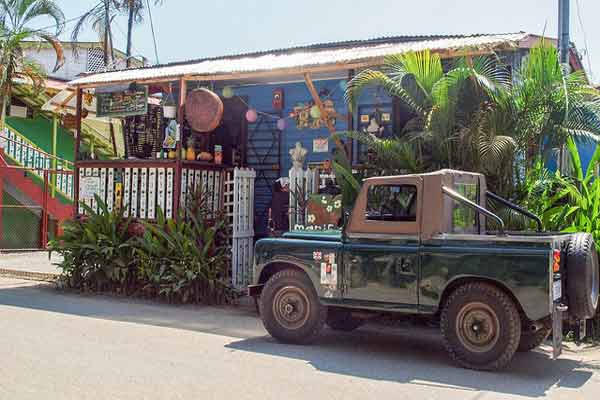 Costa Rica's Caribbean coast has a rugged, laidback island vibe.
It's a region settled 100 years ago by Jamaicans and other Caribbean islanders who came to fish, farm, and work in the port at Limon and on the railroad. Their English-speaking descendants (they also speak an English-based creole) live here to this day, embracing reggae and calypso, spicy Caribbean cuisine, and other cultural traditions not seen elsewhere in Costa Rica.
Joining them are a motley crew of surfers, ex-hippies, backpackers passing through, and others who while away the days in the tropical vibe. The main mode of transportation is the bicycle. From the heart of this relatively small region, the town of Puerto Viejo de Talamanca, it's easy enough to get to the beaches to the north and south, like Playa Negra, Playa Cocles (great surfing), Playa Chiquita, Punta Uva, and Manzanillo (the ideal place to snorkel). Nobody's in a rush anyway.
If you're in the area, be sure to hit up the farmers' market on Saturday morning in the heart of Puerto Viejo. This is a major expat gathering place—very social. And, of course, a great place to get locally grown fruits and vegetables, hand-made chocolate, and other delicacies—many made by enterprising local expats.
Another village to the north, Cahuita, is known as a center of Afro-Costa Rican culture. My must-stop is Miss Edith's restaurant, right on the water. Try the rondon—a coconut milk seafood soup—or fresh-caught whole snapper. And the national park here, the entrance is in the middle of town, is the perfect spot for wildlife watching. Be sure to hire a guide at the park entrance otherwise you'll never see that moss-covered two-toed sloth napping high in the canopy.

Related Articles
What is the Meaning of Pura Vida?