You'll find a lot of advantages to living in my new home town, clean, sandy beaches, a low cost of living, sunny weather, which averages about 85 F all year, and friendly people.
I live close to the ocean in San Juan del Sur , Nicaragua. I retired here from California in 2007, a full 11 years before my planned retirement age of 65. The low cost of living made this possible—a couple can live well here on $1,500 a month including rent.
And here's another benefit: I'm living proof that living here can make you healthier and happier…my health has never been better and it shows on my skin, in my attitude, and the smile on my face every morning.
I credit the vibrant, easier life in Nicaragua. It's just so much easier to live a healthy lifestyle here…
First, there's the food…
The supermarket produce sections in the U.S. are picture perfect: intensely orange oranges; big, shiny red apples; greens without a bit of brown. But, Nicaragua doesn't paint, wax, and shine its produce, so I eat wonderfully sweet oranges with no beautifying chemicals added (for a fraction of what they cost in the U.S).
I also eat fresh-caught (not frozen or farm-raised) fish twice or three times a week and real free-range chicken (that has been allowed to run free and is not injected with growth hormones.) The rest of my diet includes tropical fruits and vegetables fresh from the farm.
American fast-food joints don't exist in San Juan del Sur either—that means no McDonald's, Burger Kings, or Pizza Huts here to contribute to obesity. So while yes, you can get tacos and wraps here, because they're made with fresh fish and vegetables, you're still eating well.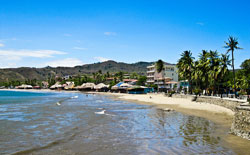 Secondly, you can kiss goodbye to stress here, too. San Juan del Sur has no rush hour traffic, so I am never in a hurry and I'm never late. Financial worries are few in Nicaragua since everything is so cheap. I'm so busy with fun activities that I no longer watch regular TV or the news, so I'm not being bombarded with sad stories every day. You'd be surprised on how this helps your mental outlook.
And exercising is easier, too, and affordable. Most people, including me, end up walking around the town because it's just so easy. I go swimming more, or to yoga classes because they only cost $6. I dance twice a week; I can go to the gym.
And, though too much is to be avoided, a little bit of sunshine every day is great for you. I spend 15 minutes every day in the sun, without sunblock (as doctors recommend), walking around doing my errands. Sun helps us produce Vitamin D, which supports bone health, is an anti-cancer agent, fortifies the immune system, makes your teeth stronger, and helps prevent dementia and brain aging.
Easy to see why expats down here are healthier and happier than they've ever been.

Get Your Free Nicaragua Report Now
Learn more about Nicaragua and other countries in our daily postcard e-letter.
Simply enter your email address below and we'll send you a FREE REPORT – Start a New Life on the Beach in Nicaragua. This special guide covers real estate, retirement and more in Nicaragua and is yours free when you sign up for our IL postcards below.
Get Your Free Report Here