While most people in Canada are bundling up against the cold right now…and preparing for or enduring heavy snowfall and treacherous ice…Canadians Brian and Janette Sullivan are enjoying the temperate, weather of Cotacachi, Ecuador.
A little village located between two volcanoes in the Andes, Cotacachi has such a moderate climate that it enjoys year-round average daily temperatures of 70 F and 50 F at night.
That's just one of the ways that life is easier in Cotacachi…and Janette and Brian are taking advantage of all it has to offer.
The couple devoted much of their adult lives to public service as officers in the Royal Canadian Mounted Police. But a desire to live a less stressful life led them to consider their options. That desire led them to move to Cotacachi in June of 2013. There they found a lower cost of living could easily allow them to retire very early and to live well without working conventional jobs.
With the increased freedom living there gave them, it didn't take long for Brian and Janette to start making up for lost time by pursuing different interests.
There's plenty to do and enjoy in Ecuador and the Sullivans are determined to take full advantage of that fact. Cotacachi is a good base for the couple. As Janette explains they "love traveling and exploring. We took 17 trips this past year through Ecuador, to the coast, the jungle, and hot springs."
The couple is also active with mountain bike rides through nearby rural areas, monthly hikes around the volcanic crater lake of Cuicocha, and daily walks through town to visit friends.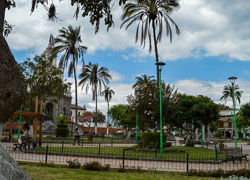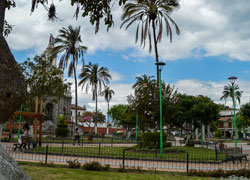 Their relaxed lifestyle in Ecuador allows them plenty of time for socializing, too. Janette says, "We meet friends for coffee or drinks at least a few times a week, and have dinner parties, pizza parties or, well, any other type of party that involves food and drink often!"
But the biggest surprise for Janette has been discovering a skill she didn't know she had. She picked up a brush and some paint one day and found that she had a talent for it.
"Brian said he thought my work was really good. He thought I'd have an in selling to expats because it's the shabby chic style and you can't really get that here," Janette says. "So I made up a few samples, put them on Facebook. Then I started getting inquiries about custom work and it's gone from there."
Though they don't need the income, the $100 or so per month that Janette's paintings bring in is enough to fund their grocery bills and entertainment. She has also donated much of her artwork to fundraisers run by the local animal rescue center in which she and Brian are involved. Janette is responsible for organizing all events that the animal foundation does—a task she never would have had time for before her move.
Though they can't say for sure where they'll be 10 years from now, they're content. "Right now, we're just enjoying life," says Janette.
Get Your Free Ecuador Report Here:
Learn more about Ecuador and other countries in our daily postcard e-letter.
Simply enter your email address below and we'll send you a FREE REPORT – Ecuador: Live Like Royalty on Your Social Security.
This special guide covers real estate, retirement and more in Ecuador and is yours free when you sign up for our postcards below.
Get Your Free Report Here