Two kisses: one on the right and one on the left. That's how friends, relatives, and even acquaintances greet each other in Spain. It's a daily reminder of how warm, friendly, and gentle the people are here.
And that's the best part about living in the land of the setting sun: the Spanish people are amazing.
Sure, the cost of living is great too. We live in a small fishing village just outside of bustling Barcelona and, supposedly, it's the most expensive town in the Catalonia region…but we live right on the Mediterranean Sea and spend much less than we would in the United States.
Mobile phone bills are only $14 a month, compared to $140 for a similar plan back home. Unlimited health care with no deductible and no co-pay only costs us $75 a month per person, compared to over $300 a month for a lesser plan in the U.S. And a week's worth of groceries rings in at about $150, compared to over $200 for a similar purchase at home.
And yes, the food here is definitely something to write home about. There are an endless number of cafes and restaurants to choose from—starting with warm, flaky pastries and made-to-order espresso drinks in the morning…moving on to a three-course spread of salad, rice, and fresh-caught seafood for lunch, Spain's biggest meal of the day…and then finishing the evening with some light tapas, like fresh-baked bread drizzled with locally pressed olive oil, oven-baked peppers, and an assortment of sliced cheeses and ham.
Oh, and let's not forget the wine—something I didn't even like before moving to Spain. It is so delicious—and dirt cheap! Here, you can drink as much vino tinto as you want with dinner, and the next morning you won't have even the slightest hint of a headache (nor buyer's remorse).
And I would be remiss not to mention the Spanish rhythm. It's not just a slower pace of life that catches your attention—it's their way of life. Everything is centered on family—schedules, holidays, and festivals are all created to promote a happy and healthy place to grow up and live.
For example, instead of rushing out of the house at 6 a.m. like we do in the States, families have more time together in the morning because the day starts later. In the afternoon everyone takes a siesta, which doesn't necessarily mean a nap. Instead, this is a time when children come home from school, and parents take a long lunch break so everyone can eat together. And this is all made possible because most cities are walkable and/or have an excellent public transportation system.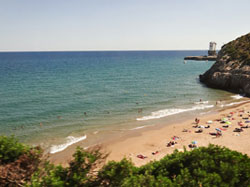 In the evenings, the Spanish know how to have a good time. They stay up late—even the kids. They eat together, listen to music, and laugh loudly. You'll notice that they're not preoccupied about work, or worried about what their neighbors have that they don't. They only care about enjoying life with each other.
It's a contagious, stress-free environment that's only interrupted by their exhilarating cultural festivals. Here in Sitges, we literally have one right after the other. From parading giants, fire breathing dragons, and human towers, to the most incredible fireworks displays we've ever seen—the fun never ends. These are only a few of the great benefits of living in Spain, but it's not why we love it here. In fact, there will never be a historical monument, architectural edifice, cultural festival, culinary masterpiece, or economic benefit that will ever impact our lives more than the people have.
From the relationships we've developed with our Catalan neighbors and Spanish friends, to the community we've created with our fellow expats and international travelers, we are forever changed. And that is what international living is all about.
Free Spain Report:
Learn more about Spain and other countries in our free daily postcard e-letter. Simply enter your email address below and we'll also send you a FREE REPORT — Live the Good Life in Sunny, Affordable Spain.
This special guide covers real estate, retirement and more in Spain and is yours free when you sign up for our IL postcards below.
Get Your Free Report Here