Cracks in the walls of 500-year-old churches are filled with blooming flowers. Maya ladies in colorful national dress stroll about, and travelers from all over the world take time to breathe in the tranquility of this place.
I'm in Antigua, Guatemala. It's a tiny colonial town, and a UNESCO World Heritage site.
Walking the cobblestone streets, I see a box filled with used books, all priced around $1.20. I spot Into Thin Air by Jon Krakauer, take the book into the charming little store to buy it, and meet a tall man with a welcoming smile.
His name is Bill, he's around 70 years old, and he's from Knoxville, Tennessee.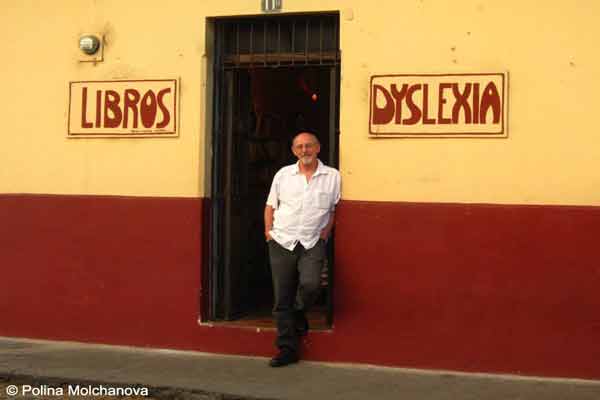 Bill used to be a Social Security Administrator and managed an office of 28 people. It was a demanding job, so he was determined to make the most of his retirement. Three years after leaving work, he traveled to Guatemala to visit a friend. This friend managed a bookstore but had to return home some time later. Bill began working there instead.
He loves the job. The owner also has a bar next door and is never concerned about how much money the bookstore actually makes, so long as it's always got good books in it. It means Bill can basically run it as he wants…within reason, of course.
I ask Bill the main difference between life in the States and Guatemala, and he answers: "Life in the States is all about cars!"
In the States, people go everywhere by car. In Antigua, people walk everywhere. It's good not to have to own a car, not to think about where to park, and not to have all the costs of running it.
Bill says another great benefit is the cost of living is far cheaper. A good lunch costs less than $10, and there's a huge number of good restaurants. A "foodie" friend from Chicago recently visited him, and said the restaurants are every bit as good as Chicago's, but much cheaper. Groceries are also very cheap, with fresh organic vegetables being particularly inexpensive.
Healthcare is cheap too, particularly dental work. You can have an X-ray and some minor work done for $40. Dental tourism is also popular. People who need a lot of work done arrange to have it here and build a vacation around their trips to the dentist—with total costs coming to less than just the dental work would back home.
Then there's the lifestyle. Bill says that when you're retired, your favorite part of the day is the morning. "Just make yourself a little breakfast, sit at the patio with a newspaper or a good book surrounded by tropical nature, and listen to the birds."
There's a very lively music scene and active expat community here too. It's a little bohemian, and very interesting. Retirees gather to play bridge and they have book clubs and discussion groups, so it's easy to find people who share the same interests.
If you want to be more active, there are lots of opportunities for volunteer work. There are several NGOs who always welcome "goodwill" workers. You can help build houses, teach English, or choose from many more volunteering options.
Overall, Antigua is a special place. Bill says its most magical aspect is its setting. You are at almost 5,000 feet elevation, but are still in a valley, surrounded by mountains another 1,500 feet taller. There are three nearby volcanoes that tower to 7,000 feet above the valley floor.
The temperature is 70 F to 75 F pretty much every day. The mornings are cool, because of the elevation, but the sun comes out during the day. The surroundings are lush and tropical, and are green all year long, with flowers everywhere. Buildings are up to 500 years old, and the streets are paved with rustic cobblestones.
It's a magical little valley—a Shangri-La, really.
It's Antigua, Guatemala.
Related Articles
Finding Your Own Sweet Home – in Guatemala
Rent in Antigua, Guatemala from $220 a Month