I'm a beach girl—I love the sun, sand and surf. A few years ago I had a choice: to never be able to retire in the U.S. because it was too expensive, or retire 11 years earlier than planned and live in a tropical paradise, free of stress and close to the ocean, my favorite place to be.
Nicaragua called me and the coastal town of San Juan del Sur captured me. In San Diego there was no possibility of ever living near a beach. I'd never have the millions necessary. But here in San Juan del Sur, I was able to buy a small, two-bedroom/two-bathroom house for $132,000…with an ocean view. My friends can't understand how I keep so busy in a beach town the size of a stamp (the main part of town covers three square blocks), but I'm doing things that I'd never have done back in California.
A typical day might include an early morning stroll on the beach walking with my dogs. Then a couple of hours of writing work. After that, I go to lunch with a friend at La Meson, a Spanish Tapas restaurant that's located right on the beach. Still on the beach, I make it over to the most popular restaurant in town to do some marketing work. My "office" there is the best I've ever had—a table where I can watch the waves, chat with my friends and be inspired to write. If I don't feel like cooking, I stay for Happy Hour and $1 appetizers. On Monday nights, Take-It-Easy Monday takes me back to my early days, listening to top 40s hits from the 60s through today in English played by a live band. On Thursday nights a Nicaraguan ballet folklorico captivates me and afterwards I dance to the Latin tunes of a marimba band. My days and evenings, one way or another, are spent by the beach.
Activities to Keep You Busy…and Feeling Young
And then there are those things that would have been difficult to do in the U.S. because of the expense or lack of time. Like marimba lessons for $4 an hour. This wooden indigenous instrument that the xylophone is based on is difficult to learn…it requires a lot of memorization. But this type of concentration keeps my brain young. Once a year I get to play at El Timon Restaurant's Anniversary party; they say I'm the only foreign female to ever play this instrument in Nicaragua!
In the years that I've been here, I always tried to find ways to help the community during the day. Whether giving free English classes, helping women become gainfully employed, working with disabled children, assisting at the local library, joining local tourism boards or just pitching in to help clean up the community, there's an endless list of ways to give back.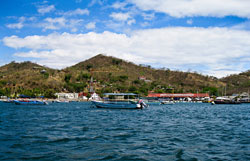 Salsa, merenge, bachata, vayonata and other dance lessons are available from local dance professors Bruno, Headley and Dennis for $4 an hour. Nothing like dancing to get your heart rate going, your body feeling good and the exercise to maintain your health. And there are plenty of places to practice your moves.
If you like to fish, there are fancy, expensive outfits with sonar and radar and automatic rods to make sure you get your catch. Or you can go with local fishermen who use fishing line wrapped around a block of wood and still catch red snapper, rooster fish, jack fish and yellow-finned tuna. I've never come home empty-handed. Grab five friends, pay $40 an hour for the boat to go fishing for half a day ($160 total for four hours), bring home plenty to eat (the captain scales and cleans the fish for you for free) and it will only cost you about $27 each for an exciting fishing experience. Bring some brews and give some of your extra fish to the crew for their dinners as well.
And there's so much more….wine-tasting evenings, nights of jazz and blues, cocktail party fund-raising events to help the town, horseback riding, hiking, book-signing events. You never run out of things to do in San Juan del Sur. The activities keep you young, fit, engaged, and happy.  And of course…there's always the beach.
Get Your Free Nicaragua Report Here:
Learn more about Nicaragua and other countries in our daily postcard e-letter. Simply enter your email address below and we'll send you a FREE REPORT –  Start a New Life on the Beach in Nicaragua.
This special guide covers real estate, retirement and more in Nicaragua and is yours free when you sign up for our IL postcards below.
Get Your Free Report Here