Imagine falling to sleep to the soft sound of waves lapping the base of rugged cliffs. The flash of a faraway lighthouse gently illuminates your room and the mild breeze brings the purest of air in your open window. In the morning there's bright sunshine and the singing of small birds in the shrubbery outside. A distant tractor can be heard as a farmer carries hay to his cows. There are no cars or sirens. And, as you look outside, the sun shimmers off a hundred square miles of ocean.
This is life in our new home—an 1820's house in West Cork, Ireland. Overlooking the Celtic Sea (actually part of the Atlantic), the house is pristine and full of period antiques. It has three acres of a yard and off in the distance we can see Fastnet Rock Lighthouse, one of Ireland's most famous landmarks.
I cannot say for sure whether it was a desire to escape the stress of America or the lure of such an idyllic life that appealed to us more. The end result though was that my wife, Shannon, and I committed ourselves to a move from where we lived in New Orleans, Louisiana.
A Relaxed and Friendly Lifestyle in County Cork
We live in the wild west of County Cork. It offers the natural beauty and the rugged remoteness we desired. Because I am a professional artist, I wanted to be in an area rich in painting sites.
The laid back lifestyle is a pleasant change from the hurriedness we felt at home. We went to a local grocery store our first day here and had only American dollars (Ireland uses the euro). The owner told us to just take what we needed and pay him later. Such is the way of life in our small community. Our village is typical of most with a butcher, two grocers, a vegetable stand and several pubs.
The pub is the living room of the community. Literally everybody from the grandpas to the children can be found there at one time or another. There is food for the hungry, conversation for the lonely and of course, stout for the thirsty. You'll find music, sports like rugby and hurling viewed, and you may occasionally hear folks speaking in the Irish language, known as Gaelic.
That brings me to the greatest Irish asset I can think of: its people. You may be taken aback when asking a stranger for directions. They have told us where to buy the best foods, which restaurants to try, who is a good dog groomer and any number of other tips all as if we had known them forever.
Living and Traveling in Ireland
Since we were new to Ireland, we chose to rent until we could decide on our plans. We plan to give Ireland a year and decide if we will buy a home and settle here for good.
Our house is a pleasure to live in. It's actually for sale and on the market as furnished. It came with the antiques and has six bedrooms, a dining room, and a living room, conservatory, kitchen, an indoor pool, sauna and a detached two-bedroom guesthouse.
Some of our favorite things are the cozy den with a working fireplace, an old gramaphone in the formal dining room, and the many artworks and antique clocks throughout the house. While the cost of buying this home is beyond our budget, we were able to negotiate a suitable rent agreement. Our household expenses including rent are about $2,400 per month. We enjoy all modern conveniences such as Internet, good TV service, recycling, trash collection and excellent shopping in the many small towns in our area.
Within a short drive we have easy access to golf courses, horse stables, beaches and numerous archeological sites. There are castles everywhere in West Cork and we have one visible from our yard. We can walk to the local village. The parish church steeple is visible from our windows and we hear the bells ring every Sunday.
Our daily routine starts with coffee in our conservatory from where we can see birds and hares in the yard. Afternoons are reserved for treks to many of the nearby landmarks but we always prepare for any kind of weather. There is a beautiful lighthouse at Crookhaven Harbour and two 19th-century British lookout towers within walking distance. Perhaps one of the most breathtaking places nearby is Mizen Head with its gigantic waves and dramatic cliffs overlooking the sea. There is also a pleasant beach with large waves and a wide expanse of sand where we let our dogs play.
Once a month we plan a road trip to a new destination. Ireland is so diverse I don't think we will ever exhaust the possibilities. Bed and Breakfasts, reasonably priced, are in every town. Many of them allow pets and the proprietors are friendly and helpful. We have driven the Ring of Kerry, kissed the Blarney Stone at Blarney Castle near Cork and seen the mysterious limestone karst area called the Burren, among other places. Our next destination is a week-long trip to Galway.
One of the best things about Ireland is its proximity to the UK and the rest of Europe. There are ferries at the major ports to Britain and inexpensive flights originate out of Cork, Shannon and Dublin to major cities all over the continent.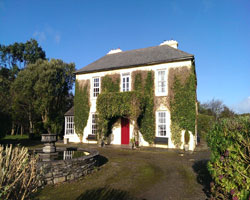 So what are the logistics of making the move? We didn't drop everything and relocate. It took about three months of planning and research to prepare ourselves. Number one on the list is how will you sustain yourself financially during your stay? Irish immigration laws are reasonable but you must have a means of support outside of Ireland and your own health insurance.
We were able to extend our visa up to an additional year since we are interested in living here long term and seeking residence. Since we also intend to purchase a home in the future, our chances are good they will allow us to stay.
Other aspects we had to consider were how to move our belongings and pets. We used a U.S. service to arrange transport for furnishings, clothing and personal items by ocean freight; see here. It can take up to 60 days to receive your goods. Pets are a peculiar problem because Ireland is an agricultural country and has placed strict restrictions on the importation of animals. I recommend using a pet moving service as we did.
Our plans for the immediate future are to remain here in County Cork for about a year. We have many friends and relatives planning to visit us during the warmer months. We will explore from here and a particular goal is a trip to Iceland this summer. Long term, we will decide if we wish to buy a home in the area; most likely a historic house with acreage and views. We like the seashore so living near the Atlantic is a priority.
About the Author: David Dillard's artwork can be viewed at Daviddillard.com. For more information on moving to Ireland, see here.
Get Your Free Ireland Report:
Learn more about Ireland and other countries in Europe and from around the world in IL's daily postcard e-letter. Simply enter your email address below to sign up and we'll also send you a FREE Report: Affordable Ireland – The Land of Saints and Scholars Goes on Sale. This special guide covers real estate, retirement and more in Ireland and is yours free when you sign up for our IL postcards below.
Get Your Free Report Here