Take a walk down to the main plaza of San Miguel de Allende any evening and you can hear the classic sounds of mariachi music. Troupes stroll through the Jardin (as the main square and park in the center of town is called) offering to play. You can hire them to sing a romantic song to your spouse as you sit at one of the sidewalk restaurants. Groups of friends—perhaps who've had a few too many—might run through some classic ballads…if a bit off key. And I've even seen a mariachi band play a central role in a marriage proposal.
On Friday and Saturday nights it's time to dance. That's when wedding parties (San Miguel de Allende is a huge wedding destination spot for big-city Mexicans from around the country) spill into the streets with the sounds of banda (a fast-paced genre with plenty of brass and woodwind instruments and a driving beat).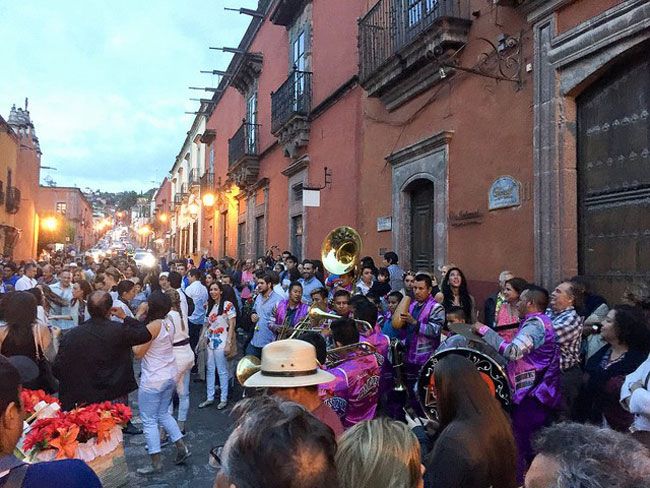 Yes, San Miguel is alive with music, exuberant music of all genres.
The Teatro Angela Peralta is an opera house built in 1873 and continues to thrive with classical music, live theater, jazz, and more—there's always something on the calendar. And every year around August, the Festival San Miguel welcomes string quartets, classical ensembles, pianists, and other musicians from around the world to the theater for a full month of performance.
The Biblioteca, an English and Spanish language library, arts center, and educational resource, has been a mainstay for years, with live music performance several days a week. They also have live theater and lectures in the on-site Teatro Santa Ana.
You'll also find street performers wandering around the historic centro of San Miguel, offering songs for a small donation—some are better than others. It's a nice appetizer as you head out to see a performance. And you don't have to go to dedicated concert venue.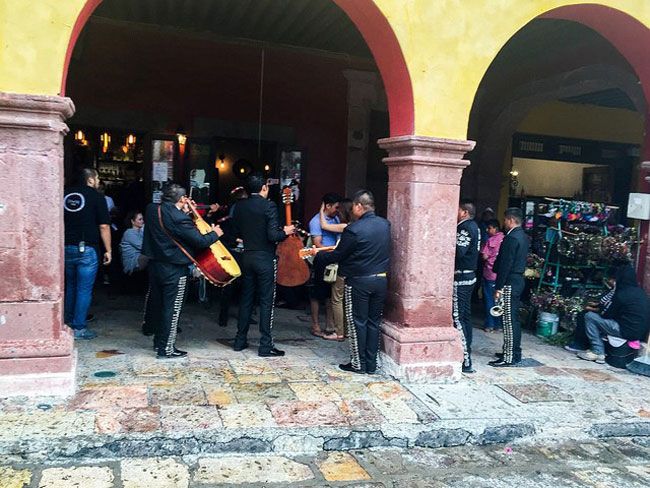 Many restaurants also have live music on offer. Try salsa and other Latin styles sung live at La Sirena Gorda. Latin music, with the audience welcome to dance, is a mainstay of many venues. You'll also find hip jazz and acoustic guitar at Santos Crudoteca. There are piano bars too. The Italian restaurant Mama Mia has a good rooftop area with a bar and tables open to the night sky. There's also karaoke night at several bars and restaurants—with a great mixed crowd of gringos and Mexicans.
Of course, it's not just music to be enjoyed. Locals and expats express themselves in other ways.
Art galleries—presenting everything from whimsical takes on Mexican folklore to abstract pieces—can be found all over town. Working painters, sculptors, and more have been thriving here since the 1950s…which gives the town an artistic vibe. My wife and son are scheduled to take a metal sculpture class from a renowned local artist in a few weeks. And one of our favorite hangouts is Fabrica Aurora, an old textile factory transformed into a vast space for small individual artists galleries, interspersed with hip cafés and restaurants.
In San Miguel, you'll also find a small indie movie theater, cultural centers, art schools…
Of course, San Miguel de Allende itself is art. As you walk down the streets you marvel at the architecture of the churches, with intricate stone carvings of religious scenes around the tall doorways. A private home might have an intricately carved wood door framed by bougainvillea with pink. Look up on a wall on a narrow street and you might see a painting or sculpture of a saint watching over the neighborhood.
And of course, with all the buildings in the historic center required to maintain historic standards, you almost have a feeling of stepping into a painting.
Related Content