As an American expat, I like having a home in Berlin…but I also like being able to leave it when the desire strikes.
Cold weather is not my friend. I'd prefer to spend my winters someplace warm, so I escape the chill Germany experiences from November through March. Since my work lets me be almost anywhere I want—as long as there's a good internet connection—this is when I head south.
Last winter I spent almost two months in Italy. My husband and I traveled around the country for three weeks before settling into an apartment in Pisa for a month. We dined on Italian pasta and wine in Siena…we explored the walled city of Lucca…we admired the seaside villages of Cinque Terre. Then, we ended our time in Italy with a couple of nights in Cortona.
After Italy, we spent another six weeks based in Seville, Spain where we visited the Alhambra, took a food tour, and learned how to order tapas in Granada. I climbed the church tower in Cordoba and wandered through cobble-stoned alleys in Seville every weekend.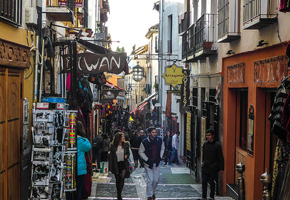 I speak a little Spanish, so it was fun to practice it while we were there, too.
How can I leave home for so long like this? I'm a travel blogger and freelance writer, which means I can work from almost anywhere in the world. I write articles for online publications and magazines, I earn money through book sales, advertising, and affiliate sales on my own websites, and I am a blog assistant for another website.
The great thing about this kind of work is that I can do it from anywhere.
Sometimes that means I'm working from my couch while I'm still in my pajamas.
But since I mainly write for travel publications and websites, it actually helps me to leave home and experience other locations. I've worked from cafés, hotels, and apartment rentals in dozens of cities.
Having this portable income is helpful to me in many ways. Besides being away from home for months at a time, I also travel to see friends.
In June, I spent a week in Paris enjoying the sights with my best friend. I was able to squeeze in a few hours of work in between taking a castle tour in the Loire Valley, tasting French cheeses and wines on a food tour, and eating at outdoor cafés every day.
In October, I spent a week in Amsterdam with another friend. We saw windmills, went shopping, and took a food tour, and I still had time to write.
I have a great base for traveling around Europe. There are still plenty of interesting cities and charming villages left to explore. My hope for 2016 is to see more of Italy, as well as visit Iceland, Slovakia, Montenegro, and a few other places in the Balkans for the first time.
And because I'm a freelancer, I can plan these trips around my own schedule, not someone else's. I can keep on writing while I'm on the road.
Get Your Free Fund Your Life Overseas Report Here:
Sign up for IL's Fund Your Life Overseas e-letter today and we'll also send you a FREE report about ways to earn money abroad. Simply enter your email in the box below and we'll send you this free report: Fund Your New Life Overseas With These 6 Portable Careers.
Get Your Free Report Here