"In July 2013, on my 65th birthday, I retired from my job with the Department of Labor and Employment in Denver, Colorado," says Alan Worline. "I had planned the move to Panama during my last 10 years of employment, after doing much research. Panama uses the U.S. dollar, the infrastructure is sound…and I swore that, when I retired, I would never have to wear a jacket or a long-sleeved shirt again,".
Luckily for Alan, he found the perfect place to do just that: in David, one of Panama's hottest cities. "The thing I love most about living in David is the climate," he says. "It was my main reason for retiring here. The average daytime temperature is 89 F during the day and 75 F at night. For many it's too warm. But for me it feels perfect.
"The rainy season, which is between May and January, is my favorite time of year. The mornings are clear and sunny. That's when I do my shopping and outdoor chores. In the afternoon it clouds up, and the rain can be absolutely biblical. It's incredible to see that much rain coming down. In the evening it clears up again and is cool."
And it's not just the weather that has him loving this city of around 86,000 people. David still has plenty of the natural world around it.
"The number of birds in the trees where I live in David is astounding," he says. "They start at around 7 a.m. with their singing and don't stop until the sun goes down. There are three- and four-foot-long iguanas crossing my patio and climbing the tall trees that shade my house.
"I shop for groceries every day at the markets close by. Everything is within walking distance or a $1.50 taxi ride—I'm very close to three large supermarkets, restaurants, and bars. At the nearby San Mateo market, I can find fresh produce.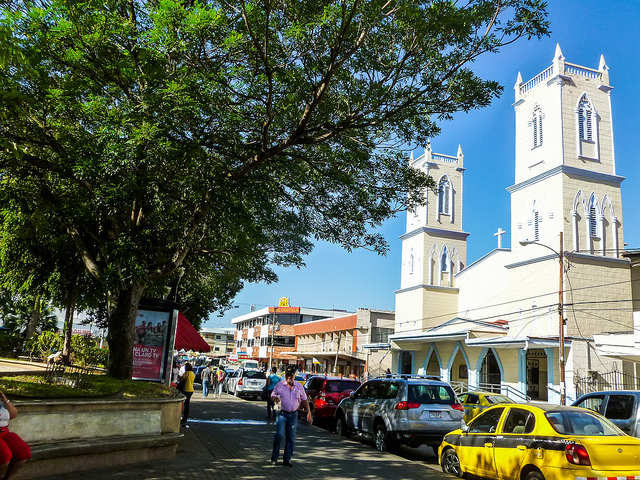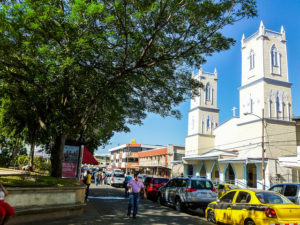 "In David, it costs $1.75 to see a newly released movie in English, with Spanish subtitles. There are many concerts in Parque Cervantes that are free. The Boquete Community Playhouse puts on productions, and those are entertaining, affordable, and close by."
All this convenience comes at a low cost, too. "My rent for a three-bedroom house is $400 a month," says Alan. "I spend $30 a month on electric and $36 for internet. My medical bill (including medications) comes to $80, and I spend around $200 a month on groceries. Taxis and buses cost me around $40, restaurants $50, and travel $50."
Another reason Alan chose David was availability of excellent healthcare. "I've been very pleased with the healthcare I've received so far," he says. "Not long after arriving in Panama, I had chest pains. I went to Hospital Chiriqui and was treated right away. They did a chest X-ray, blood work, EKG (which checks for electrical problems with the heart), and I was examined by a doctor—all for $125."
There's a growing retiree presence in David. Because of this, Alan has had no trouble meeting like-minded types here. And the city is also an excellent base for exploring the rest of Panama.
"I spend a lot of time with friends. We travel to different areas of Panama, like Las Lajas, Playa Barqueta, Volcan, and Boquete. Once a month I get a group of friends together and we go to Isla Bolanos [an island with beaches and lots of nesting seabirds] to spend the day. It's about six miles out to sea, off the port town of Boca Chica."
He's also grown very fond of the local people since he arrived. "A fascinating aspect of the culture is family," he says. "For a Panamanian, family is everything. My Panamanian neighbors all have an incredible lust for life. They love music and dancing and each other. I can't imagine moving back to the U.S."
Get Your Free Panama Report Here:
Learn more about Panama and other countries in our daily postcard e-letter. Simply enter your email address below and we'll send you a FREE REPORT — Panama: First World Convenience at Third World Prices.
This special guide covers insider advice on real estate, retirement and more in Panama. It's yours free when you sign up for our IL postcards below.

Get Your Free Report Here