It's another tough winter day in paradise for Bill and Ann Addison. Bill just finished a round of golf on a course that overlooks the turquoise Caribbean Sea, while Ann spent the day at a picturesque, secluded beach, snorkeling with her friends. Retirement is filled with fun for these snowbirds.
Bill and Ann spend about four months each year on the stunning tropical island of Roatán, off the northern coast of Honduras. Avoiding the nasty winter months back home, Bill and Ann enjoy the Caribbean lifestyle in their beachfront condominium.
"We bought our condo in a really nice community back in 2005, and have been spending winters there ever since," says Bill.
"We love the culture and the people in Roatán. The quality of life is fantastic here and it's really just so affordable. We couldn't afford to do everything we do in Roatan in most other Caribbean locations," Bill explains. "I'm a member at Pristine Bay Golf Course, we own a beachfront condo, and we own a boat that we can take out for a joy ride anytime. That's not something we could do in Florida or on most other islands. We spend probably about $3,000 per month, between HOA fees, utilities, groceries, and all of our fun activities.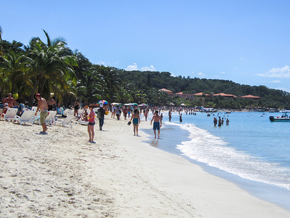 "Roatán has a fantastic climate. We come usually the second week in December and stay until April. You can't beat the weather at that time: It stays in the low 80s F while everyone back home is freezing."
With direct flights from multiple U.S. and Canadian cities, the short trip to the island makes for convenient travel back-and-forth between their home in the U.S.
"We first became interested in Roatán in 2003, after selling my stone business," Bill says. "My parents bought a home and retired there in 1978. I had visited a few times over the years while they were there, but it wasn't until we neared our own retirement that we started looking at buying a property."
Roatán has enjoyed an incredible surge in popularity over the last decade. The addition of two cruise ship ports, plus the increase in direct flights to the island, has allowed more people to visit easily. Many of those visitors turn into expats themselves after seeing the island's natural beauty and easy lifestyle.
"We have seen some major changes to the island since we started coming regularly," Bill continues. "The biggest changes are the direct flights seven days a week. There's also the new golf course, several resorts, and so many more condos and homes. It used to be that no one had even heard of Roatán. Now I can mention where we spend our winters and people recognize it."
Bill and Ann enjoy the best of both worlds in their retirement: They enjoy warm Caribbean weather and lots of outdoor activities during the winter months, and then head back to the U.S. to visit friends and to spend quality time with family the rest of the year.
"While we're on the island, we like to spend our time volunteering, scuba diving, snorkeling, boating, golfing, and socializing," says Bill. "We enjoy a lot of extracurricular activities. We also donated land for a public school to be built by the local government, so there is an elementary school named after my mom and dad on the island. They were really involved in the community before it became this big expat haven, so we try to continue their efforts and to be good neighbors. We really love this island, especially all the wonderful people who live here."
Get Your Free Honduras Report Here:
Learn more about Honduras and other countries in our daily postcard e-letter.
Simply enter your email address below and we'll send you a FREE HONDURAS REPORT: Island-living at an Affordable Price in Honduras
This special guide covers real estate, retirement and more in Honduras and is yours free when you sign up for our postcards below.
Get Your Free Report Here