Previously, I spoke to you about places to get residence and a second passport overseas. I discussed getting residence through real estate investment and spots where you can cut your taxes.
Finding the right overseas residence is one of the first steps in creating your plan B. It's a key factor in determining where to put yourself and your money, how to set yourself up to cut your tax burden…where you can maximize your real estate profits…and even where you can enjoy a luxury lifestyle for less…
Today, I want to discuss the lifestyle aspect of this journey. I'm talking global playgrounds where you can rent, or buy bargain real estate, and cut your living costs while you enjoy an excellent quality of life.
Believe it or not, you can bag an apartment in an old chateau in France for under $100,000…and pick up stunning ocean view homes for a fraction of their value…
It all comes down to your personal choice…
For me, the global lockdown has been a great learning experience in this regard. It has refocused me on what's most important when it comes to finding the perfect overseas home.
My personal bases are places where I can recover from fast-paced scouting trips and put shape on the big ideas we follow at RETA. They are places from which I can hammer out the finer details of the incredible deals we profit from around the world.
Ultimately, what's important to me is that I have an environment where I can recharge and reenergize. Having space to roam has been invaluable, as has being close to the sea and having access to golf.
I'm not the only one using this time to refocus on what's important. Over the past year, folks have been fleeing major cities like San Francisco, New York, and Los Angeles in search of more space and lower costs. In New York, one moving company saw a 50% jump in people moving out of the city last year. People want more space for their families, space to work remotely, and in an environment they enjoy.
Here in Cabo, when I need a break from my desk, I can simply pack a lunchbox and be sitting by the sand, watching whales drift by in the azure Pacific waters within a few minutes.
My Cabo property in the 5-star Quivira resort meets all my criteria for a part-time base. The weather is perfect for me—I don't need heating or air-conditioning while I'm here; golf is close by and accessible, with affordable public courses; I'm right by the sea; I'm near an international airport; it's quiet and serene but with good food and a vibrant town close by.
My Cabo condo can also produce income while I'm not here. In fact, when I bought it in 2015, I thought of it primarily as an investment property. And it's more than earned that distinction—I bought it at the RETA-only price of $336,156 and today I'm sitting on six figure paper gains.
However, where you put yourself doesn't have to be where you put your money. You don't need to live where you invest.
My criteria for an investment often diverge significantly from my criteria for a personal base. Some of the best pure investment opportunities I've seen have been in terrible places I would never want to spend time. While properties I buy to use as a personal base are not always what I consider investment-grade properties.
Take the beachfront condo I recent bought on Portugal's Silver Coast. For €300,000 (about $365,000), I'm buying a beachfront two-bed condo. My mortgage is only €611 ($743) per month.
From a second home perspective, there's some serious deep value here. You get top-tier beach on your doorstep and access to world-class golf. You can join Praia D'El Rey and West Cliffs nearby for an annual fee of €1,500. In between those two courses is the Royal Óbidos, where the European Tour is taking place right now.
Lisbon is just an hour's drive away, and you're only 10 minutes from the medieval town of Óbidos.
To be clear, it's not an investment buy. I bought here because there's great value and I can enjoy a high-end lifestyle that just isn't reflected in the price.
By looking overseas you can find a place where you love to spend time, and where you can save a lot of money in the process. For instance, right now is a great time to pick up a home in Europe…no matter what your budget. You can own a historic stone home in a time-worn village for under $40,000…or a rambling old mansion with acres of land for less than $150,000…ocean-view cottages…lock-and-leave apartments…
Take this simple village home in Andalucia, Spain listed for just €68,500 ($84,304). Almost half-way between the historic cities of Cordoba and Malaga, in the town of Rute, this one-bedroom, one-bathroom home is an ideal getaway pad in a quiet location, but with the option of two bustling cities just an hour's drive in either direction.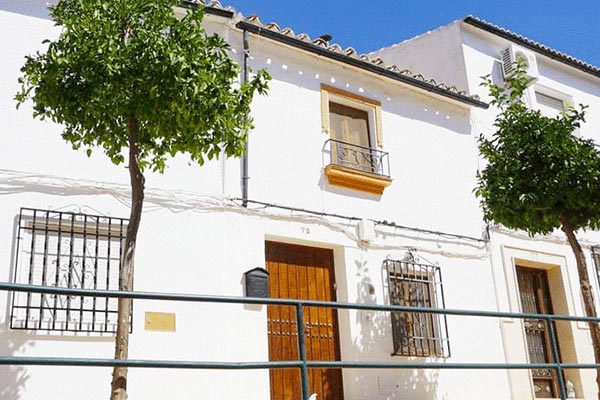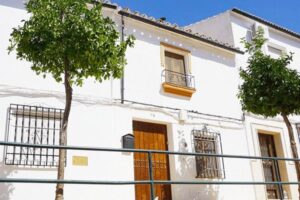 Overlooking the Son-Sonnette valley in southwestern France is this beautiful two-bedroom, one-bathroom cottage lists for just €77,000 ($94,773).
It has an open-plan living area with a characterful wood beam ceiling. Outside, there's a fully fenced garden, a covered patio with a built-in barbecue, and a barn that could be turned into a gite. It's situated in a small hamlet but the village and its bakery, bars, and restaurants are just a short drive away.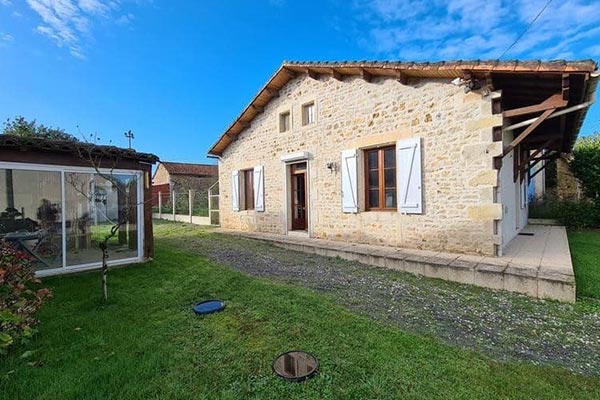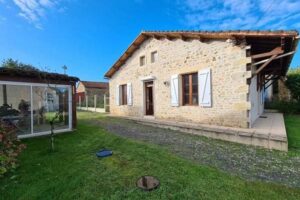 Own this French two-bedroom cottage for just €77,000 ($94,773).
Europe is in crisis, and some of the continent's fragile economies are in real trouble. And our chances of finding motivated sellers are getting better by the day.
There's a kicker, too. We're in a period of historically low interest rates. Money has never been cheaper and some European banks will lend to foreigners…as much as 80% in some cases. Now imagine buying that dreamy historic home with bank financing and owning it for just a few hundred bucks a month…it's completely doable.
It's also something to consider when you think about your budget…with generous financing available that French chateau for $350,000 or even $600,000 may now be a more reasonable proposition…
For instance, this village mansion in the heart of wine country in southwestern France is listed for €450,000 ($553,869). It comes with four bedrooms, sits on a lot of half a hectare with a walled garden, and even has a three-bedroom guesthouse.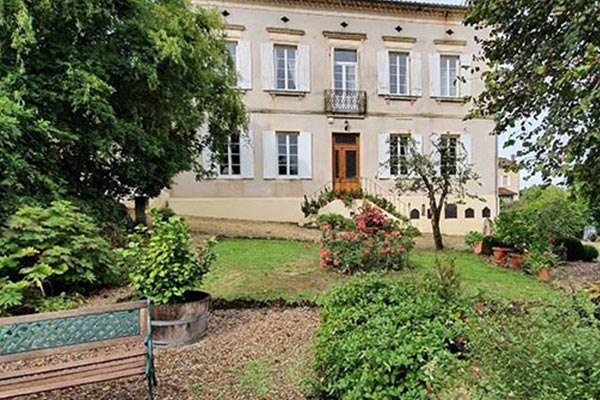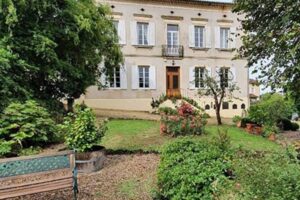 Nudge up your budget and you are into truly next level mansions, villas, and palaces. This French mansion with guest house and walled garden is yours for $553,869.
Note, I haven't seen in person nor done due diligence on any of the properties I've linked to here. As always, you need to do your own due diligence. I offer them just as examples of what your money can get you in Europe at a time when in many parts of the continent prices are falling and the crisis is creating buying opportunities.
If you're serious about taking some next steps start by writing down your criteria, what you're looking for…what amenities, how rural or how close to a city and airport for instance.
A few months renting will give you a deeper feel for the location and the lifestyle as well as the real estate market. But even now, while travel is limited, you can do much of the groundwork online so that you're ready to act when travel opens up.
Get Your Free Real Estate Report Now
Sign up for our free daily Postcard e-letter and get a valuable free report on the The 5 Best Places to Buy Real Estate In 2023.
Related Articles
Homes With History for Less Than You Think
Why I'm Not Buying in My Favorite Vacation Destination